Winter storms aren't named, but they are rated on a 1-to-5 scale
The National Weather Service assigns a 1-to-5 category rating to a winter storm based on the magnitude of its impacts. There have been just 28 Category 5 winter storms since 1900.
While the National Weather Service does not officially recognize the practice of naming winter storms, it does assign snowstorms a 1-to-5 category rating somewhat analogous to the Saffir-Simpson Scale for hurricanes and the Enhanced Fujita Scale for tornadoes.
The Northeast Snowfall Impact Scale, or NESIS, developed in 2004 by NWS meteorologist Paul Kocin and former NWS director Dr. Louis Uccellini, is used to rank the impact of Northeast snowstorms based on snowfall amounts, the area affected by the storm and the population living in its path.
A widespread, heavy-snow event over a highly populated area such as the Boston-to-Washington Interstate 95 corridor will yield a high ranking on the NESIS scale. A Category 1 winter storm is considered "notable," while a Category 5 snowstorm is classified as "extreme."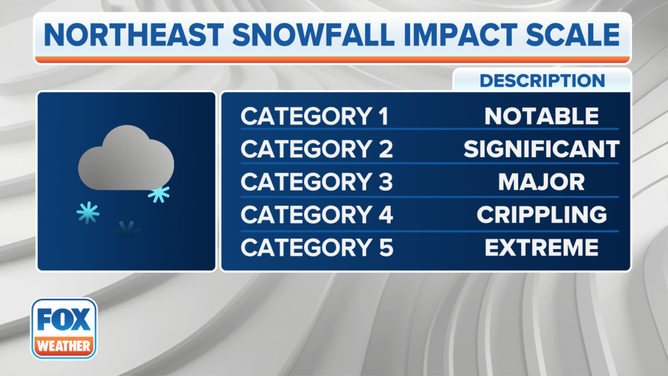 Scientists at NOAA's National Centers for Environmental Information (NCEI) later expanded on Kocin and Uccellini's work. They developed the Regional Snowfall Index (RSI), which can be used to rate the severity of winter storms in other regions of the U.S., including the Upper Midwest, Ohio Valley, Southeast, South and the northern Rockies and Plains.
The RSI also uses a 5-point scale and has assigned a rating to storms dating back as far as 1900.
Since NESIS is calibrated to the impacts of snowstorms in the Northeast, the NCEI team led by Michael Squires realized the scale's thresholds needed to be adjusted to account for regional variations.
For example, a 6-inch snowfall in Atlanta or Nashville, Tennessee, can have crippling impacts because the South is not equipped to remove that much snow. But 6 inches of snow might not even close schools in a city like Buffalo or Syracuse in New York.
THIS IS THE PEAK TIME OF YEAR FOR MAJOR NORTHEAST WINTER STORMS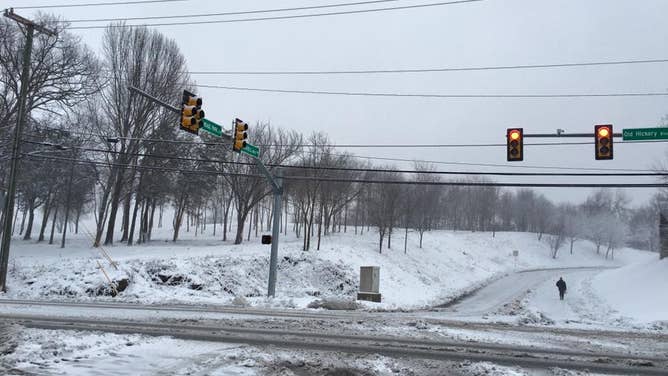 That means two scales are used to rate the severity of a winter storm:
NESIS, which can also be used in other U.S. regions, but the rating is always based on the typical impacts that would be expected from an equivalent storm in the Northeast.
RSI, a separate index that's produced for six climate regions in the eastern two-thirds of the nation, taking regional variations into account when assigning a rating.
Wind is not factored into the criteria in either scale, so a storm that produces blizzard conditions does not get weighted differently than one with lighter winds.
A storm's timing is also not factored in, so it doesn't matter if the storm occurs during the morning or evening rush hours, on a weekend in February or the day before Thanksgiving.
DRIVING IN LIGHT SNOW IS JUST AS DANGEROUS AS A MAJOR SNOWSTORM, RESEARCHERS SAY
Category 5 winter storms are rare
Much like Category 5 hurricanes, a Category 5 winter storm is also rare. There have been just 28 storms assigned this highest rating on the RSI scale since 1900.
Most recently, a snowstorm dubbed the "Groundhog Day Blizzard" in February 2011 received a Category 5 rating in the Ohio Valley region, though its impacts were much more wide-reaching.
THESE ARE THE 7 SNOWIEST CITIES IN THE U.S.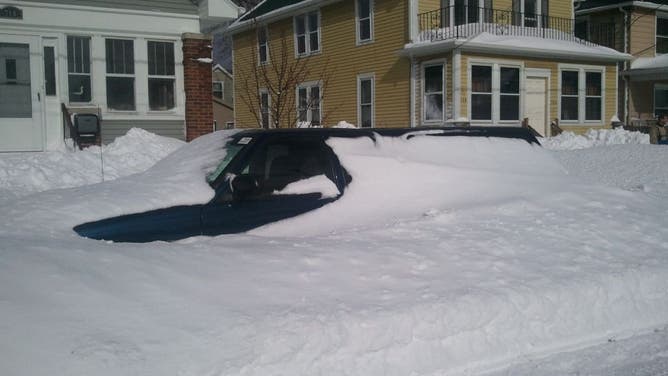 The storm dropped snow from as far south as Texas all the way into New England between Feb. 1 and Feb. 3. Almost 2 feet of snow fell along a line from Oklahoma City in Oklahoma to Chicago. The heavy snow combined with high winds to produce blizzard conditions across much of the Ohio Valley.
According to NCEI, this powerful winter storm caused over $1 billion in damage and brought travel to a standstill throughout the Midwest and New England.