Retiring NWS chief: 'I'm leaving the Weather Service in a better place than I found it'
Uccellini says agency needs more resources to weather changing climate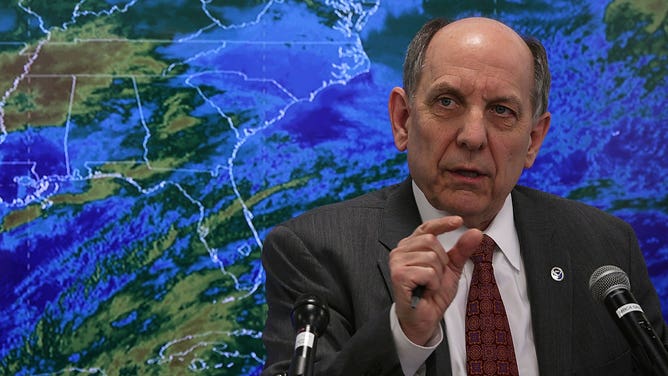 WASHINGTON – The exiting director of the National Weather Service told a U.S. House committee Thursday that he is pleased with the progress that has been made at the agency during his tenure.
Louis Uccellini plans to retire Jan. 1 after a more than 30-year career at the NWS, the last nine of which have been as the agency's director.
At hearing held by the House Committee on Science, Space and Technology about the "future of forecasting," Uccellini said he believes the agency has made great strides in creating a nation ready to weather future storms.
"On the eve of my retirement, I can say that I'm leaving the Weather Service in a better place than I found it," Uccellini said.
He highlighted the modernization and streamlining of the agency's budgeting and hiring processes and reduction in weather-related casualties.
The agency has also increased staffing to levels not seen since 2015, according to Uccellini. He said 150 staff have been added since 2017 alone.
NWS is also focused on further developing and implementing the Impact-Based Decision Support Services program, aimed at providing officials and public safety agencies with the data they need to make decisions when the weather affects the lives of people in their area.
Even with all that progress, Uccellini said the NWS needs to do more to prepare for the extreme weather events wrought by changing climate.
"We've got a long way to go," he said.
Staffing challenges
According to the committee, one of the biggest challenges the agency faces is the hiring and retention of staff.
While more staff has been added, it has not been enough to evenly distribute the workload among the more 3,300 employees at more than 160 NWS offices across the country, according to John Werner, president of the National Weather Service Employees Organization, who also testified at Thursday's hearing.
Committee Chairwoman Eddie Bernice Johnson (D-Texas) asked Uccellini what's being done to ensure the diversity of the NWS workforce. Uccellini said he is pressing for staff at each of the offices to reflect the communities they serve.
Preparing for extremes
Uccellini said recent extreme weather events, such as flash floods, strong hurricanes, droughts and wildfires, have made it apparent that more research must be done to prepare forecasting models for these types of weather systems that will become more frequent as the climate changes.
"We're living in times where the demand for what we do is going to grow," Uccellini said.
Last week, the National Centers for Environmental Information said there have been 18 natural disasters in the U.S. so far this year that have incurred losses of at least $1 billion.
Video
Watch a replay of the hearing in the video player below.