26 years ago the famed 'Blizzard of '96' dumped feet of snow across the East
The storm began on Jan. 6 – 26 years ago Thursday – and spent three days dumping snow across several Eastern states
NEW YORK – Ask anyone who lived in the Northeast or mid-Atlantic in the mid-90s to name a memorable weather event, and odds are they'll come up with the "Blizzard of '96."
The storm began on Jan. 6 – 26 years ago Thursday – and spent three days dumping snow across several Eastern states.
And while big snowstorms that leave a foot or more snow aren't exactly unheard of in this part of the country, what made this storm so memorable was the widespread heavy snows in multiple urban corridors. Snow total measurements over a foot or even two feet stretched from Cincinnati across Pennsylvania and West Virginia into Philadelphia, Washington, D.C., then up through New Jersey and New York into Boston and New England. Even northern Florida saw some light snowfall, including Tallahassee and areas just north of Tampa.
"It is exceedingly tough to have a snowstorm produce over a foot of snow from Washington, D.C. to Boston due to the storm needing a favorable track," the National Weather Service's Chris Stachelski wrote in a recap of the storm last year. "Often, snowstorms that are significant events in the Washington, D.C. area tend to be lesser events in southern New England such as in February 2010 or in the case of February 2015, significant in southern New England but not in the Washington, D.C. area." 
The storm's impacts were widespread and extended, with transportation crippled for days, according to the National Weather Service. Cities struggled to not only clear all the snow but find places to put it.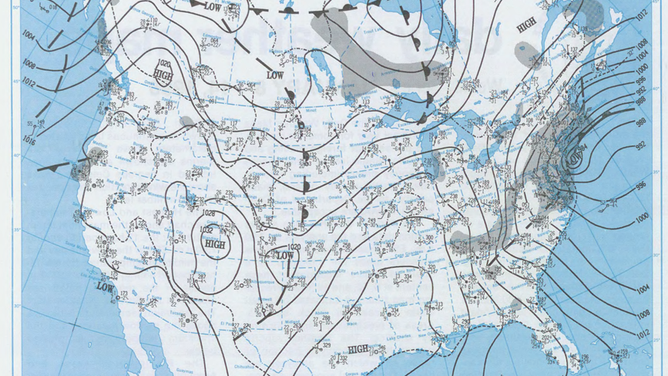 "Mail service was briefly halted from Atlantic City, NJ to Albany, NY, numerous roofs caved in from the weight of the snow damaging structures, schools and businesses closed for days, and newspaper delivery -- along with other supply delivery -- was halted," Stachelski wrote.
Snowdrifts to the second floor
Philadelphia recorded 30.7 inches of snow -- its all-time record -- and 22.2 inches fell in Harrisburg.
"My mom remembered that our house got 4-5 foot snow drifts that went right up to the second-floor window," said FOX Weather meteorologist Marissa Lautenbacher, who grew up in Harrisburg but was barely a toddler then. "She and my dad put me on the snowbank. She could barely open the garage door to get out the snowblower."
The totals were even higher farther south in York.
"We had 3 feet of snow and built snow tunnels to connect our yard to neighbor's yards," said FOX Weather Senior Data Specialist Shane Brown.
During the height of the storm, New York City was completely cut off from the rest of the country for two days as all its airports, roads and trains were shut down, stranding hundreds of travelers.
Snow totals measured 21 inches in Central Park.
"I remember standing on top of the mound of snow the plow pushed in front of my driveway when it went by and being in awe it was so massive," said FOX Weather Senior Weather Producer Greg Diamond, who grew up on Long Island. "I was so shaken by it that the memory has stuck with me to this day."
Casino washed away
On Long Island's Fire Island, a 50-year-old casino and bar were swept into the sea by the storm while three other homes were destroyed, and Gilgo Beach lost 50-75 feet of sand, according to the National Weather Service. Coastal flooding along the Atlantic shores, powered by the storm's intense winds, washed hundreds of clamshells ashore at Atlantic City. 
Further inland in Upstate New York and western Massachusetts, snowdrifts measured 6-10 feet.
"My most memorable part of '96 was that the one side of my house where the drift formed was buried in snow right to the roof (9 feet high)," NWS Binghamton forecaster Michael Patrick Kistner wrote. "I remember going on the roof and jumping into that drift and being buried...took me 5 minutes to get out from it."
In Blacksburg, West Virginia, where 34 inches of snow fell, mobile home roofs collapsed, and an 80-car train derailed.  Some National Weather Service employees worked 32 consecutive hours as roads mainly were impassable, and many of their cars were buried in the parking lot for days.
Category 5 Blizzard
The Blizzard of '96 ranks as the second-greatest snowstorm to hit strike the Northeast according to NOAA's Northeast Snowfall Impact Scale, only behind the 1993 "Storm of the Century," and both are the only two storms to rank as a category 5 on its 1-5 scale. 
In all, over 150 people were killed in the storm, according to the National Weather Service. Many of those deaths were those who suffered heart attacks while shoveling snow.