'Storm of the Century' struck 30 years ago: 'We thought it was end of times'
The winter storm is widely regarded as one of the strongest storms ever to strike the East Coast.
NEW YORK – The coastal Northeast hasn't had much snow this year, but 30 years ago this week, there was too much snow from one of the larger winter storms in the history books: The "Storm of the Century" that hit on March 12-14 in 1993.
That storm holds several records and is widely regarded as one the strongest storms ever to strike the East Coast, as its nickname would suggest.
"The storm will be remembered for its tremendous snowfall totals from Alabama through Maine, high winds all along the East Coast, extreme coastal flooding along the Florida west coast, incredibly low barometric pressures across the Southeast and mid-Atlantic, and for the unseasonably cold air that followed behind the storm," meteorologist Tim Armstrong wrote in a recap of the storm for the National Weather Service.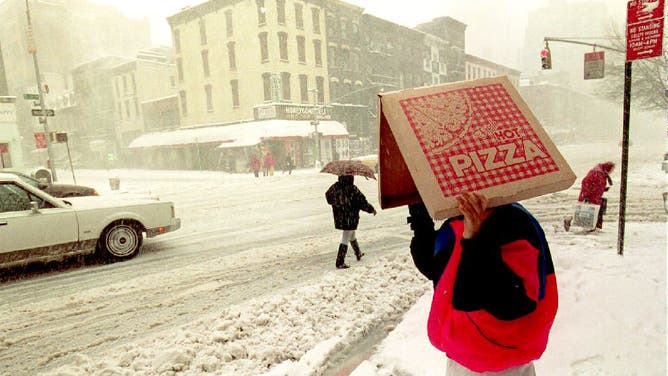 7 MEMORABLE NOR'EASTERS OVER THE YEARS
The storm began its development over Texas on March 12 and rapidly intensified as it swept east across the Gulf Coast states. On March 13, the storm spawned 11 tornadoes in Florida with intense thunderstorm winds stretching as far south as Cuba. A storm surge pushed by the storm's tremendous winds crashed into Florida's west coast, and seven people were killed when a storm surge as high as 12 feet swept through Taylor County.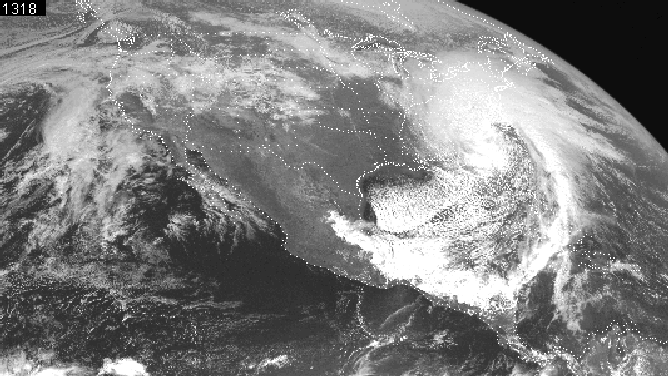 The system turned north and crashed into cold air sitting over the Northeast and mid-Atlantic states, turning the storm into a massive snow producer. Blizzard conditions were reported from Alabama and Georgia up into the Carolinas and Virginia, setting a number of all-time snowfall records, including Birmingham (17 inches), Chattanooga (20 inches) and Asheville, North Carolina (18.2"), Armstrong wrote.

'We lost power for 6 days'
With heavy snowfall not typically seen in those regions, the impacts were immense. Thousands of residents became isolated and over 200 hikers had to be rescued from the Tennessee and North Carolina mountains, according to NOAA.   
FOX Weather meteorologist Stephen McCloud was 12, growing up in Chattanooga, when the storm hit.
THUNDERSNOW: WHAT CAUSES LIGHTNING AND THUNDER DURING A SNOWSTORM?
"I remember waking up to the windows rattling and thunder," he said. "It was the first time I ever experienced thundersnow. It was very creepy."
Eventually, 27 inches of snow fell there with drifts over 3 feet. 
"We lost power for roughly six days and had to survive in our living room with a wood-burning fireplace," he said.
He said his mother heated Gatorade on an outdoor stove to keep the family hydrated.
"Our only source of entertainment was to listen to the radio and the reports of stranded drivers across the city," McCloud said. "We went through so many sets of batteries. We thought it was the end of times."
Storm drops 43 inches of snow in upstate New York
Meanwhile, the center of the storm kept strengthening, reaching pressure levels in the interior southeast never before recorded in a winter storm or even tropical storm. Charlotte's 28.69 inches of mercury was its all-time record low pressure.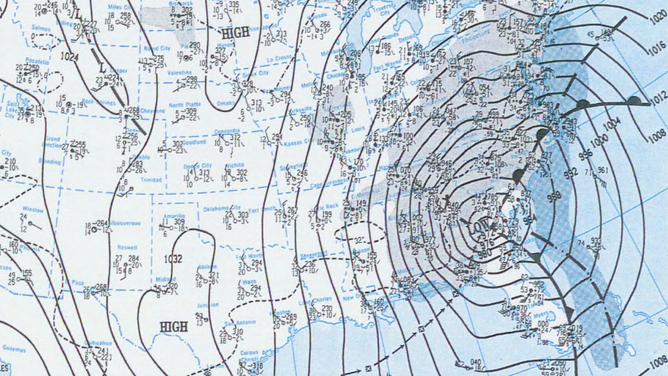 The incredible pressure gradient from the approaching storm led to damaging winds across the coastal Carolinas, with gusts of 40-70 mph, though there was a reported gust of 90 mph listed for Myrtle Beach, South Carolina.  Hundreds of homes were damaged due to the wind-driven surf along North Carolina's Outer Banks.
WHAT MAKES A STORM A NOR'EASTER?
As the storm continued its march north along the Eastern Seaboard, heavy snows spread across several states amid continued damaging winds, well-below-freezing temperatures and barometer readings usually saved for the center of tropical storms.
Storm snowfall totals reached 43 inches in Syracuse, NY, 35 inches in Lincoln, NH, 25 inches in Pittsburgh, 19 inches in Portland, Maine and 13 inches in Washington.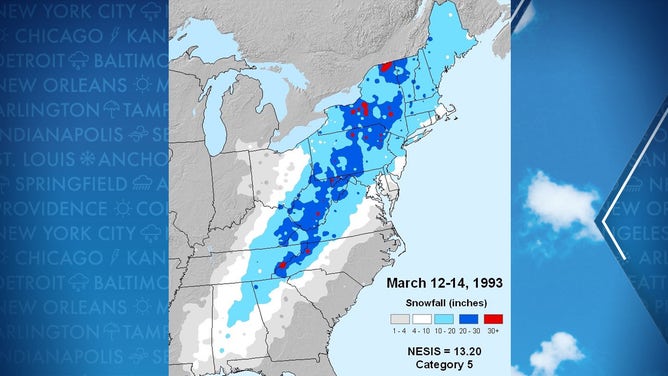 As much as 26 inches fell in northern New Jersey, while 12-15 inch totals were common across much of the rest of the state.
"Huge snow mountains covered half of every shopping mall parking lot," said FOX Weather digital content producer Hillary Andrews, who was in northern New Jersey for the storm. "Shopping is a sport in NJ, so not finding a spot is a tragedy. Plows had nowhere else to pile the snow. It was so deep, it stayed seemingly forever."
HOW TO WATCH FOX WEATHER ON TV 
All flights canceled at every major East Coast airport
Around 10 million people lost power at one time due to the high winds, and as temperatures fell into the teens to single digits across the mid-Atlantic and below zero in interior New England, keeping warm was a challenge.
Transportation was brought to a standstill. For the first time ever, all major airports on the East Coast were closed at one point, and all major highways north of Atlanta were closed.
In all, more than 200 people died in the storm – 60 killed by the severe storms and storm surge in Florida. A large percentage of the others were due to heart attacks from shoveling snow, NOAA reported. Another 48 people were lost at sea in the Gulf of Mexico, Atlantic Ocean and Canadian Maritimes.
The storm reached approximately 120 million people – 40% of the U.S. population – and covered 550,000 square miles. Damage estimates were around $5.5 million in 1993 dollars (approximately $10 billion in 2020 dollars) and the storm remains the most costly winter storm in U.S. history.
WINTER STORMS AREN'T NAMED, BUT THEY ARE RATED ON A 1-TO-5 SCALE
The storm is also rated the most impactful storm in the Northeast since at least 1956 on the Northeast Snowfall Impact Scale – one of only two storms ever to receive the highest "Extreme" rating of 5 on the five-point scale, joining the Blizzard of 1996.