Remember all that snow? Here are 7 memorable nor'easters over the years
Historically, nor'easters have been some of the most memorable storms on record in the Northeast. Here are 7 of the greatest such storm to strike the area.
Strong storms known as "nor'easters" have been a staple of winters across New England.
They get their names because the storms bring winds over the coastal area that are typically from the northeast.
Past nor'easters have been responsible for billions of dollars in damage, severe economic, transportation and human disruption, and in some cases, disastrous coastal flooding. The storms usually develop in the latitudes between Georgia and New Jersey, within 100 miles east or west of the East Coast, and progress generally northeastward, typically attaining maximum intensity near New England and the Maritime Provinces of Canada.
LEARN: What makes a storm a Nor'easter?
Historically, nor'easters have been some of the most memorable storms on record in the Northeast. Here are 7 of the greatest such storm to strike the area.
1) Blizzard of March 1888
What began as a mild and pleasant weekend turned stormy by Sunday afternoon, with rain changing to heavy snow by Monday morning, according to Dan Valley, with NOAA. 

The snow would fall in incredible amounts, eventually reaching 40-50 inches across parts of New England with wind gusts of 50 mph creating snowdrifts as high as 30-40 feet deep. More than 400 people died and over 200 ships were destroyed up and down the Eastern Seaboard.
Valley says the storm led the U.S. to move the "Signal Service" from the War Department and two years later, the Weather Bureau was signed into legislation.
2) Ash Wednesday storm of 1962
The storm was uniquely destructive in that it combined the powers of a strong low pressure timed near the astronomically high tides near the spring equinox to create catastrophic tidal surges along the mid-Atlantic Coast.
The U.S. Weather Bureau gave the storm the name the "Great Atlantic storm" but because it lingered through five high tide cycles, was also known as the "Five High Storm", according to NOAA.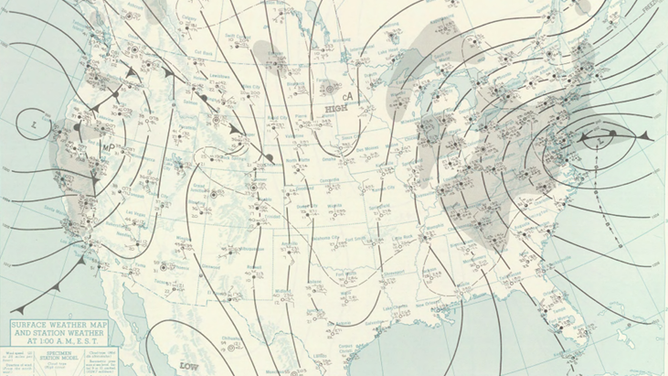 Farther inland, heavy snow fell across the mid-Atlantic with blizzard conditions reported in North Carolina and 42 inches of snow reported in Virginia's Shenandoah National Park.  Snow even fell in Alabama.
The storm killed 40 people and injured 1,000 more.
3) 1993 "Storm of the Century"
The aptly named "Storm of the Century" had widespread impacts for 120 million people, covering 550,000 square miles stretching from the Deep South through New England.
"With a central pressure usually found in Category 3 hurricanes, the storm spawned tornadoes and left coastal flooding, crippling snow, and bone-chilling cold in its wake," wrote NOAA researchers.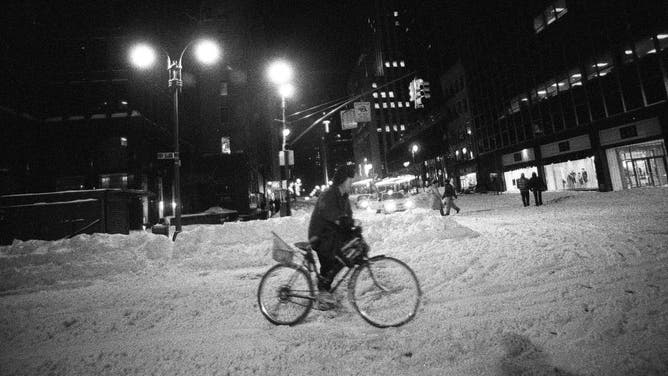 The storm brought widespread snowfall of 1-2 feet up and down the Eastern Seaboard into the Ohio Valley and New England. Some spots reported over 40 inches, including 43 inches in Syracuse, New York and 56 inches at Mount LeConte, Tennessee.
Wind gusts over 70 mph were common along the East Coast and 15 tornadoes were spawned in Florida. The storm closed nearly all interstate highways from Atlanta to the northeast and 10 million lost power. Every major airport along the East Coast was closed lading to the most weather-related flight cancellations in U.S. history.
Eighteen homes fell into the sea on Long Island and 200 homes were damaged along North Carolina's Outer Banks.
The storm caused $5.5 billion in damage and ranks as the strongest storm recorded on Northeast Snowfall Impact Scale going back to 1956. 
MORE: Winter Storms Aren't Named, But They Are Rated on a Category 1-5 Scale
4) Blizzard of 1996
While big snowstorms that leave a foot or more snow aren't exactly unheard of in this part of the country, what made this storm so memorable was the widespread heavy snows in multiple urban corridors.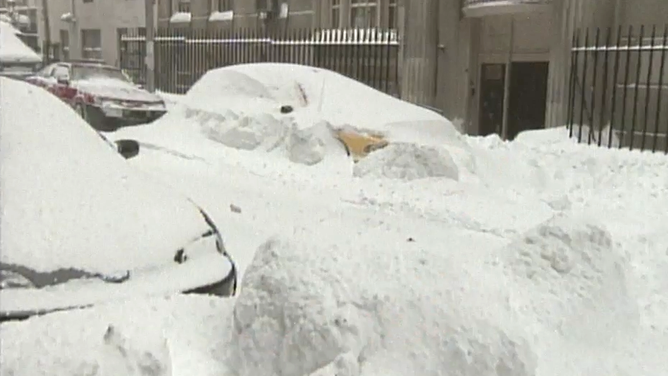 Snow total measurements over a foot or even two feet stretched from Cincinnati across Pennsylvania and West Virginia into Philadelphia, Washington, D.C., then up through New Jersey and New York into Boston and New England. Even northern Florida saw some light snowfall, including Tallahassee and areas just north of Tampa.
MORE: 26 years ago, the famed Blizzard of 1996 Dumped Feet of Snow Across the East
Philadelphia recorded 30.7 inches of snow -- its all-time record -- and 22.2 inches fell in Harrisburg. The totals were even higher farther south in York, Pennsylvania.
"We had 3 feet of snow and built snow tunnels to connect our yard to neighbor's yards," said FOX Weather Senior Data Specialist Shane Brown.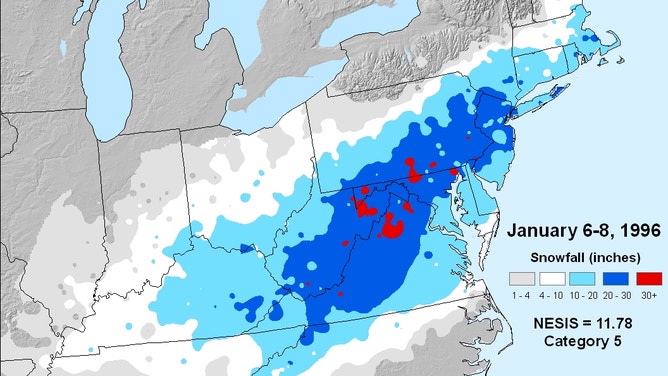 During the height of the storm, New York City was completely cut off from the rest of the country for two days as all its airports, roads and trains were shut down, stranding hundreds of travelers. Snow totals measured 21 inches in Central Park.
In all, over 150 people were killed in the storm, according to the National Weather Service. Many of those deaths were those who suffered heart attacks while shoveling snow.  The blizzard ranks second on the Northeast Snowfall Impact Scale, behind the 1993 storm.
5) Rare October Nor'easter in 2011
Usually, those in the northeast aren't thinking about snow as they decide on their annual Halloween costumes, but in 2011, many areas had snow on the ground as Trick or Treaters roamed the chilly neighborhoods.
The storm began on the 28th, but most of its fury was felt on the 29th. Heavy, wet snow aided by strong winds resulted in tree and power line damage across northern New Jersey and northeast Pennsylvania by Saturday afternoon as the low pressure system churned northward along the Mid Atlantic coast. Gale force winds buffeted the New Jersey and Delaware coastlines.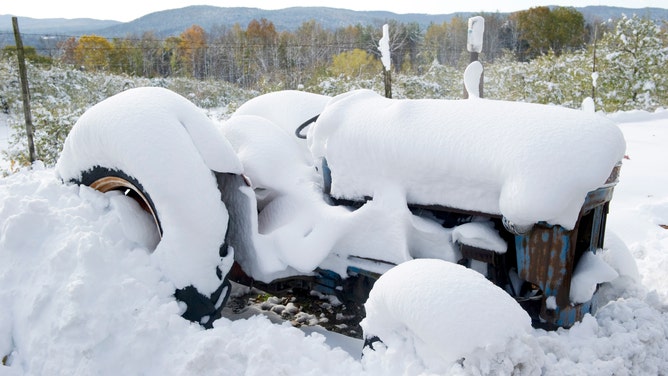 The storm brought thundersnow to New York City shortly past lunchtime on Saturday -- before the city had even recorded its first freeze. 
LEARN: Thundersnow: What causes lightning and thunder during a snowstorm?
Central Park received 2.9 inches of snow, with up to six inches falling in the Bronx. This was the only time in recorded history that an inch or more of snow has fallen in Central Park during the month of October. 
The combination of the heavy, wet snow and high winds damaged or destroyed hundreds of trees in the city. The New York Times reported that up to a thousand trees in Central Park could be lost due to storm-related damage.
Jaffrey, New Hampshire, located in hilly terrain, recorded a whopping 31.4 inches from this snowstorm, an amount that would be considered impressive even in February, but is simply unheard of for October. There were reports that this was eclipsed by readings in Peru, Mass., where 32 inches fell.
LEARN: The sound of silence: Why it's quieter after a snowstorm
The 22.5 inches that fell at Concord, New Hampshire between 3 pm on Saturday and 7 am on Sunday was the second-greatest 24-hour total ever recorded in any month – let alone just October.
October snowfall records were smashed in Hartford, Connecticut, which received 12.3 inches; Worcester, Mass., where 14.6 inches fell; and Newark, where 5.2 inches piled up. According to the National Weather Service, this was only the second time that measurable snowfall occurred in Newark during the month of October. 
The last time any snow piled up was in 1952, when just 0.3 inches fell. Much heavier snows, with greater damage, occurred in northwestern New Jersey, including 19 inches in West Milford.
6) January 22-24, 2016 Nor'easter
Over 100 million people across the Northeast and mid-Atlantic were affected by this historic nor'easter. Snowfall in the major metropolitan areas of New York, Philadelphia, and Washington, D.C., reached widespread 2–3 foot accumulations across the region.
The snow was accompanied by winds in excess of 35 mph creating blizzard conditions over much of the area, and the combination of wind and very heavy snow created major impacts to travel, closed many major airports, and stranded hundreds of motorists on roads.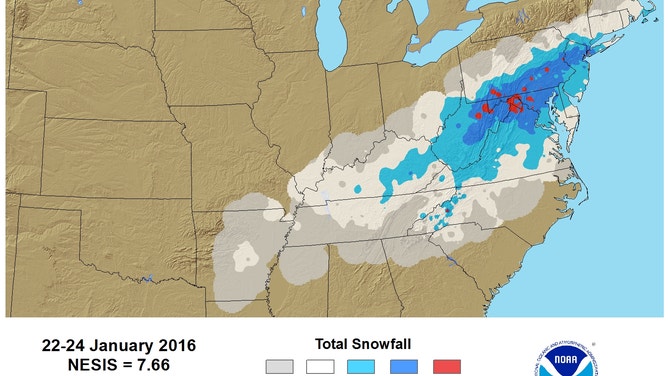 Along the Pennsylvania Turnpike, more than 500 motorists were stranded overnight by the heavy snow.
The historic nor'easter also led to significant coastal flooding along portions of the Mid-Atlantic and northeast seaboard. Numerous roads, homes, and businesses along the New Jersey and Delaware coasts were flooded and emergency personnel conducted numerous water rescues.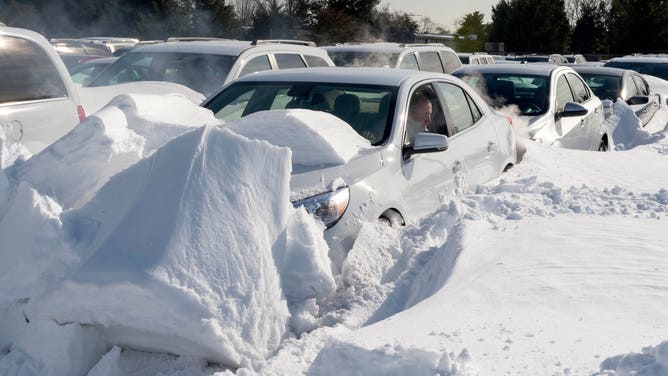 The coastal flooding along the southern portion of the Jersey shore exceeded that experienced in the area during Hurricane Sandy in October 2012.
The storm rated a Category 4 on the NE Snowfall Impact scale.
7) January 3-5, 2018 Bomb Cyclone
More than 13 million people were under a blizzard warning as this nor'easter "bomb cyclone" roared up the East Coast with widespread impacts felt over 14 states.
Prior to the storm's initiation, much of the United States east of the Rocky Mountains had been in a prolonged period of well below normal temperatures, with areal averages up to 10 degrees colder for the East Coast. The cold temperatures triggered the closure of some of Orlando's major water parks: Sea World, Universal Orlando's Volcano Bay and Disney's Typhoon Lagoon.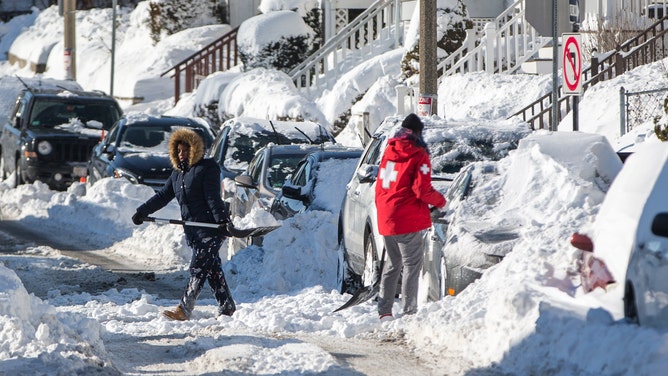 Then came the southern snow. Tallahassee recorded its first measurable snowfall since 1989 while a new daily snowfall record of 5.3 inches was set in Charleston, South Carolina, which placed as the 3rd all-time highest daily snowfall. Over 13,000 tons of salt were used to treat roads across South Carolina; however, the South Carolina Highway Patrol still had to respond to numerous accidents. Charleston International Airport was closed due to snow and ice cover.
LEARN: Why snowfall rate is important to understanding winter weather
The heavier snow spanned from the Chesapeake Bay region to Maine, primarily locations east of I-95 and I-87.  The highest amounts fell over north-central Maine where amounts ranged from 18 to 36+ inches. Thousands of flights were canceled across the eastern third of the United States.
As the storm rapidly intensified, so did the wind. Around 40,000 residents lost power in Virginia and North Carolina. Coastal areas from the Mid-Atlantic to the Northeast had near-hurricane force wind speeds, coastal flooding and erosion, record high tides, and storm surge.
Nantucket, Massachusetts recorded some of the highest wind speeds – 76 mph, as the storm barreled up the coast. Impressive wave heights developed as the low rapidly deepened. A new record high tide (4.88 feet Mean Higher High Water), combined with the wind, flooded the heavily snow-covered city streets of Boston.

The storm caused 22 deaths and damage was estimated at $1.2 billion.
Honorable Mention: The great Boston snowstorms of 2015
It wasn't just one snowstorm in Boston in the late winter of 2015, but four of them.
A whopping 24.4 inches fell in Boston on Jan. 26-27.  Then a week later on Feb. 2, another 16.2 inches fell.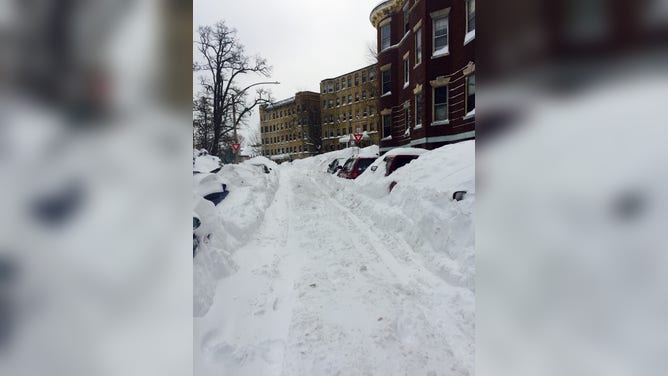 The pattern repeated with 22.2 inches again a week later on Feb. 8-9, followed by another 16.2 inches on Feb. 14-15.  The storms established a city record for 30-day snowfall at 71.8 inches and left much of eastern Massachusetts buried under three feet of snow.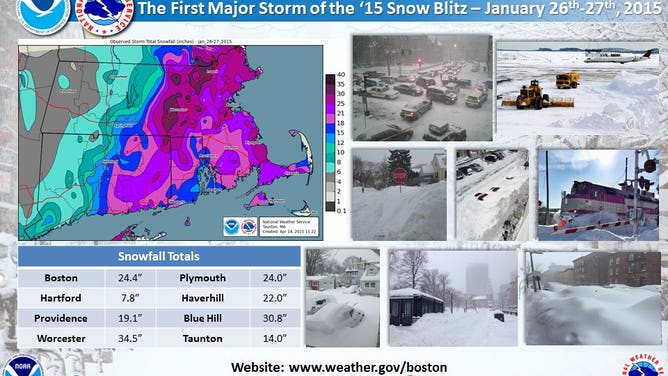 That winter still stands as the snowiest on record there now with 108.6 inches of total snow.