The Daily Weather Update from FOX Weather: Millions along I-95 face messy commute as stronger storm looms
Start your day with the latest weather news – Millions of Americans along the I-95 corridor will face a messy morning commute, and this isn't the only storm the FOX Forecast Center is tracking this week.
Welcome to the Daily Weather Update from FOX Weather. It's Monday, Jan. 23, 2023. 
Start your day the right way with everything you need to know about today's weather. You can also get a quick briefing of national, regional and local weather whenever you like with the FOX Weather Update podcast.
Rain, snow create messy morning commute across Northeast, including I-95 corridor
A winter storm that brought a half-foot of snow to parts of the Cleveland and Cincinnati metro areas in Ohio on Sunday moved into the Northeast Sunday night and is now creating a messy Monday morning commute for millions of Americans. Snow continues to pile up across the interior Northeast from Pennsylvania and New York state into northern New England. As much as 7.5 inches of snow has already been reported early Monday morning in the Mohawk Valley of upstate New York.
Closer to the coast, rain is soaking the major cities along the Interstate 95 corridor from Boston to Washington, so commuters are advised to allow extra time and leave extra following distance between them and the car in front of them since roads are wet. The coastal rain and interior snow will taper off from west to east late Monday as the storm system moves away from the East Coast.
Things to know: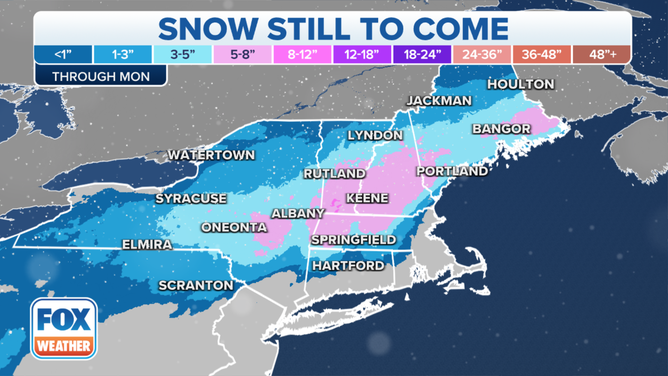 Winter storm to dump snow from Texas to Northeast as it spawns severe weather in South
Parts of the country have had an extended break from winter weather, but that could soon change.
Following a weekend system that brought light to moderate snow in parts of the U.S., the FOX Forecast Center is tracking a significant winter storm through Thursday. Accumulating snow is expected to spread from Texas all the way to Maine, while the warm side of the storm poses the threat of severe weather, including tornadoes, in portions of the South on Tuesday and Wednesday.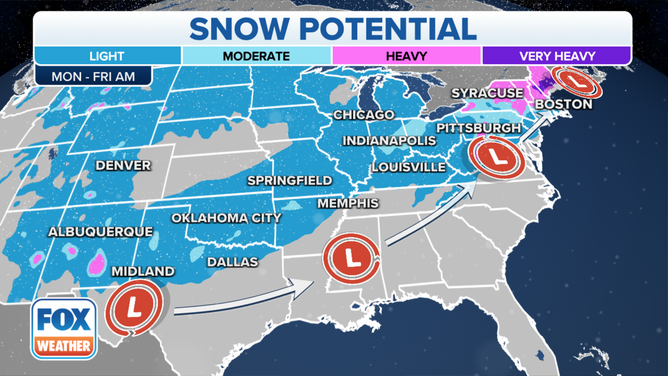 Coral reef sharks, rays threatened with extinction
"Immediate action" is needed to protect coral reef sharks and rays worldwide as nearly two-thirds of species are being threatened with extinction due to overfishing and climate change, according to a new study published last week. The study, published in Nature Communications, showed that 59% of the 134 coral reef-associated shark and ray species are threatened with extinction, making them the most threatened groups found on coral reefs alongside marine mammals.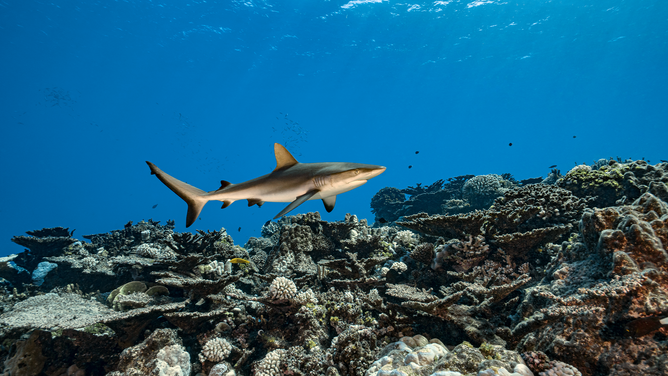 Bonus reads
Need more weather? Check your local forecast plus 3D radar in the FOX Weather app. You can also watch FOX Weather wherever you go using the FOX Weather app, at foxweather.com/live or on your favorite streaming service.