When's the last time major Northeast cities had a snowless winter?
FOX Weather has compiled a list of snow records over the years and found that 1972-73 was the least snowy season for the I-95 corridor, and entirely snowless for one major city.
NEW YORK – Will this be a year without winter in the Northeast? 
The likelihood of no snow ever falling in parts of the region is slim, but it happened once in Philadelphia.
FOX Weather senior weather data specialist Shane Brown compiled snow records over the years and found that 1972-73 was the least snowy season for the Interstate 95 corridor, just not entirely snowless outside of Philly.
Philadelphia, the largest city in Pennsylvania and the second-largest city in the Northeast and mid-Atlantic regions after New York, ended that season without a single day of measurable snow (at least 0.1 inches), but the other big cities from Boston to Washington did manage to pick up at least a little snow.
If your snowblower is still collecting dust this winter in your garage, there is hope it will see some action. However, let's look at some other seasons (starting Sept. 1) in major I-95 cities that have gone snowless through Jan. 20.
New York
There have been five years in New York (Central Park) that did not see any snow by Jan. 20. 
2022-23
1999-00
1972-73
1965-66
1870-71
HOW ONE POINT ON A MAP CAN DETERMINE WHETHER I-95 CORRIDOR SEES SNOW OR RAIN FROM A NORTHEAST SNOWSTORM
Philadelphia
Philadelphia beats the Big Apple by one season with six snowless years through Jan. 20.
2022-23
1999-00
1994-95
1972-73
1965-66
1889-90
NO WHITE, NO GREEN: SNOWLESS I-95 CORRIDOR LEAVES PLOW DRIVERS WONDERING ABOUT NEXT PAYCHECK
Baltimore
Baltimore had that beat with seven years without snow by Jan. 20, one of which goes back to the turn of the 19th century.
2022-23
2006-07
1991-92
1972-73
1965-66
1913-14
1900-01
REMEMBER ALL THAT SNOW? HERE ARE THE MOST MEMORABLE NOR'EASTERS OVER THE YEARS
Washington, D.C.
In Washington (Reagan National Airport), 10 years are on record showing no snowfall for the nation's capital by Jan. 20.
2022-23
2021-22
2008-09
2006-07
1994-95
1986-87
1972-73
1959-60
1913-14
1889-90
WILL WINTER STORMS AFFECT GIRL SCOUT COOKIE SEASON?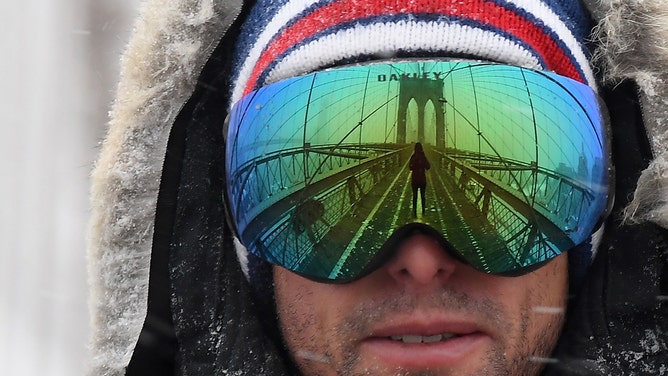 What's next for snow-starved Northeast?
A pattern shift across the U.S. will create a more active storm track across the snow-starved Northeast through next week, highlighted by a winter storm that has its sights set on parts of the East Coast late this weekend and into early next week.
WEEKEND STORM BREWS FOR SNOW-STARVED NORTHEAST; COLD RAIN TO SOAK I-95 CORRIDOR
Due to the expected storm track, the I-95 corridor will be socked into a cold, steady rain while the snow remains confined to the interior Northeast away from the larger cities such as New York and Philadelphia. 
"That area of low pressure, it's just going to track a little too close to the coastline, meaning that the heavy snow is certainly going to be looking more and more interior northern New England as opposed that I-95 corridor," FOX Weather meteorologist Kendall Smith said.
Where the heavy snow does set up, 6-plus inches of accumulation is possible. This snowfall will be much welcomed by the Northeast ski resorts, which have been largely lacking in snow so far this winter.