Northeast winter storm exits after bringing travel mess, power outages to I-95 corridor
Winter Storm Warnings were posted throughout the Northeast as a powerful winter storm brought snow and cold rain to the area. American Airlines says that one of its planes slid off the runway due to the snowy conditions.
Millions of people in the Northeast and along the I-95 corridor are being asked to take it slow on the roads Monday as a winter storm brought rain and snow to the region.
The storm began Sunday, and by Monday morning, snow was reported across the interior Northeast and northern New England, while rain fell in southern New England and along the I-95 corridor through New York City and points south.
The storm created messy travel for commuters all across the East Coast. 
In Maine at Portland International Jetport, an American Airlines plane slid off the runway Monday afternoon due to the snowy conditions. All passengers were said to be okay. 
A radar loop over the past three hours.
(FOX Weather)
---
Due to the expected storm track, the I-95 corridor was socked into a cold, steady rain while the snow remained confined to the interior Northeast, away from the larger cities such as New York and Philadelphia. 
"As it moves up along the coast, it pulls up some warmer air right along the coast," FOX Weather meteorologist Craig Herrera said. "We will see some drenching, cooler rain right along the coast. But to the north of there, where have the nice, cold air in place, places like Maine all the way through Vermont and New Hampshire."
NO WHITE, NO GREEN: SNOWLESS I-95 CORRIDOR LEAVES PLOW DRIVERS WONDERING ABOUT NEXT PAYCHECK
This means places like New York City will continue their snowless streak through at least Monday.
Location, elevation plays role in the type of precipitation falling
Rain was falling in Boston and along the coast on Monday morning, while inland in central Massachusetts, there were reports of frozen precipitation like sleet and freezing rain.
Snow was also reported in western Massachusetts, which is higher in elevation thanks to the Berkshires. Snow was also falling further north into Vermont, New Hampshire, Maine, and interior New York state.
By Monday afternoon rain was transitioning to snow as the storm system started to pull away from the region.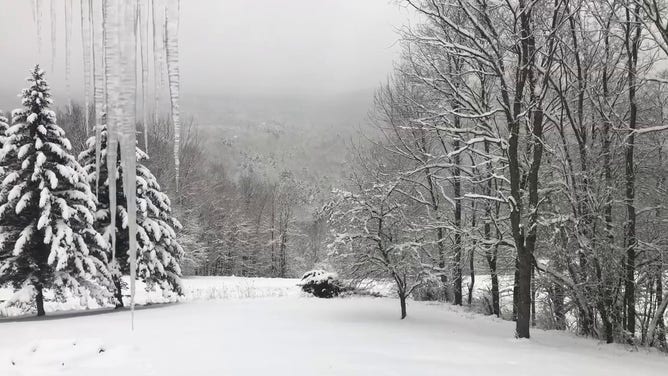 Snowfall rates were expected to approach an inch per hour across portions of upstate New York and northern New England on Monday.
Where the heavy snow did set up, 6-plus inches of accumulation was expected. In the higher elevations above 3,000 feet, Herrera said, a foot of fresh snow could fall. This snowfall will be much welcomed by the Northeast ski resorts, which have been largely lacking in snow so far this winter.

While the FOX Forecast Center isn't expecting blockbuster snow totals from this storm, many areas could pick up several inches before it moves away from the area.
The National Weather Service in Albany said areas from the Mohawk Valley and Capital Region northeastward, snow totals should be around or above 6 inches.
Some areas, like Saratoga Springs, New York, and Manchester, Vermont, could pick up nearly a foot of snow.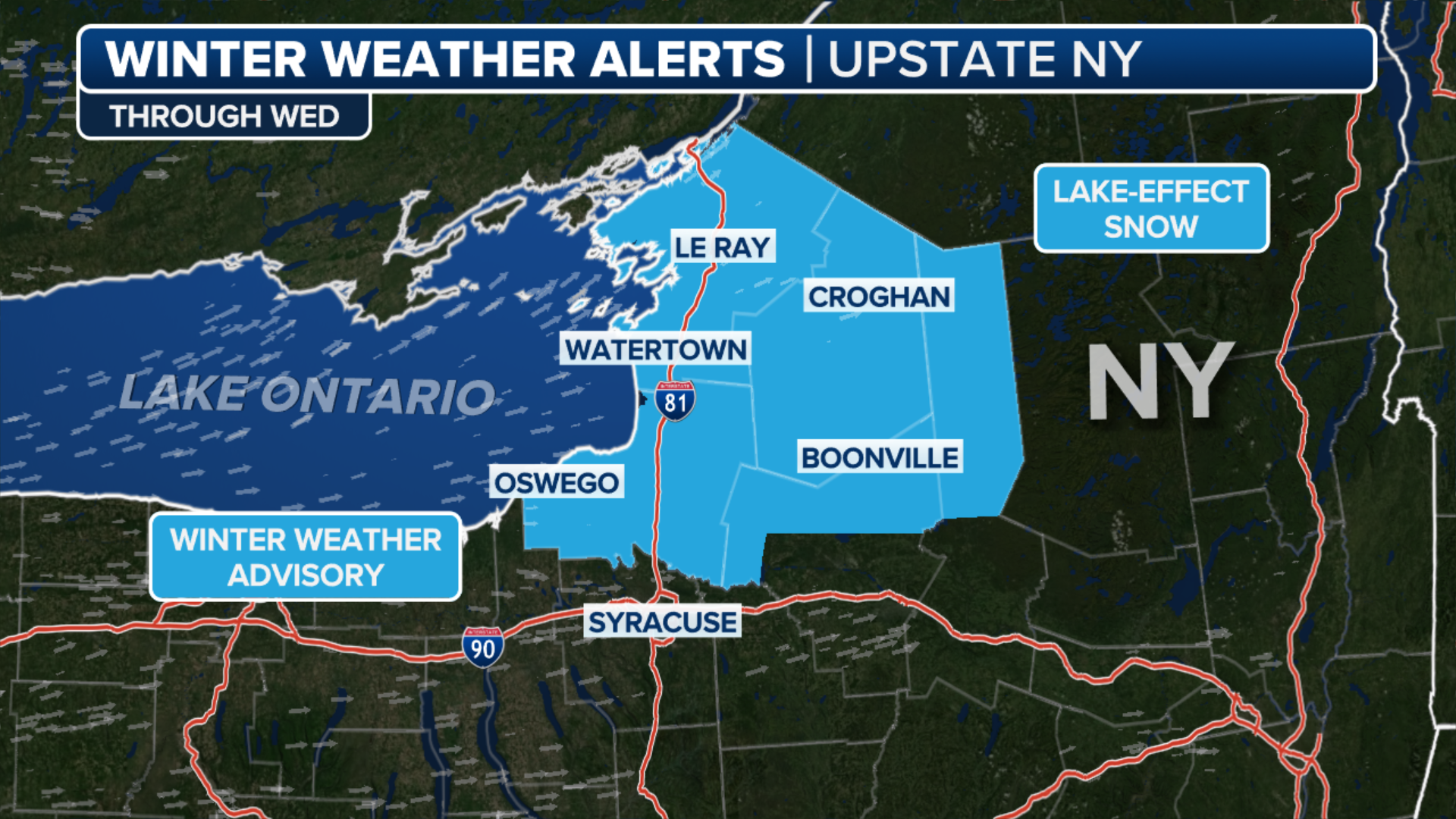 Winter weather alerts are in effect across the Northeast and New England.
(FOX Weather)
---
Winter Storm Warnings have been issued from western Massachusetts into southern Vermont, New Hampshire and Maine. Winter Storm Warnings are also in effect across central New York from the Binghamton area to Albany.
Precipitation will continue through Monday and will exit the region by Monday night.