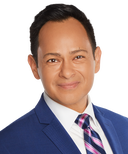 Craig Herrera
FOX Weather Meteorologist
Craig Herrera joined FOX Weather in 2021 where he currently serves as an afternoon and evening co-host on the ad-supported streaming weather service. 
A five time local Emmy-award winning meteorologist, Herrera most recently served as a meteorologist at Seattle's KING-TV (NBC). Previously, he was a part of the weekday morning news team at San Francisco's KNTV-TV (NBC) on the weather reporting team at KCBS-TV, in Los Angeles and San Diego's KGTV-TV (ABC). A Pacific Coast weather expert, the American Meteorology Society (AMS) sealed meteorologist has covered every major weather event spanning San Diego to Seattle.  
A cycling enthusiast, Herrera is a five-time participant the AIDS LifeCycle, a seven-day bicycle ride from San Francisco to Los Angeles to help raise awareness and money for people living with HIV/AIDS.
Herrera graduated from the University of New Mexico with a Bachelor of Arts in Mass Communications and Journalism in 1995. He earned his certificate in Broadcast Meteorology from the University of Mississippi in 2002. Born in Los Alamos, NM, he now lives in New Jersey with his husband.