Will winter storms affect Girl Scout cookie season?
Girl Scout cookie season is underway across the country, with the Raspberry Rally cookie joining popular favorites such as Thin Mints, Samoas, Tagalongs and others, but will recent rain in California cause the selling to come to a halt?
As atmospheric river events seemingly plague the West Coast and snow falls over the Upper Midwest, Girl Scouts warn there will be no stopping their members from taking part in the annual tradition of selling sweets for its cookie drive.
The youth organization was founded in 1912 but, in recent years, has faced a compilation of issues such as the COVID-19 pandemic, inventory shortages, logistical problems and even impacts from Mother Nature.
While the group does not have a snappy weather motto like that of the U.S. Postal Service, the Girl Scouts of Greater Los Angeles said it does provide an incentive for its members to brave the sometimes unpleasant conditions.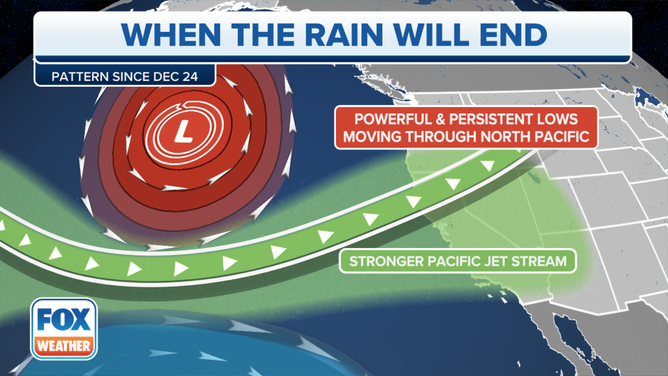 Rain in Southern California can be a rarity, especially during La Niña events, so it was during a stormy El Niño episode that the "Storm Trooper" patch was born.
"Girl Scouts can earn the Storm Trooper patch if they booth, do walkabouts or volunteer at a cupboard in the rain. The team started this a few years back during El Nino to incentivize going out in the rain," troop leaders said.
With current weather patterns, there will be plenty of chances for Girl Scouts in the Golden State to earn the patch. Rainy weather has set records and has even caused the status of the extreme drought to ease in many regions.
Data recently released by the U.S. Drought Monitor showed no communities in either extreme or exceptional drought status for the first time in three years.
'EXTREME' DROUGHT ERASED FROM CALIFORNIA FOR FIRST TIME IN YEARS. WILL IT LAST?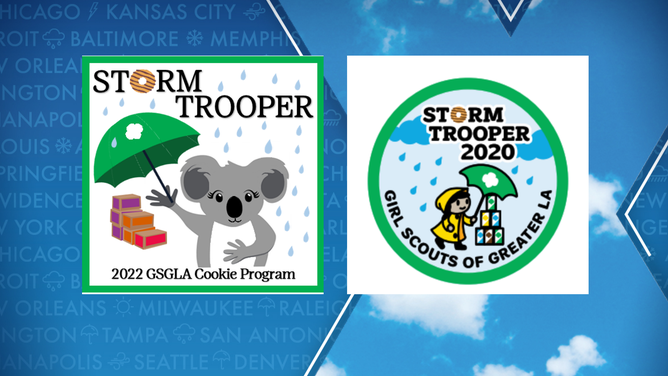 This year's weather patch hasn't been designed, but previous patches featured raindrops and characters trying to protect their cookies from the elements.
In addition to the potential weather impacts on the order and delivery aspects of the annual cookie drive, Mother Nature has previously played havoc on the distribution from bakeries around the country.
Even under tranquil weather conditions, the Girl Scouts are already warning of projected shortages that could impact the timing of local cookie sales.
Areas for the country to watch for further disruptions and potential impacts on distributions are at Louisville, Kentucky-based Little Brownie Bakers and facilities operated by ABC Bakers.
MILLIONS ACROSS US COULD SEE WARMER, WETTER WEATHER AS WINTER ENDS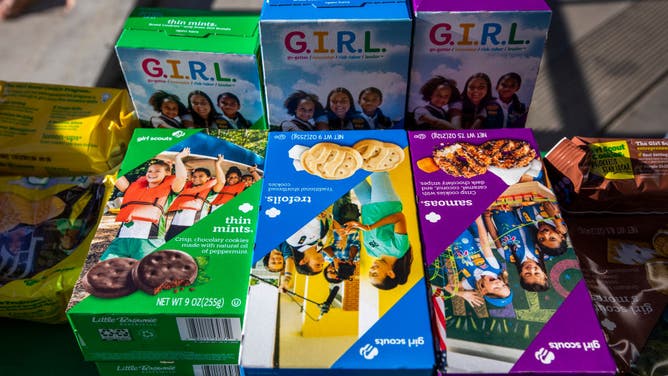 The companies are the only bakers licensed by the Girl Scouts to produce over 200 million boxes of cookies each year.
Some cookies are more popular than others, with Thin Mints topping the list of the country's favorites, followed by Samoas, Caramel deLites and Tagalongs.
If you can't decide which flavor to buy this year, there are 13 varieties, each with a unique flair.
The newest addition to the lineup this year is the Raspberry Rally. Girl Scouts say the delectable treat looks like a Thin Mint on the outside, with a chocolate coating, but inside is a cookie infused with a sweet raspberry flavor.
Other flavors include:
Adventurefuls
Caramel Chocolate Chip
Do-si-dos/Peanut Butter Sandwich
S'mores
Lemonades
Lemon-Ups
Peanut Butter Patties/Tagalongs
Toast-Yay!
Toffee-tastic
Trefoils
To find a Girl Scout cookie booth and purchase cookies visit: www.girlscoutcookies.org.