'Extreme' drought erased from California for first time in years. Will it last?
In NOAA's latest weekly update of its Drought Monitor, none of California was classified as in "extreme" or "exceptional" drought for the first time in almost three years.
For the first time in almost three years, California is no longer in extreme drought. The National Oceanic and Atmospheric Administration released the latest Drought Monitor on Thursday morning.
One county along the northern California coast, Del Norte, isn't even classified as in drought. That is the first time since April 2021 that any part of the Golden State is not in a drought category.
Rounds of atmospheric river storms soak California
Becoming drought-free won't come as a surprise to the county just north of an area that FOX Weather estimated picked up 65.41 inches of rain between Dec. 24 and the third week in January. 
WHAT CALIFORNIA'S EXCESSIVE SNOW MEANS FOR SPRING AND THE MEGADROUGHT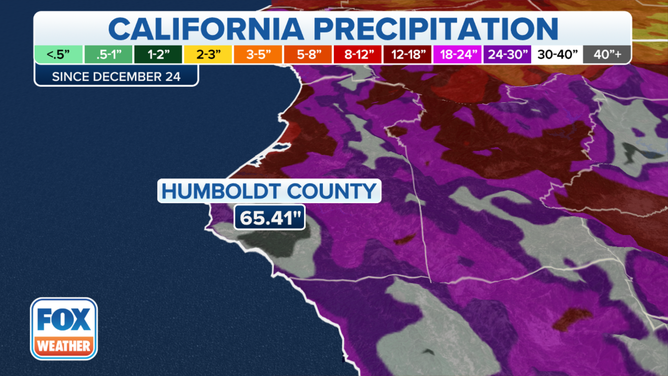 Much of the state measured rainfall in feet not inches after a series of atmospheric river-fueled storms pounded California in the past 3 weeks. Parts of the Sierra Nevada mountains received an entire year's worth of snow in that time. The FOX Forecast Center estimated that a whopping 32 trillion gallons of water fell over the state.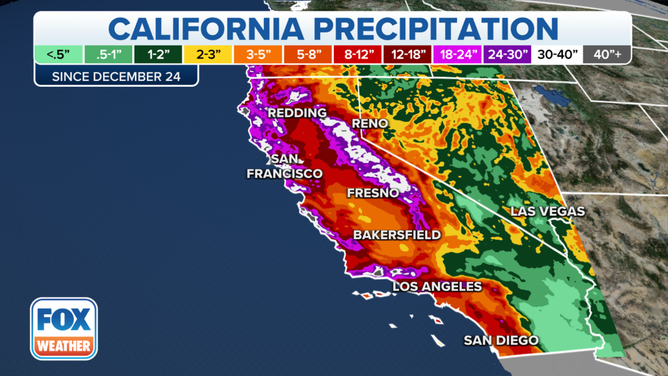 RELENTLESS CALIFORNIA ATMOSPHERIC RIVERS DROP 32 TRILLION GALLONS OF WATER OVER 3 WEEKS
NOAA scientists say a couple good storms can't erase the long-term drought, though. Authors of the Drought Monitor are taking a "wait and see," cautious approach.
Were storms enough to kick out drought?
"While precipitation over much of the state was over 300% of normal over the previous two weeks (2 to 12.5 inches, depending on location), deficits have been years in the making," wrote NOAA Drought Monitor authors. 
"Historically, long-term drought is interrupted by a period of abnormally wet weather," continued the report. "It's too early to tell if the wet weather is enough to end the drought."
'EXTRA WINTER'S WORTH OF PRECIPITATION NEEDED TO BUST CALIFORNIA DROUGHT, SCIENTIST SAYS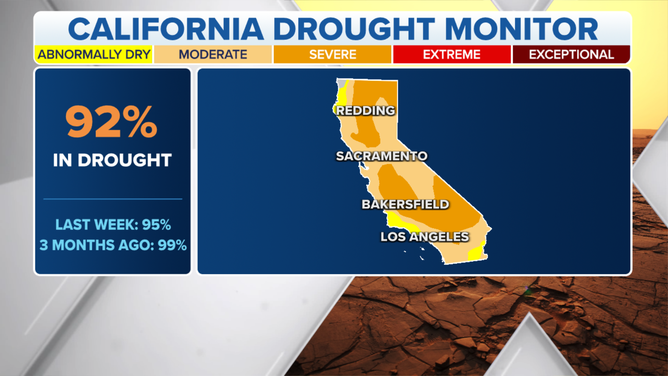 NOAA left 92% of the state in drought. It is an improvement though: Last week, 95% of the state was classified as at least "abnormally dry" and three months ago, 99% of the state was in drought.
The biggest gain is in drought intensity. NOAA scrubbed the "extreme" and "exceptional" drought categories from the map. Just two weeks ago, 27% of the state fell into the highest two intensity buckets. Three months ago, 41% of the state was classified as in extreme and exceptional drought.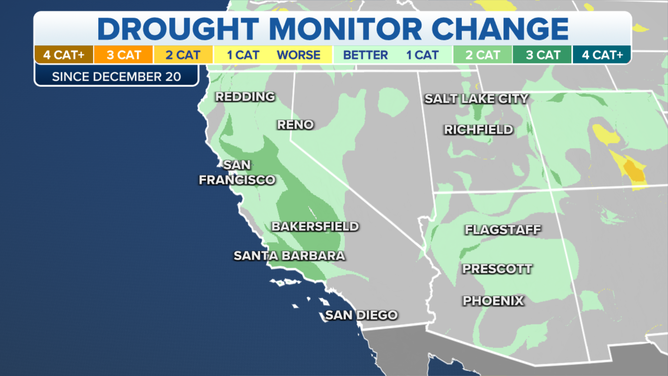 Reservoirs still low
"A lot of these places that got a ton of rain, if you look at the longer term, over a two or three-year history, they are still below normal, sometimes by several inches," Rich Tinker, author of NOAA's Drought Monitor, told FOX Weather. "We still have relatively low reservoirs."
Thursday's Drought Monitor report stated, "while this last round of rain has helped return smaller reservoirs to the historical averages, many of the larger reservoirs still remain below the historical average for this time of year."
Most of the state has a relatively dry climate and large population which forces officials to heavily manage water to get through feasts and famines, Tinker said.
"They do manage it so that it can endure, at least the larger reservoirs, several dry years, which of course, happens out in California, not too unoften," he said. "But the flip side of that is that once they're low, it takes a while also to build them back up."
THIRSTY CALIFORNIA RESERVOIRS BENEFIT FROM ATMOSPHERIC RIVER STORMS BUT DROUGHT IS FAR FROM OVER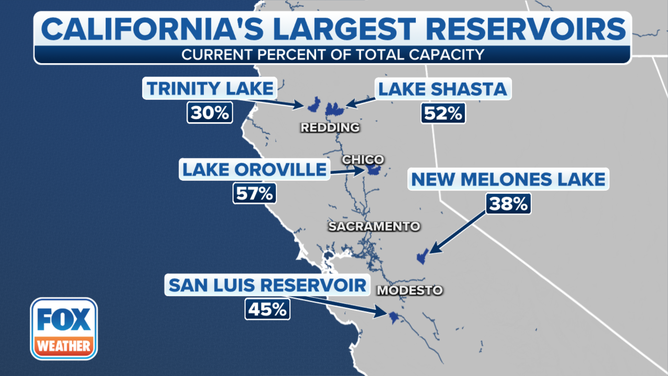 What is long-term drought forecast?
As the state dries out after the onslaught of rain, Tinker said he will get a better picture of how much good the storms did in erasing long-term drought.
He wants to see how quickly stream flows, which are high right now, go back to normal or possibly drop below normal. He will watch reservoir levels to see if they rebound and drop. Melting snowpack in the spring will also indicate the level of drought recovery. The melt refills the reservoirs. Mountain reporting stations already have the snowpack depth that is average for the end of the season.
"So it'll be hard for California to slide back where they were autumn and early winter," Tinker said. "But now it's going to be critical for seeing how much effect this precipitation had over the longer term situation." 
The state has been in drought for the past three years. Some scientists claim that this is just a chapter in the megadrought though. This has been the driest 22-year period in the West in over 1,200 years.
NOAA updates the Drought Monitor every Thursday. About 300 experts weigh in with different expertise like water management, crops, soil moisture, and local forecasters.