Relentless California atmospheric rivers drop 32 trillion gallons of water over 3 weeks
The FOX Forecast Center calculates an estimated average of 11 inches of rain fell across California as a series of nine atmospheric rivers drenched the state over a three-week period.
SAN FRANCISCO – It's been three-plus weeks of nearly non-stop rain in California as a stubborn weather pattern sent wave after wave of tropically-infused atmospheric rivers, triggering widespread flooding, landslides and power outages across the state. At the same time, the mountains were buried under several feet of snow. California Gov. Gavin Newsom said Thursday that 21 people died in the storms, with one child still reported missing. 
The first wave of rain rolled ashore on Dec. 26. After a break that lasted a couple of days, a bomb cyclone tapped into a Pineapple Express-type atmospheric river as 2022 came to an end to nearly set San Francisco's all-time daily rain record with more than 5 inches of rain.
DRAMATIC IMAGES SHOW DEVASTATION FROM ONSLAUGHT OF ATMOSPHERIC RIVERS SLAMMING CALIFORNIA
The calendar flipped to 2023, but the weather pattern didn't budge. A total of nine atmospheric rivers in rapid succession drenched the state from north to south and back again with inches – or in some cases, over a foot – of rain, punctuated by days of damaging wind gusts. It didn't matter if you were in Eureka, the San Francisco Bay Area, Sacramento, Los Angeles, San Diego or the central valleys; it rained nearly every day for over three weeks.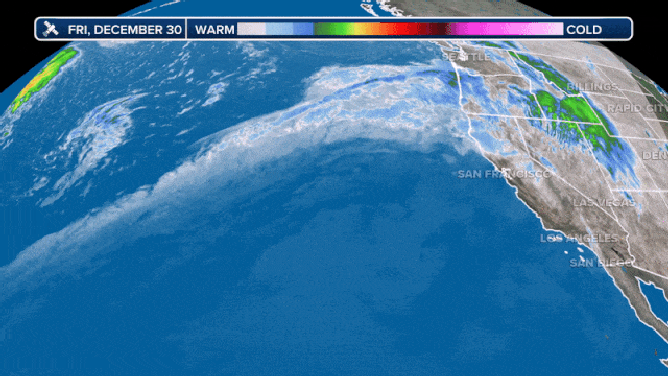 San Francisco reported measurable rain on 17 of the 23 days between Dec. 26 and Jan. 17, including 12 days that featured at least a half inch and four days with an inch or more. Los Angeles reported rain on 14 of those 23 dates. A dry Jan. 1 was the only day stopping Arcata from experiencing 25 consecutive days with measurable precipitation.
Overall, the FOX Forecast Center calculated an estimated average of 11 inches of rain fell across the entire state through the prolonged period. That translates to roughly 32 trillion gallons of water in the state between the heavy lowland rains and feet of snow in the Sierra Nevada mountain range and the Siskiyou Mountains that fell since Dec. 24.
California bowled over with rain
That 32 trillion gallons would be enough to fill over 210,000 Rose Bowl stadiums with water, according to rough estimates by the FOX Forecast Center. 
Put another way, you could place a Rose Bowl stadium on every square mile in California, have enough rainwater to fill each to the brim and still have enough water leftover to fill another 50,000 of the iconic stadiums.
WHAT DOES ALL THIS RAIN IN CALIFORNIA MEAN FOR THE WINE?
The wettest spot since the storms began was in southwestern Humboldt County along the northern California coast, where estimates show just more than 5 feet of rain (65.78 inches) fell during the storms.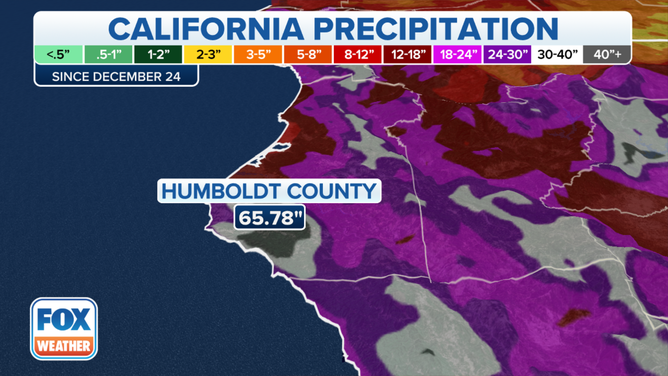 Rain gauges near Honeydew recorded 35-45 inches of rainfall through the storms, while Blue Canyon had just over 33 inches of rain.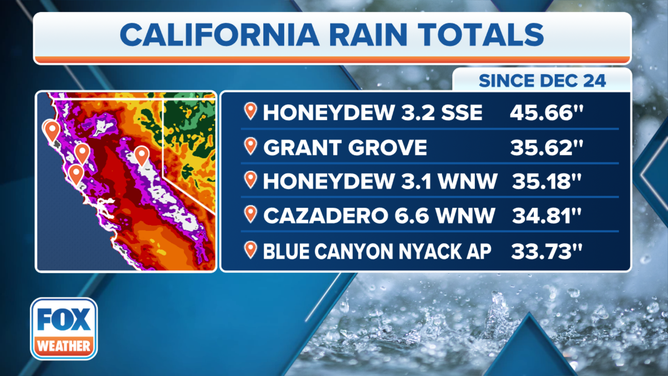 For the top snowfall amount, change that last measurement from inches to feet. Mt. Solomons, at 13,040 feet elevation, received an estimated 33.1 feet of snow.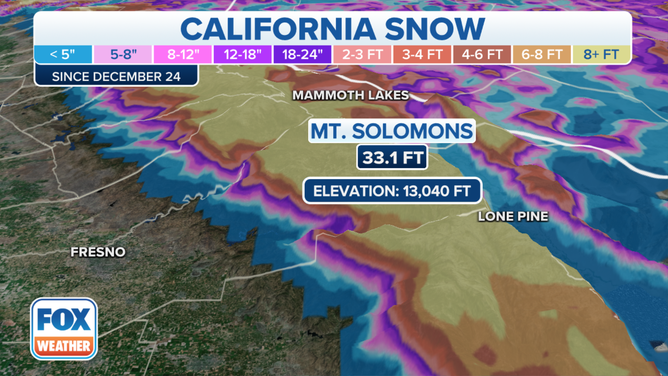 Closer to civilization, Tahoma reported 106.1 inches of snow, while Tahoe City received 88 inches and Truckee had just more than 60 inches.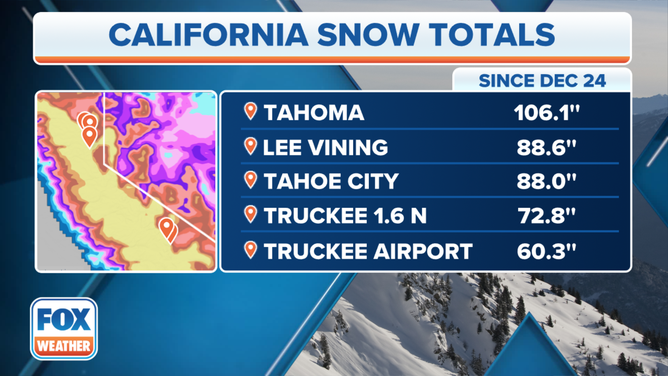 Even without another drop in 2023, one California town has reached annual average
Bishop, California, has received 5.55 inches of rain so far in 2023 – already exceeding their annual rainfall average (4.94 inches) before two weeks had even passed into the new year.
WHAT DOES A 'CATEGORY 5' ATMOSPHERIC RIVER MEAN? SCALE AIMS TO RATE NATURE'S LARGEST SOAKERS
Spots like San Francisco, Oakland, Santa Barbara, Sacramento, Modesto and Stockton have their wettest meteorological winter on record to date (since Dec. 1), according to the FOX Forecast Center. Tahoe City is nearly 14 inches above average for rainfall since Oct. 1. Oakland and San Francisco are almost a foot above average.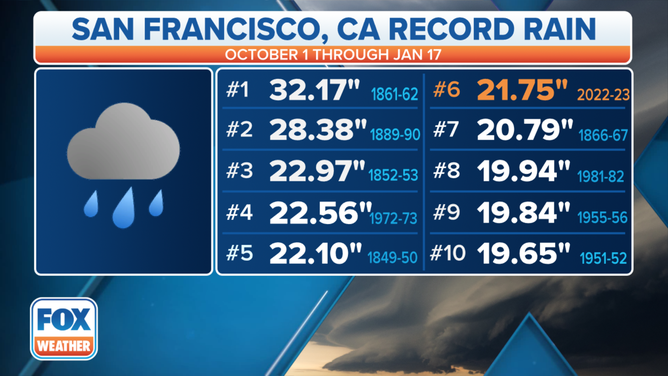 Hundreds of mudslides plague California
The saturated soils have led to hundreds of landslides and mudslides across the state that have wiped out roads and closed buildings. 
The Department of Conservation's California Geological Survey and the U.S. Geological Survey have mapped more than 500 landsides, creating damages and disruptions across the state.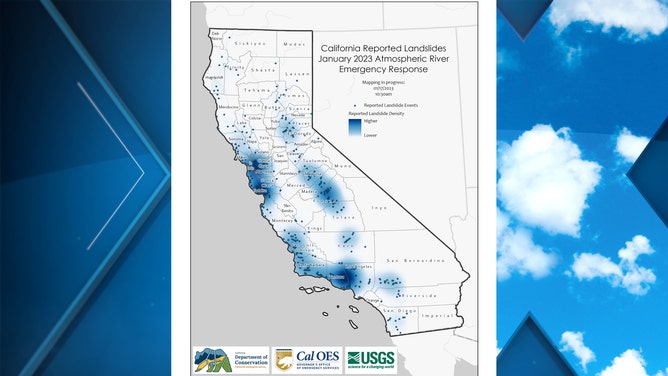 As more satellite imagery is reviewed and reports come into the state, it's possible the number could reach into the thousands, state geologists told FOX Weather.
The weather pattern was finally changing this week, with an extended dry period expected for California starting Thursday morning and lasting well into the end of January.