'One last gut punch': California's nearly monthlong stretch of atmospheric river storms coming to an end
Storm after storm has been slamming into the Golden State since the end of December. While the torrential rain has helped ease some of the drought conditions, so much rain has fallen that it has led to the flooding of rivers and streams across the state.
SAN FRANCISCO – California is finally set to get a break from the relentless barrage of atmospheric river storms that have killed at least 20 people since the end of December and have pummeled the state with torrential rain, flooding, mudslides and beach erosion.
Over the past week, President Joe Biden has approved both a major disaster declaration and an emergency declaration for the state of California in response to the deadly storms.
On Monday, California Gov. Gavin Newsom signed an executive order that will support communities across the state by ensuring adequate staffing for emergency response workers, waiving some fees for residents who have been impacted by the storms, such as birth and marriage certificates, and by ensuring that health care facilities remain open. 
One final storm for California

According to the FOX Forecast Center, this final storm will have less of an overall impact than the previous storms, but an additional inch or two of rain is likely.
And while widespread flooding isn't expected with this storm, residual flooding in streams and rivers is possible.
"We do have an area of low pressure moving through California this morning," FOX Weather meteorologist Britta Merwin said. "This is really the last gut punch that's moving through. So, another round of rain, especially for the (San Francisco) Bay Area, because that low is tracking right over the Bay Area today."
'SCARED FOR THEIR LIVES': 3 RESCUED FROM CAR TEETERING PRECARIOUSLY OVER CLIFF'S EDGE IN CALIFORNIA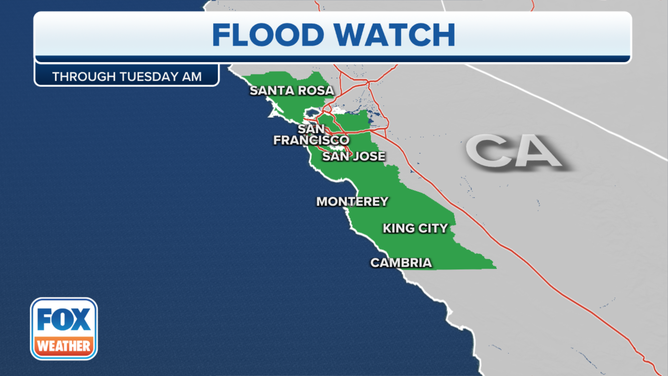 There have been nearly 60 reports of flooding over the past 24 hours, and while the flood threat persists Monday, it won't be nearly as high as it has been with previous storms that have slammed into the state.
"The flash flood threat is very much there," Merwin said. "I know that you're weather-fatigued, but unfortunately, you can't take today off, especially before sunrise. Be very careful across the Bay Area."
DRAMATIC IMAGES SHOW DEVASTATION FROM ONSLAUGHT OF ATMOSPHERIC RIVERS SLAMMING CALIFORNIA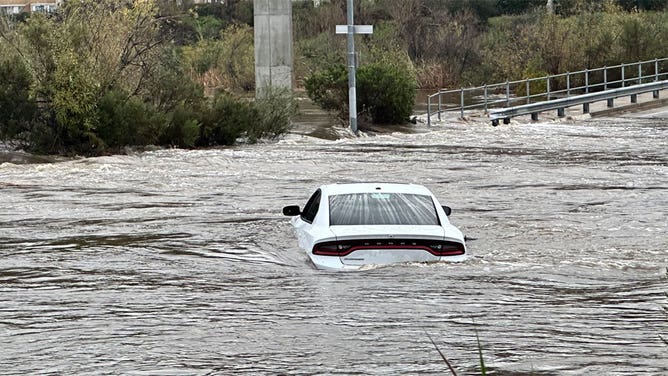 Things will finally begin to dry out Tuesday, and the long process of recovery can fully begin.
More than 40 inches of rain has fallen in some places since the end of December when the first series of atmospheric river storms began.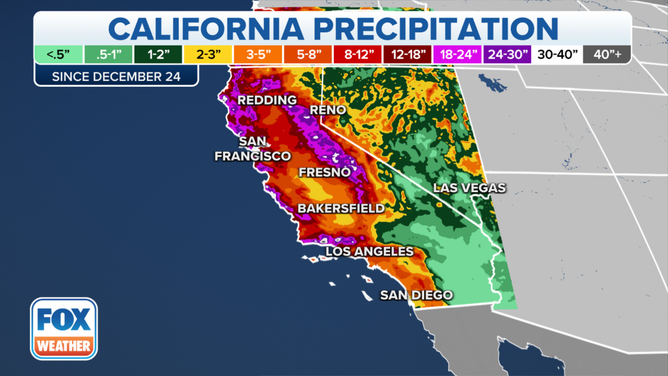 And while that pattern is typical for this region, the FOX Forecast Center said the magnitude of these storms was much stronger than what has been seen in recent memory.
And that led to extensive impacts and rivers reaching levels not seen in years because of the ongoing drought.
SCARY DRIVE OVER GOLDEN GATE BRIDGE IN ATMOSPHERIC RIVER
Onslaught of storms helps California's drought situation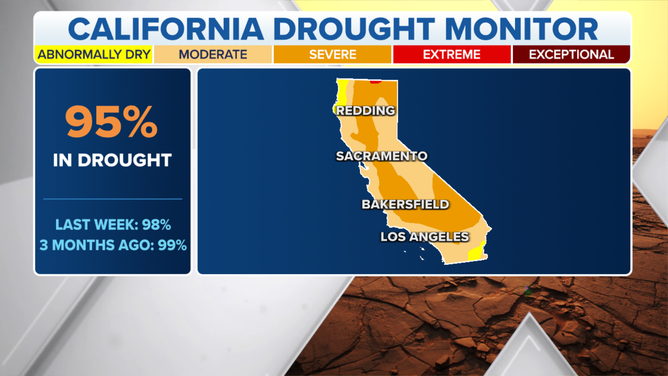 The latest drought numbers were released last week, and the news is good for California.
Nearly the entire state is now out of the extreme and exceptional drought categories, with less than 1% of California remaining in extreme drought.
About 95% of the state is still experiencing some category of drought conditions, according to the latest information from the U.S. Drought Monitor. But that's still an improvement over the previous week when drought covered 98% of the state.
'EXTRA WINTER'S WORTH OF PRECIPITATION' NEEDED TO BUST CALIFORNIA DROUGHT, SCIENTIST SAYS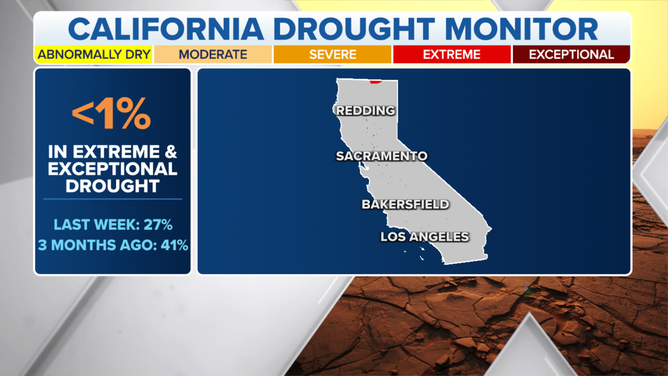 Rich Tinker, the U.S. Drought Monitor author with the National Oceanic and Atmospheric Administration, said he was optimistic about the drought situation but was cautious.
"The reservoirs, of course, is the big issue for most of what goes on in most of California, and water management is pretty heavy," he said. "So, it takes a long time for reservoirs to deplete, and it also takes a while for them to refill. So, we're doing considerably better. We're still not even up to what's normal for this time of year, however."
So, while Californians may be breathing a sigh of relief, some scientists say it may be too soon to celebrate.