Ongoing 22-year drought in western US is driest period in over 1,200 years, study finds
Drought will likely continue for a 23rd year and match the duration of the longest known megadrought, scientists say
Since the turn of the century, the western U.S. has been exceptionally dry, and this has led to a lengthy drought the likes of which has not been seen in more than 1,200 years.
Those are the findings of a study that was published Monday in the journal Nature Climate Change. Scientists expanded on a study of megadroughts that was published in 2018, using tree-ring and weather data to reconstruct soil moisture levels through time.
Researchers found that the period of 2000-2021 was the driest 22-year period in southwestern North America since the year 800.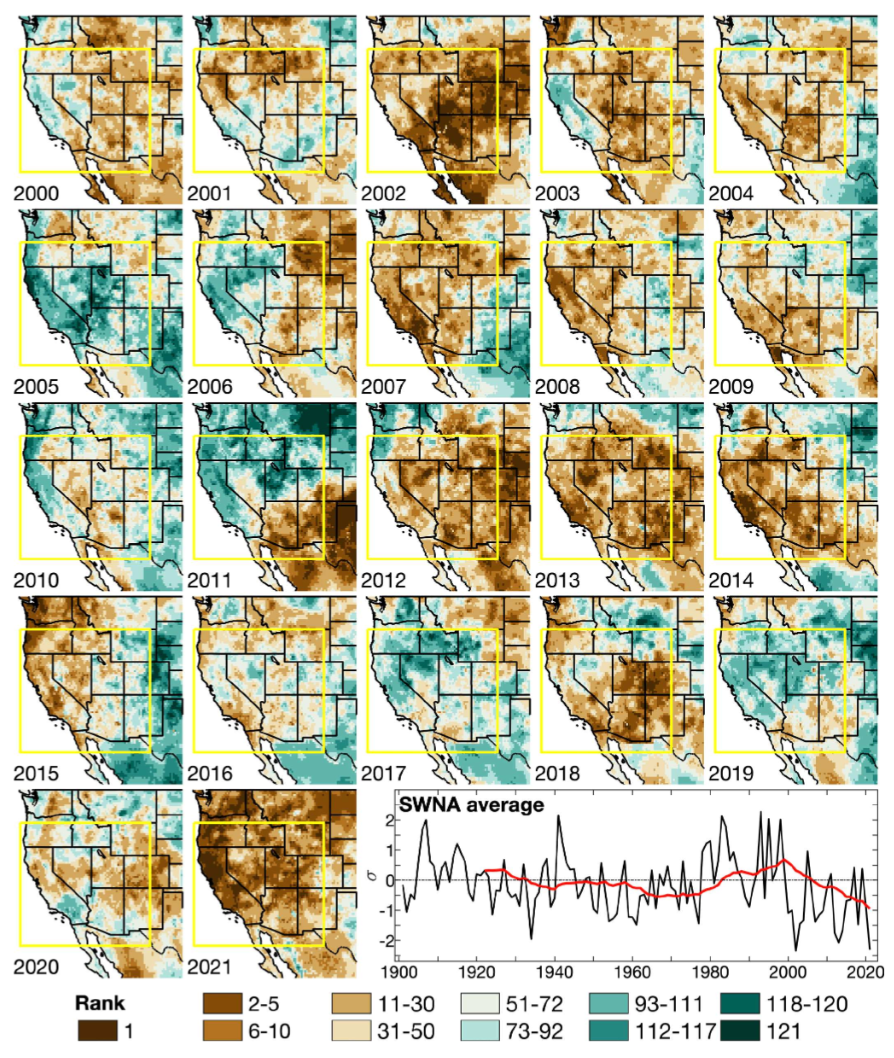 Maps show how gridded summer drought severity in each year from 2000–2021 ranked among all years 1901–2021, where low (brown) means low soil moisture and therefore high drought severity. Yellow boxes bound the southwestern North America (SWNA) study region. Time series shows standardized anomalies of the SWNA regionally averaged soil moisture record relative to a 1950–1999 baseline. Black time series shows annual values and the red time series shows the 22-year running mean, with values displayed on the final year of each 22-year window. (Rapid intensification of the emerging southwestern North American megadrought in 2020–2021/Nature Climate Change)
Scientists said in the study that exceptionally dry soil in 2021 allowed the current drought to escalate and put it on track to overtake the megadrought of the late 1500s.
According to the study, 94% of computer simulations show the current drought extending into a 23rd year. That would match the duration of the shortest known megadrought (1571-1593). About 75% of those simulations show the drought continuing to a 30th year, which would match the duration of the longest known megadrought.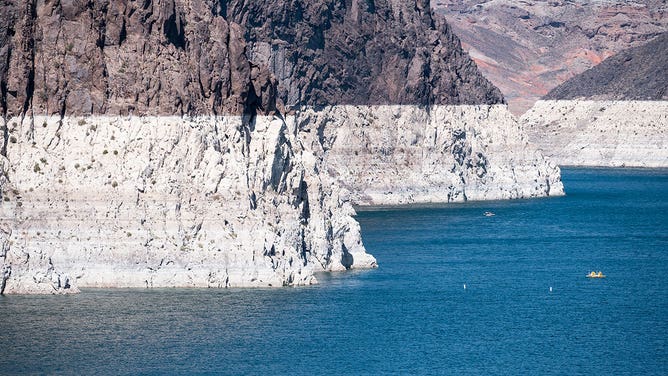 Researchers said that climate change accounts for about 42% of the lower soil moisture between 2000 and 2021, and accounts for about 19% of soil moisture anomalies last year.
The study found that even if there were no future climate change, 76% of simulations showed the current drought in southwestern North America continuing for a 23rd year and 33% of them showed the drought extending into a 30th year.
As of Feb. 8, the U.S. Drought Monitor showed 42% of the West is in severe drought.