Millions across US could see warmer, wetter weather as winter ends
The National Oceanic and Atmospheric Administration's Climate Prediction Center released its three-month temperature and precipitation outlook on Thursday, and it looks as though millions of Americans could experience higher temperatures and more precipitation through April.
Millions of Americans hoping for cooler temperatures and less precipitation may need to wait a few more months, according to the latest three-month temperature and precipitation outlook released on Thursday.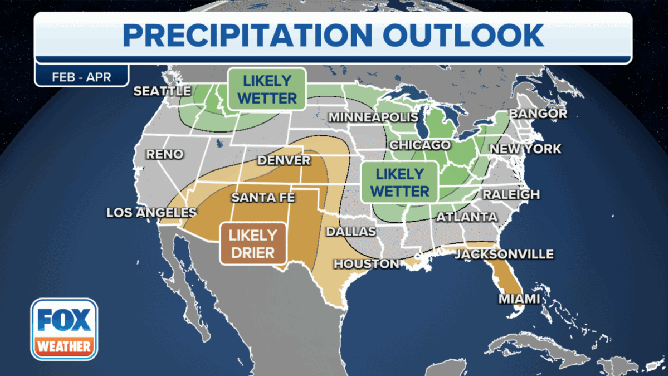 The National Oceanic and Atmospheric Administration's Climate Prediction Center released its temperature and precipitation forecast for February, March and April, and it's looking like southern and eastern portions of the country will see above-average temperatures while parts of the Midwest will see above-average precipitation.
Three-month temperature outlook
According to NOAA, warmer temperatures comparable to average are likely to be seen across the South, and from portions of Southern California, the Four Corners region in the Southwest, the central Plains, the Tennessee and Ohio valleys and into the mid-Atlantic, Northeast and New England.
However, areas with a much higher confidence of seeing above-average temperatures over the next 90 days include parts of the southern Plains and Texas, the lower Mississippi Valley and the Gulf Coast into Florida and Georgia in the Southeast.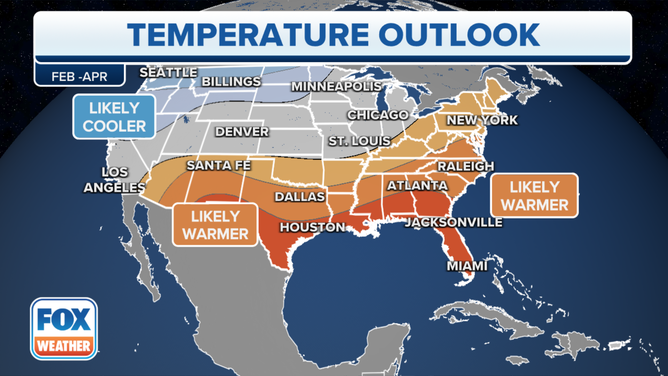 Forecasters don't detect a signal either for warmer or colder than average temperatures, giving equal chances for each for those living in central California, the central Plains and most of the Midwest, including Chicago.
But, according to the CPC, below-average temperatures are likely across the northern Plains and into the Pacific Northwest.
HERE'S WHY THE US HAS THE LOWEST SNOW COVER ON OVER A DECADE
Three-month precipitation outlook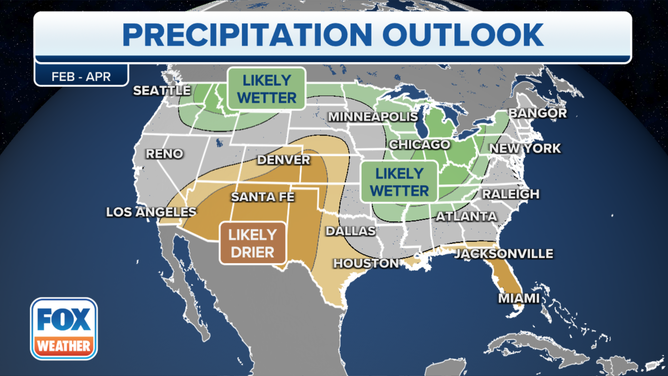 When it comes to the precipitation outlook over the next three months, many areas will likely see wetter than average conditions, and others will likely see below average totals.
A series of atmospheric rivers slammed into California over a period of several weeks starting at the end of December. That barrage of deadly storms helped the Golden State's drought problem.
According to the CPC's precipitation outlook, California looks to return to more normal precipitation, while dry conditions are expected across the Southwest, portions of the central and southern Plains, and along the Gulf Coast into Florida.
The areas where the CPC thinks conditions will be the driest include the Four Corners region, West Texas and almost the entire state of Florida.
The CPC thinks precipitation totals will be higher than average across areas of the Pacific Northwest from eastern Washington, northeastern Oregon and Idaho along the Northern Tier, the Midwest, the Ohio, Tennessee and Mississippi valleys and portions of the interior Northeast.