Historic snowstorm drops over 80 inches in Buffalo area as western New York digs out
The highest total from the storm was measured in Hamburg, New York, where 81.2 inches of snow piled up. The official measurement at the Buffalo Niagara International Airport was a total of 36.6 inches, which ranked as Buffalo's 5th-highest 3-day snowfall on record.
BUFFALO, N.Y. – A historic lake-effect snowstorm that buried western New York, including the Buffalo metro area, finally came to an end Monday after leaving four dead and dropping over 80 inches of snow in four days.
Bands of heavy snow off lakes Erie and Ontario produced snowfall rates between 3 and 6 inches per hour and lots of thundersnow from Thursday through Sunday, leaving most towns measuring their snow in feet rather than inches. Many vehicles attempting to drive around the region were reported to get stuck because of impassable roads.
Unofficially, 80 inches (more than 6.5 feet) of snow buried the Buffalo Southtown of Orchard Park, New York, where the Buffalo Bills were originally scheduled to host the Cleveland Browns at Highmark Stadium on Sunday, Nov. 20. However, the game was moved to Ford Field in Detroit due to "public safety concerns and out of an abundance of caution in light of the ongoing weather emergency in western New York," the Bills said.
DRONE CAPTURES INCREDIBLE VIEWS OF THUNDERSNOW OVER BUFFALO SKYLINE AMID HISTORIC SNOWSTORM
Only 15 miles to the north of Orchard Park, the official snowfall measurement for Buffalo, taken at Buffalo Niagara International Airport, will go into the record books as 36.6 inches.
A record daily snowfall for Nov. 19 was achieved on Saturday when 21.5 inches piled up in Buffalo, smashing the previous record for the date of 7.6 inches.
However, the Buffalo Southtowns were clobbered, with several towns picking up 50 inches or more of snow, including East Aurora (51.3 inches), Elma (67 inches) and Blasdell (76 inches).
Hamburg, New York, recorded the top snowfall total for the event, reporting an unofficial measurement of 81.2 inches between Nov. 17-20.
YOU COULD MAKE OVER AN 80-FOOT-TALL SNOWMAN WITH ALL THE SNOW ON THE BUFFALO BILLS' FOOTBALL FIELD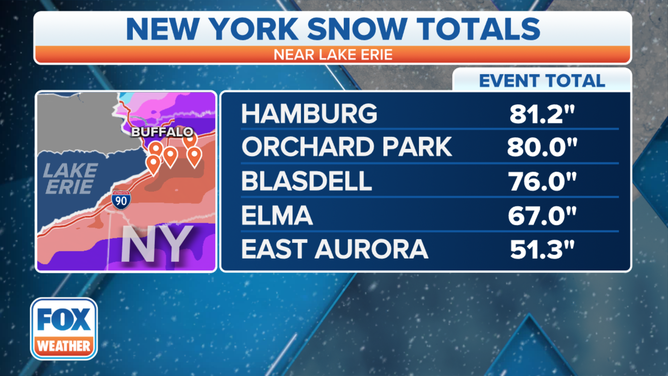 Ahead of the historic snowstorm, New York Gov. Kathy Hochul declared a state of emergency for the Buffalo and Watertown areas because of the expected feet of snow. A state of emergency had also been declared for Erie County, New York, home to the city of Buffalo. Southern portions of the city of Buffalo were placed under a travel ban, while the remainder of the city was under a travel advisory.
On Monday, Nov. 21, President Joe Biden and FEMA approved Hochul's request for a federal Emergency Declaration for 11 counties in western and northern New York. Hochul said the Emergency Declaration would provide immediate federal funding to the impacted counties to support ongoing response and rescue operations.
At least four deaths were attributed to the snowstorm.
An Erie County official said three residents passed away after suffering cardiac issues while trying to remove the snow and cautioned that the snow was heavy and could be dangerous.
Medical experts say shoveling heavy snow can be detrimental to one's health. A study by the American Journal of Emergency Medicine found that more than 11,000 people seek medical attention for injuries associated with removing snow each year.
The fourth death occurred Wednesday, Nov. 23, when a city of Buffalo employee was killed after being struck by a high loader that was moving in reverse during the ongoing snow removal in South Buffalo, according to Buffalo Police Commissioner Joseph Gramaglia.
CAN YOUR ROOF HANDLE RECORD-SETTING SNOW?
Schools, highways close ahead of epic snowstorm
As the storm got underway Thursday evening, Nov. 17, all commercial traffic was banned along a 132-mile stretch of the New York State Thruway (Interstate 90) from Rochester, New York, to the Pennsylvania border. The Thruway was reopened to all traffic in both directions on Sunday morning, Nov. 20, but commercial speed restrictions remained in effect throughout the day.
The Niagara Thruway (Interstate 190) also reopened on Sunday, Nov. 20, after being closed since the beginning of the storm, but drivers were urged to use caution when traveling.
HISTORIC LAKE-EFFECT SNOWSTORM CREATES WHITEOUT CONDITIONS IN WESTERN NEW YORK
Because of the severity of the historic storm, several school districts announced they would remain closed through at least Monday, Nov. 21, while crews continued to remove snow from roads across the region.
Buffalo Public Schools was closed on Nov. 21 and did not hold any remote classes. The Frontier Central School District was also closed on Nov. 21. In addition, Orchard Park Central School District and the Hamburg Central School District announced they would remain closed through Tuesday, Nov. 22.
NEW YORKERS BRACE THEMSELVES FOR 'LIFE-THREATENING' SNOW EVENT

Storm ranks as Buffalo's 5th-highest 3-day snowfall on record
Buffalo's heaviest three-day snowstorm on record dumped a whopping 56.1 inches of snow in 2001.
While that all-time record remains safe, the 36.6 inches of snow that piled up during this event ranks as Buffalo's fifth-highest three-day snowfall on record.
THESE ARE THE SNOWIEST DAYS IN U.S. HISTORY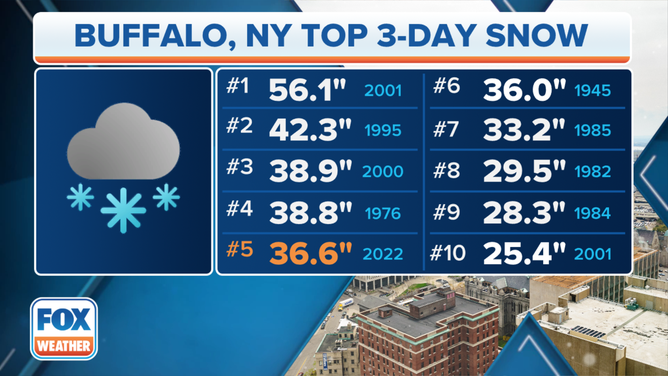 The National Weather Service office in Buffalo noted the weather pattern that spawned this historic lake-effect snow event shared similarities with another historic lake-effect storm in November 2014 that was dubbed "Snowvember," when more than 5 feet of snow also crippled the Buffalo Southtowns.
A LOOK BACK ON BUFFALO'S HISTORIC 2014 'SNOWVEMBER' STORMS THAT LEFT 7 FEET OF SNOW IN SOME SPOTS
When looking at U.S. cities with a population of at least 50,000 residents, Buffalo ranks as the fourth snowiest in the nation. It averages 95.4 inches of snow each winter – just shy of 8 feet.
BUFFALO COUPLE DIGS OUT OF 'SNOWY MOUNTAIN' AFTER HISTORIC LAKE-EFFECT SNOWSTORM
Northern New York also buried in more than 4 feet of snow
Places in northern New York to the east of Lake Ontario were also blasted with heavy bands of lake-effect snow over the same time period.
The highest total in this region was measured in Harrisville, New York, where 55 inches (just over 4.5 feet) of snow piled up during the storm.
Some 30 miles to the west, the city of Watertown picked up 36 inches (3 feet) of snow.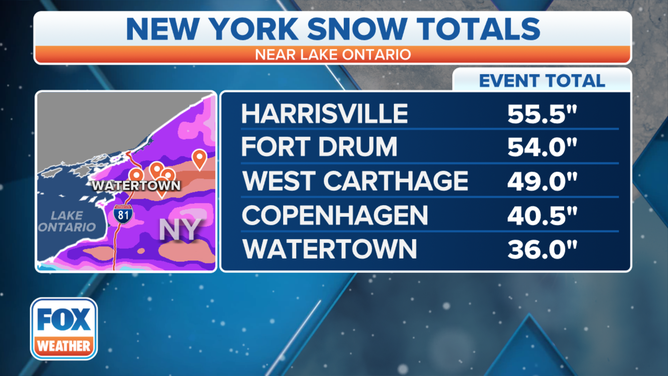 In the city of Oswego, New York, 13.2 inches of snow was measured during the event, and there was no shortage of thundersnow in the city.
One bolt of lightning even struck a smokestack near the campus of SUNY Oswego.
THUNDERSNOW: WHAT CAUSES LIGHTNING AND THUNDER DURING A SNOWSTORM?
How does lake-effect snow form?
Lake-effect snow develops when cold, dry air, often originating from Canada, flows across the relatively warm waters of the Great Lakes.
As that cold air passes over the lakes, warmth and moisture from the water are picked up and transferred into the lowest portion of the Earth's atmosphere. This rising air condenses into clouds, which can grow into narrow bands that are capable of producing snowfall rates as high as 2 to 3 inches per hour or more, according to the NWS.
The temperatures of lakes Erie and Ontario during the historic November 2022 snowstorm ranged from the upper 40s to the lower 50s – much warmer than the surrounding air temperatures over western and northern New York.
This significant temperature difference created the intense bands of snow off lakes Erie and Ontario for multiple days.
In fact, Lake Ontario's temperature was at its warmest value for mid-November in at least 27 years of recordkeeping, according to an analysis from NOAA's Great Lakes Environmental Research Laboratory. Lake Erie's temperature was at its second-warmest value for mid-November over the same period of record.