Which hurricanes rapidly intensified before US landfall?
FOX Weather put together a list of the most extreme rapidly intensifying hurricanes to make landfall in the U.S.
Hurricane Idalia made the record books in so many categories, such as storm surge, landfall location and rapid intensification. 
Idalia strengthened by 45 mph in 24 hours which is the fourth most extreme rapid intensification of any storm making landfall in the U.S.
"It took just 24 hours for Idalia to strengthen from a tropical storm into a monster Category 4 hurricane," said FOX Weather meteorologist Amy Freeze. "Not a lot of storms do that. They don't have that life cycle like that."
WHAT DOES IT MEAN WHEN A HURRICANE UNDERGOES 'RAPID INTENSIFICATION'?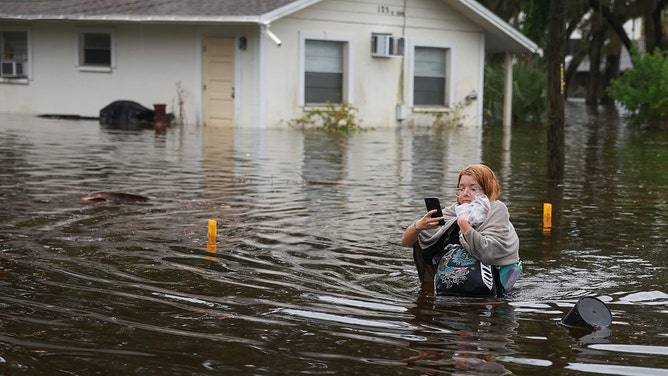 Any tropical system that undergoes an increase in maximum sustained winds of at least 35 mph in 24 hours has rapidly intensified. Forecasting rapid intensification changes is so important to issuing warnings and saving lives that Congress instituted the Weather Research and Forecasting Innovation Act of 2017, part of which calls on NOAA to improve the prediction of extreme strengthening.
Some of the most destructive storms in the U.S. rapidly intensified before landfall.
According to a FOX Forecast Center analysis, these are the five storms that underwent the most rapid intensification in the 24 hours before making landfall on the U.S. mainland:
Humberto (2007) - Increased 65 mph in 24-hours
Ida (2021) - Increased 60 mph in 24-hours
King (1950) - Increased 60 mph in 24-hours
Idalia (2023) - Increased 45 mph in 24-hours
Laura (2020) - Increased 45 mph in 24-hours
Gulf of Mexico connection
FOX Weather found a couple of striking similarities between these storms.
"Humberto, in 2007, this formed just off the coast of Louisiana," said FOX Weather meteorologist Stephen Morgan. "Ida, as we know, hit Louisiana. Laura also hit Louisiana. Of these five, three of them now four – all in the Gulf of Mexico, and notably with Laura, that was a monster. Holly Beach reported a 153-mph wind gust. That's why when these systems enter the Gulf of Mexico, it really raises our eyebrows."
BEWARE THE 'I' STORM: IT HAS MORE RETIREES THAN ANY LETTER USED FOR ATLANTIC HURRICANE NAMES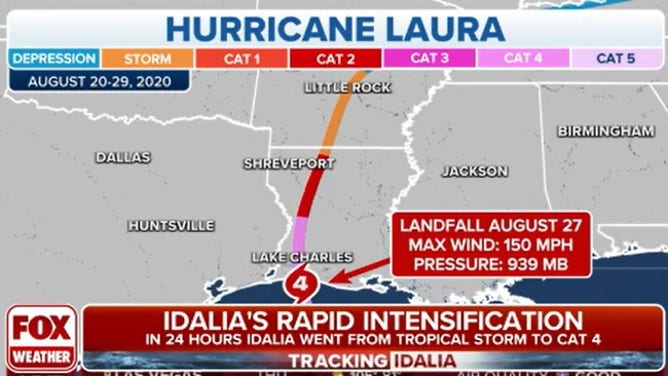 King, the only hurricane not to strengthen in the Gulf of Mexico, strengthened in the Caribbean Sea.
"The other really interesting factor there, when you look at these storms, is that there was a record warmth in the Gulf – plays a very critical role in rapid intensification," Freeze said.
The Gulf averages 83 to 88 degrees in August and September, whereas the Atlantic is generally in the low 80s. Hurricanes are warm core storms which means they derive energy from warm water. NOAA upped their 2023 hurricane season predictions after record-warm sea surface temperatures were recorded in July.
HERE ARE THE BUZZWORDS YOU'LL BE HEARING DURING HURRICANE SEASON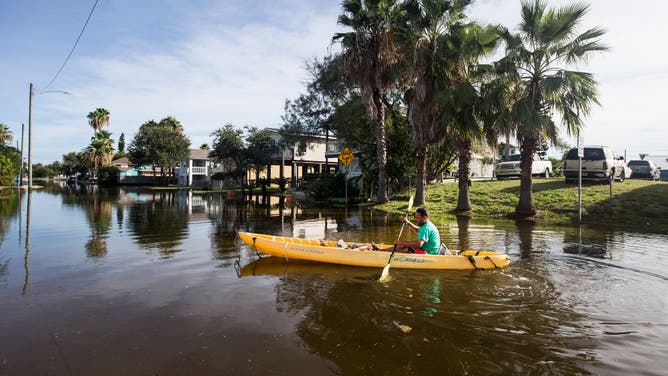 Major hurricanes becoming more likely
Four out of the five storms also formed in the past 20 years. Some scientists fear stronger hurricanes and more rapidly intensifying storms will become a new norm.
"Observations show an increase in tropical cyclone intensification rates in the Atlantic basin from 1982-2009. And on a global scale, extreme rapid intensification events (50+ kt in 24 hrs) have increased significantly from 1990 to 2021, likely primarily due to warming sea surface temperatures," stated the Climate Central website.
About 80% of major hurricanes undergo rapid intensification. In the Atlantic, 170 landfalling tropical cyclones have experienced rapid intensification since 1980, according to Climate Central.
By 2100, the frequency of a hurricane's winds increasing by at least 70 mph in the 24 hours leading up to landfall is expected to be once every five to 10 years, stated research from the Massachusetts Institute of Technology. That would be an increase from a rate of once every 100 years in late-20th-century climate.
Of the 56 tropical cyclones that have caused at least $1 billion in damage in the U.S. from 1980-2021, 73% underwent rapid intensification.