'Destruction has been catastrophic': Hurricane Laura struck Louisiana 2 years ago Saturday
Hurricane Laura was the strongest hurricane to strike southwestern Louisiana since records began in 1851, according to the National Weather Service.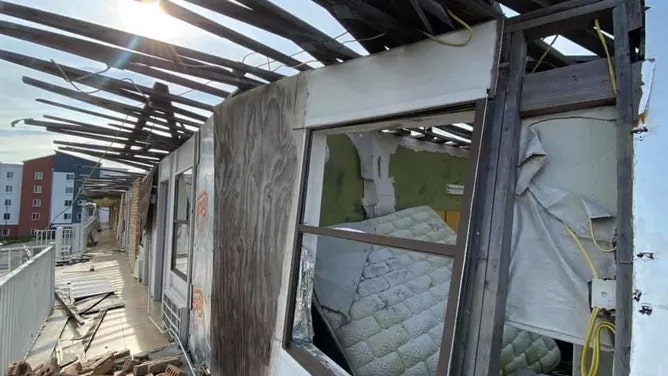 LAKE CHARLES, La. -- Two years ago Saturday, Louisiana was undergoing the wrath of a Category 4 hurricane that would leave a wide swath of destruction that affected communities still struggling to recover today.
Hurricane Laura struck just after midnight with 150 mph winds and a 9-foot storm surge, and was still at Category 4 strength when the eye wall passed over the Lake Charles area. It was the strongest hurricane to strike southwestern Louisiana since records began in 1851, according to the National Weather Service.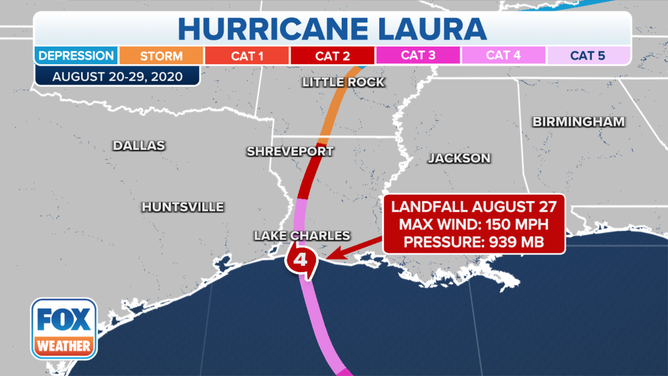 HOW TO WATCH FOX WEATHER ON TV
What's more, Laura maintained major hurricane status throughout its passage across Cameron, Calcasieu and southern Beauregard Parishes, and category 2 status across northern Beauregard and Vernon parishes.
The strongest gust recorded was 153 mph at Holly Beach. The wind gauge at Lake Charles's airport measured a gust of 133 mph before the anemometer was destroyed, as was the nearby NWS Doppler Radar dome, but the barometer inside the nearby National Weather Service building measured a sea level pressure of 28.23 inches (956 millibars) setting a state record for lowest pressure.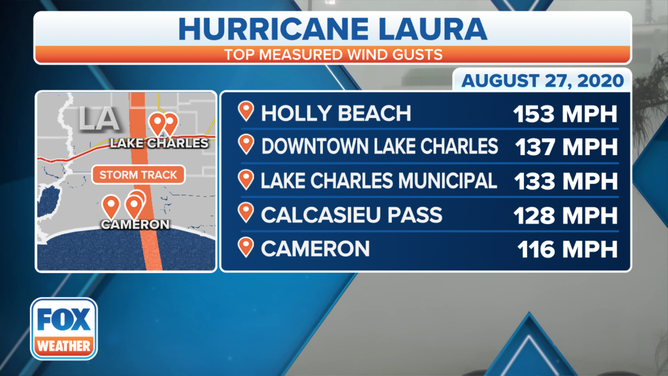 LAKE CHARLES DOPPLER RADAR RISES FROM THE RUBBLE
In addition to the monstrous winds, catastrophic storm surge was observed across Cameron Parish, especially around Cameron, Creole, and Grand Chenier. Several structures had over 13 feet of inundation above ground level, according to the National Weather Service, with one structure showing floodwaters 17.1 feet above ground level in Creole.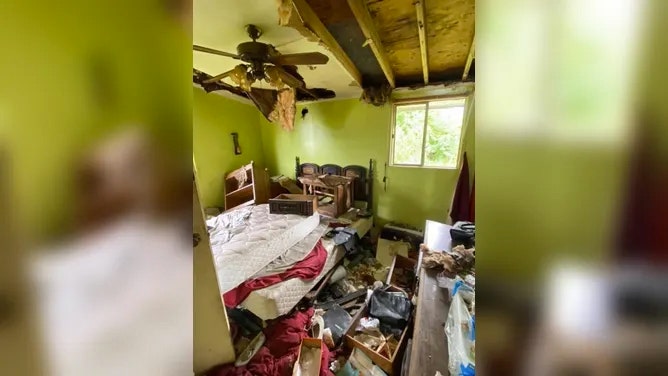 Some 5-11 inches of rain fell in the areas hit by the eye wall, though several rain gauges were destroyed during the storm, leaving forecasters to wonder if even higher amounts fell.
LOUISIANA DEEMED STATE MOST AT RISK FOR HURRICANE DAMAGE IN A GIVEN SEASON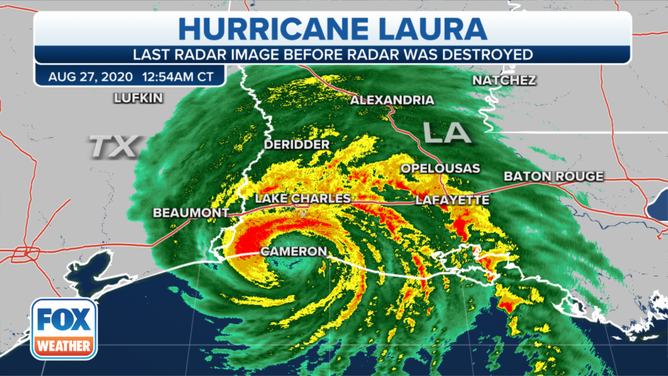 Laura would end up the most powerful hurricane to strike the United States in 2020, as well as the year's costliest weather disaster with more than $19 billion in damage.
Quadruple whammy: Second hurricane, ice storm, and tornadoes soon followed
Aside from the widespread destruction of homes and businesses, many broken water systems and a severely damaged electrical grid in southern Louisiana slowed the recovery process. What's worse, Hurricane Delta struck the same area six weeks later, followed by a rare and major ice storm in February and a severe weather outbreak in May that led to additional flooding and tornado damage.
"These storms were unprecedented; the amount of destruction has been catastrophic," Alberto Galan of Calcasieu Parish Emergency Management told FOX Weather earlier this year. "It's really hard to believe we're this far out; even with the work we have done in the past, it's hard to fathom."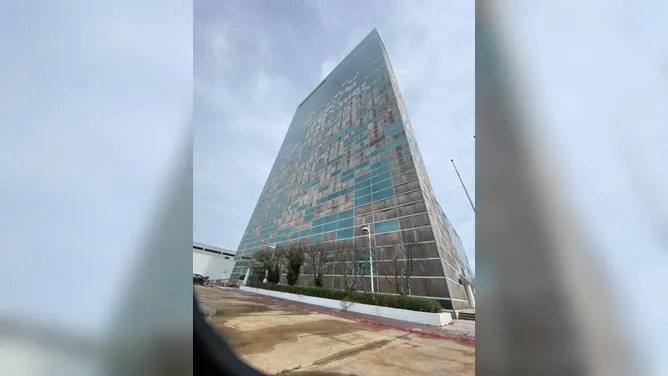 ONE YEAR LATER: RESIDENTS STILL CLEAN UP AFTER HURRICANES LAURA, DELTA
At the one-year anniversary mark last August, FEMA Administrator Deanne Criswell told FOX Weather they had managed to help remove 24 million cubic yards of debris.
"This is roughly enough to fill the Superdome in New Orleans six times," Criswell said. "This is not only an indication of the scale of damage that southwest Louisiana experienced, but it's also an indication of the scale of recovery that's going to continue."
Criswell added that more than 63,000 people have received federal support for home repair, rental assistance and replacing some essential household items, while about 2,400 families had been placed in temporary housing.
Four named storms made landfall in Louisiana in 2020. That tied the record number of tropical storms to hit Louisiana in a season.