1 year after being destroyed by Laura, Louisiana weather radar in potential path of new hurricane
The Lake Charles Doppler radar was offline for five months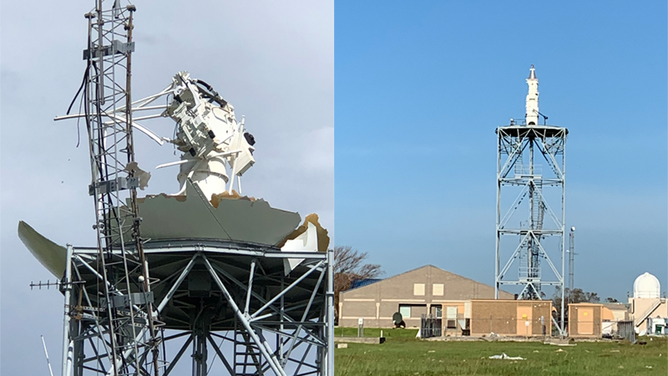 The National Weather Service Doppler radar in Lake Charles, Louisiana, was put back online in January after it was destroyed by Hurricane Laura last August, and now it's in the potential path of a new hurricane that's predicted to develop in the Gulf of Mexico this weekend.
Laura made landfall about 50 miles south of Lake Charles as a Category 4 hurricane on Aug. 27, 2020, packing winds up to 150 mph. It was the most powerful hurricane to strike the United States in 2020, as well as the year's costliest weather disaster with more than $19 billion in damage.
The hurricane's powerful winds significantly damaged the Lake Charles Doppler radar, rendering it inoperable on Aug. 27.
Here are the before and after pictures of the Lake Charles National Weather Service Radar dome and the last image taken from that radar before it was destroyed by Laura. (Damage picture from @AlaStormTracker ) pic.twitter.com/FKLmRz0TdW

— Jamie Arnold WMBF (@jamiearnoldWMBF) August 27, 2020
It was expected to take seven months to restore the radar, but on Jan. 22 – nearly two months ahead of schedule – the NWS said the radar was operational again after a five-month outage. The restoration cost was $1.65 million.
Contractors and technicians from the NEXRAD Radar Operations Center in Norman, Oklahoma, had been working since September 2020 to repair and replace damaged radar parts. All of the equipment inside the radome, including the antenna and pedestal, were replaced.
They also repaired the radar's tower, fence and equipment shelters. These efforts involved working 65 feet above the ground with heavy equipment weighing more than 8,000 pounds, according to the NWS.
The Lake Charles Doppler radar is an important tool for monitoring weather conditions across six counties in southeastern Texas, 16 parishes in Louisiana and the adjacent coastal waters of the northwestern Gulf of Mexico.
When it was offline for five months, radar sites in Houston, Shreveport and Fort Polk, Louisiana, helped fill the gap in coverage.
Over the next several days, the Lake Charles radar could become a life-saving tool for National Hurricane Center and NWS meteorologists issuing forecasts for a potential hurricane that's predicted to move in the direction of the U.S. Gulf Coast by early next week.