NOAA's 2023 Atlantic hurricane season prediction increased to above normal despite El Nino
The new outlook calls for 14-21 named storms, of which 6-11 could become hurricanes. Of those, 2-5 could become major hurricanes with winds of at least 111 mph.
Forecasters at NOAA's Climate Prediction Center (CPC) have increased their prediction for the remainder of the 2023 Atlantic hurricane season from a near-normal level of tropical cyclone activity to an above-normal level of activity due to record-warm sea surface temperatures in the Atlantic that are expected to counterbalance the conditions associated with the ongoing El Niño event in the Pacific.
The announcement was made Thursday morning, and forecasters said the likelihood of an above-normal hurricane season in the Atlantic has been raised to 60%, higher than the 30% chance it was given back in May.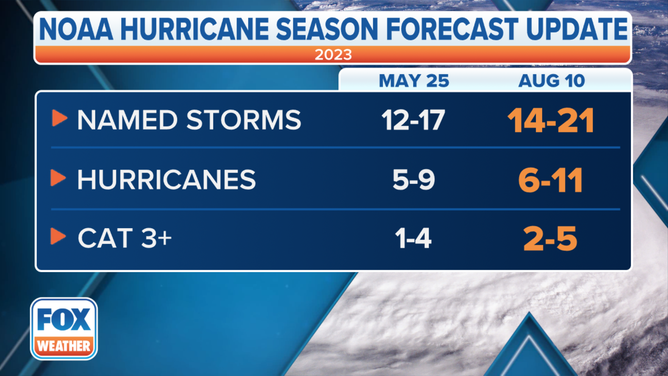 The new outlook calls for 14-21 named storms, of which 6-11 could become hurricanes. Of those, 2-5 could become major hurricanes with winds of at least 111 mph.
"The main climate factors expected to influence the 2023 Atlantic hurricane activity are the ongoing El Niño and the warm phase of the Atlantic Multi-Decadal Oscillation, including record-warm Atlantic sea surface temperatures," Matthew Rosencrans, the CPC's lead hurricane season forecaster, said in a news release. "Considering those factors, the updated outlook calls for more activity, so we urge everyone to prepare now for the continuing season."
This latest update comes one week after researchers at Colorado State University (CSU) released their tropical outlook that expected 18 named storms, with nine becoming hurricanes and four becoming major hurricanes. CSU's outlook was unchanged from its July update, but forecasters cautioned there was greater uncertainty due to global climate patterns being in flux.
El Niño's effect on Atlantic hurricane season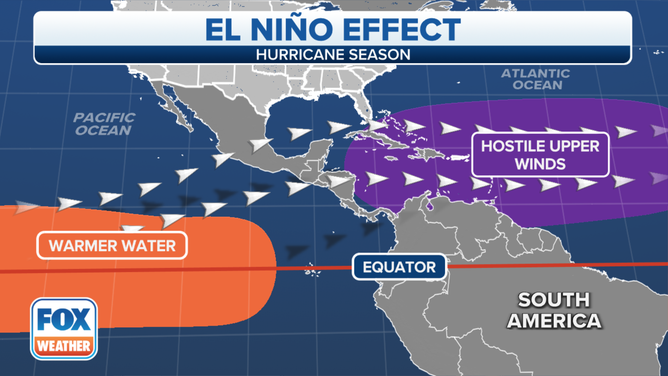 The 2023 El Niño is strengthening across the Pacific Ocean, and that normally means fewer tropical systems in the Atlantic Ocean. However, forecasters are concerned that isn't the case this year.
There have already been five named storms in the Atlantic Ocean, including the season's first hurricane – Don. The tropical activity seen so far this season and historically warm water temperatures in the Atlantic Ocean could be indications that the 2023 Atlantic Hurricane Season might end up being busier than average.
During typical El Niño years, activity in the Atlantic is reduced due to increased vertical wind shear and cooler water temperatures. That has not yet been observed across large parts of the Atlantic.
Last month, water temperatures in Manatee Bay within Everglades National Park in Florida measured 101.1 degrees Fahrenheit at a depth of 4.9 feet. 
Scientists said July was the world's hottest month on record in terms of air surface temperatures. Sea surface temperatures also hit new record highs last month.
August begins peak hurricane season in Atlantic

The Atlantic hurricane season runs from June to November. August, September and October are considered to be the peak months, with more than 85% of tropical systems forming during the three-month period.
As ocean temperatures rise during the summer, tropical formation zones cover most of the Atlantic Ocean.
WHAT TO EXPECT IN THE TROPICS AS HURRICANE SEASON ENTERS AUGUST
"The odds of an active tropical storm or hurricane increase quickly and dramatically through August as Saharan dust season ends, the upper winds become less hostile, and the ocean heats up," said FOX Weather hurricane specialist Bryan Norcross.
Tropical cyclone frequency in the Atlantic Ocean.
(FOX Weather)
---
Due to the more favorable conditions, the month has produced some of the most historic cyclones to ever churn across the basin, including hurricanes Andrew, Katrina, Harvey and Camille.
So far in 2023, the season is running ahead of normal, with Hurricane Don already having moved through the North Atlantic, which was nearly three weeks ahead of the average first hurricane formation date of Aug. 11.