What to expect in the tropics as hurricane season enters August
Typical formation zones tend to expand during August, with more attention being played to the central Atlantic and across the entire basin. The 2022 season did not produce a single named storm, making it one of only a few years not to see tropical cyclone activity.
The Atlantic hurricane season is entering its third month after an unusual start to the year, with five cyclones in the basin and what forecasters said could be a busy peak.
August, September and October are considered to be the peak months, with over 85% of tropical cyclone formations during the three-month period.
Unlike during the first months of the season, the hotbed formation zones cover much of the Atlantic due to warming water temperatures and an increase in moisture associated with tropical disturbances.
"The odds of an active tropical storm or hurricane increase quickly and dramatically through August as Saharan dust season ends, the upper winds become less hostile, and the ocean heats up," said FOX Weather hurricane specialist Bryan Norcross.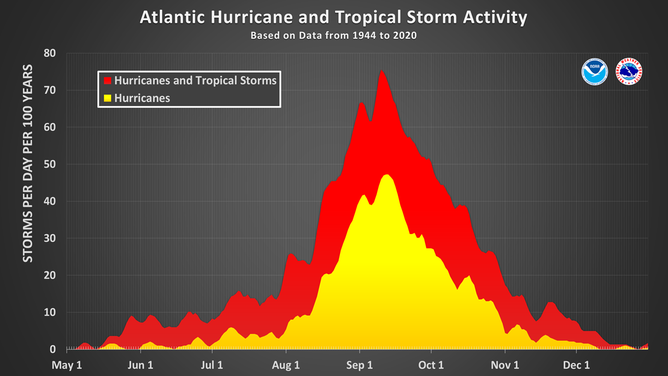 HOW TO WATCH FOX WEATHER ON TV
Due to the more favorable conditions, the month has produced some of the most historic cyclones to ever churn across the basin, including hurricanes Andrew, Katrina, Harvey and Camille.
So far in 2023, the season is running ahead of normal with Hurricane Don already having moved through the North Atlantic, which was nearly three weeks ahead of the average first hurricane formation date of August 11.
An average August produces four tropical cyclones and two hurricanes, but the formation of the season's first major cyclone usually occurs in September.
No month is an exact carbon copy of another, and El Niño can dictate how busy the month can be.
PEAK OF ATLANTIC HURRICANE SEASON BEGINS IN AUGUST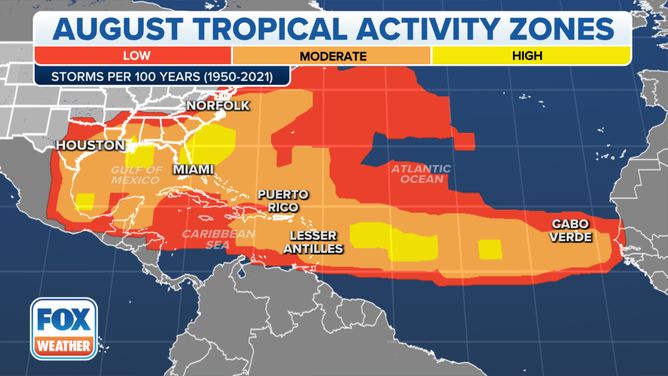 August 2022 was historic
Last August defied many experts' expectations as the month did not produce a single cyclone across the basin.
Despite warm water temperatures and a La Niña in control of weather patterns, it was only the second time in the modern satellite era that neither a tropical storm nor a hurricane formed.
Hurricane experts such as FOX Weather's Bryan Norcross and Colorado State University's Phil Klotzbach pointed to a region of higher pressure and drier air for being some of the culprits behind the lack of cyclones.
The lack tropical activity during the month caused many outlooks to overestimate how many hurricanes the season would produce.
During a typical August, four named storms form and two strengthen to become hurricanes.
Both the 2020 and 2021 seasons saw above-average formations with several named storms and even major hurricanes.
HURRICANE SEASON 2022: AUGUST FINISHES WITHOUT ANY NAMED STORMS FOR FIRST TIME IN DECADES
Early indications for August 2023
The FOX Forecast Center said there are mixed signals about whether the month will be known for its activity or if it'll fail to meet expectations.
Sea surface temperatures in large parts of the Gulf of Mexico, Caribbean Sea and Atlantic Ocean are above average but dry air remains plentiful, which is expected during the first half of the month.
Plumes of the Saharan Air Layer, or what is commonly known as SAL, have recently reached the Gulf Coast, enhancing sunrise and sunset colors and impacting air quality.
The wide-ranging effects of El Niño have generally not been witnessed yet across the basin, which tends to reduce tropical cyclone activity. 
Usually, during El Niño events, upper-level winds are stronger, leading to increased shear across parts of the Caribbean and Atlantic.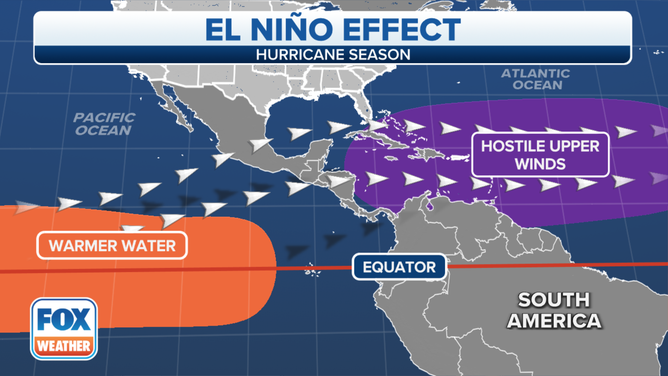 The hostile conditions are known to be detrimental to cyclones that need calmer conditions aloft for vertical thunderstorm development.
Not all EL Niño patterns produce similar effects, and some hurricane years, such as 2012 and 2004, have defied expectations and were record-breaking.
The 2004 hurricane season produced eight tropical cyclones during the month of August and 15 cyclones over a period between June 1 and November 30.
Both the 2012 and 2004 hurricane seasons rank as the fifth and sixth-costliest years, respectively, in U.S. history.