Bomb cyclone kills at least 5 in California as storm batters state with tornadoes, strong winds
Five people were killed in storm-related deaths after wind gusts reached 77 mph in the region. More than a quarter-million people were without power in the state at the height of the storm, with a majority in the Bay Area. The storm churned up 2 tornadoes in southern California.
At least five people were killed when a bomb cyclone slammed into California on Tuesday, bringing tornadoes, destructive wind gusts, heavy rain, flash flooding, tornadoes and mountain snow.
A driver was killed by a falling tree near Portola Valley in unincorporated San Mateo County, according to a report from KTVU FOX 2 San Francisco.
THE DAILY WEATHER UPDATE FROM FOX WEATHER: LATEST CALIFORNIA STORM WANES AS SOUTH PREPARES FOR STORMS

The California Highway Patrol said the man was in a work van traveling through San Mateo when a eucalyptus tree fell onto the vehicle, according to KTVU.
And in the East Bay's Contra Costa County, officials said a large tree fell onto a car. The driver of that vehicle received minor injuries, but the passenger died in the incident.
WATCH: STRANDED MAN RESCUED FROM ISLAND AFTER RAGING CALIFORNIA RIVER SWEPT HIS CAR AWAY
The San Francisco mayor's office confirmed an additional two people died in storm-related incidents.
"Tragically, two people lost their lives, which is a grave reminder of how serious and dangerous this storm became," Mayor London Breed said.
FOX 2 KTVU reported that a falling tree in Oakland crushed a man in a tent, killing him. In San Francisco 2 more people were critically injured by falling trees. A San Francisco police sergeant was badly injured after a tree fell on his car.
Tornadoes in Southern California
The National Weather Service confirmed two tornadoes in Southern California on Tuesday and Wednesday.
VIDEO: TORNADO CAUSES DAMAGE IN LOS ANGELES AREA
Survey crews confirmed that an EF-0 tornado damaged several mobile homes in Carpenteria in Santa Barbara County on Tuesday. Winds blew up to 75 mph in this twister. 
On Wednesday, an EF-1 tornado struck Montebello, California, southeast of downtown Los Angeles around 11 a.m. Aerial video shows the roofs of several warehouses peeled off. The Los Angeles Fire Department confirmed one injury.
The city says that 17 buildings were damaged and 11 of them red tagged.
This was the first March tornado for Los Angeles since 1992.
Cleanup continues as bomb cyclone slowly pushes southeast
Heavy rain that fell on already-saturated soil caused numerous reports of flash flooding and landslides. At the same time, strong winds brought down trees across the region, knocking out power to more than 250,000 utility customers, according to PowerOutage.US. The majority of those outages were in the San Francisco Bay Area.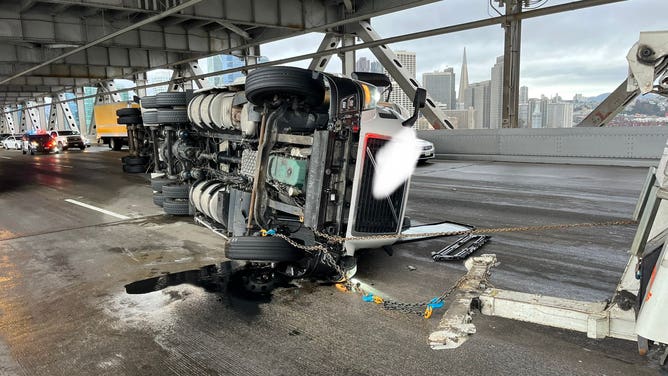 Strong winds gusting as high as 77 mph in San Francisco were reported, and the strong winds blew over vehicles on the Bay Bridge on Tuesday. Oakland, right across the bay from San Francisco, reported a peak wind gust of 74 mph.
CALIFORNIA CROPS LOST AFTER FLOODS; HOW MUCH OF THE US WILL FEEL THE SHORTAGE?
Winds broke moored barges free in the San Francisco Bay. The cement structures tore up a 90-year-old bridge near Oracle Park where the Giants play.
Wind-driven waves splashed up onto sidewalks even in protected areas.
5 SPRING WEATHER EXTREMES TO WATCH OUT FOR THIS YEAR
While the heavy rain fell in the lower elevations, heavy snow was reported in the higher elevations in the Los Angeles area, as well as in the Sierra Nevada, which has already seen more than 50 feet of snow this season.
Lake Tahoe has now reported its second-snowiest winter on record, and two of its 10 snowiest months of all time have also been reported this season – January and March.
CALIFORNIA SCENES SHOWING DEVASTATION FROM FLOODING, SINKHOLES AMID BARRAGE OF ATMOSPHERIC RIVERS
Sunshine on the horizon
A radar loop over the past three hours.
(FOX Weather)
---
BATTLE OF AIR MASSES WILL MEAN DRAMATIC TEMPERATURE DIVIDE FOR 300 MILLION AMERICANS
Spotty showers will continue as the storm weakens and presses inland. Most areas woke up to drier weather Thursday except for the Central Coast which had a few showers lingering on Thursday.
The state gets a chance to dry out through the rest of the work week. Unfortunately, temperatures will stay cool through the weekend and winds will pick up again heading into the weekend. The NWS in San Francisco even warns of patchy frost over the weekend.
The FOX Forecast Center is tracking a strong upper level low that could bring more heavy rain and strong winds to Northern California Monday and Tuesday. Southern California could feel the storm Tuesday and Wednesday. So far, weather models are not showing signs of an accompanying atmospheric river.
Rain, snowpack helping with California's drought
According to the latest U.S. Drought Monitor update released on March 14, only 36% of California remained in drought. That's now the lowest drought coverage in the Golden State in nearly three years, since April 2020.
The current drought monitor in California.
(FOX Weather)
---
Relentless atmospheric river storms have been slamming the West, including California. In December, 98% of the Golden State was experiencing drought conditions. But as storm after storm brought rain and snow to the region, conditions have drastically improved.
The rain has also been incredibly beneficial for the state's reservoirs, which were running dry until the onslaught of storms that started in December.