California scenes show devastation from flooding, sinkholes amid barrage of atmospheric rivers
Moisture from rounds of rain have created dangerous mudslides and sent trees sliding off mountain roads. California first responders have been busy rescuing people from sinkholes and flooding.
The onslaught of atmospheric rivers continues to pummel California this week, making roads impassable, creating massive sinkholes and dropping more than a foot of rain in some places.
California is in its third week in a row of heavy rain brought on by a series of back-to-back atmospheric rivers that kicked off right after Christmas. After the latest system passed, strong winds and intense rain continue with another atmospheric river forecast to arrive later this week. 
All the moisture from rounds of rain have created dangerous mudslides and sent trees sliding off mountain roads.
Half a dozen roads in Santa Cruz County are closed due to mud and landslides. 

PG&E linemen recorded the video below on Highway 9 north of Santa Cruz showing the roots of mature Douglas Fir trees soaked by days of rain coming loose and sliding down in a mudslide onto the road. 
Hundreds of linemen are positioned around the state to restore power outages caused by downed trees and power lines from the heavy rainfall and high winds. 
Near the Fresno area, crews were using excavators and other heavy-duty machinery to move car-sized boulders from State Road 168 that fell during a rock slide on Monday.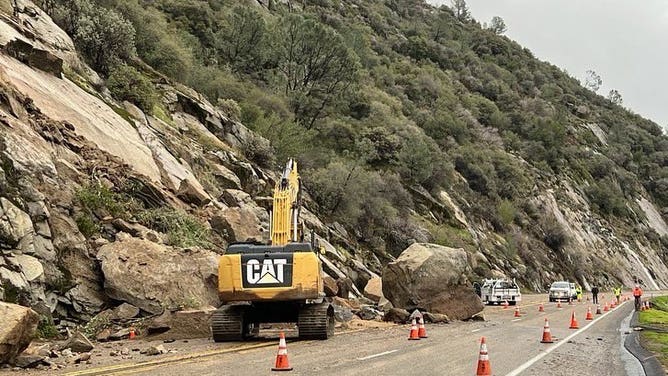 CALIFORNIA ATMOSPHERIC RIVER MAP TRACKER: LATEST DATA ON POWER OUTAGES, FLOOD AND WIND ALERTS, RAIN TOTALS
First responders are working to clear trees, mud and debris from roads to help with restoration efforts. 
California Highway Patrol troopers have seen some of the weather extremes firsthand as they are busy with road closures and responding to numerous downed trees. 
CHP Santa Cruz shared a video of intense winds blowing sea foam on East Cliff Drive.
Life-threatening flooding continues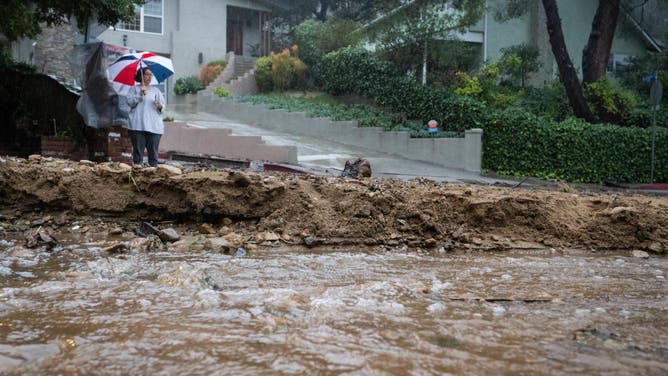 The NWS Office in Los Angeles is calling the recent atmospheric river event the city's "most impressive storm" since January 2005. Southern California is reporting some of the highest two-day rainfall totals.
Between 13 and 17 inches of rain have already fallen in just two days across some coastal foothills in Ventura and Santa Barbara counties. 
Video in Santa Barbara County shows mud-covered roads and rushing water as the rainfall continues Tuesday.
Meanwhile, several inches have fallen on the Los Angeles coast and metro areas.  Union Station in Los Angeles was overcome by floodwaters on Tuesday.
Video shared by Sandy Eckel showed commuters attempting to navigate the flooded metro by bike and, if they were lucky enough, by golf cart.
Toppled trees on the train tracks also caused delays for Los Angeles Metro passengers this week. Buses were brought in to shuttle passengers between stations after trees brought down overhead wires on the tracks between Southwest Museum and South Pasadena stations.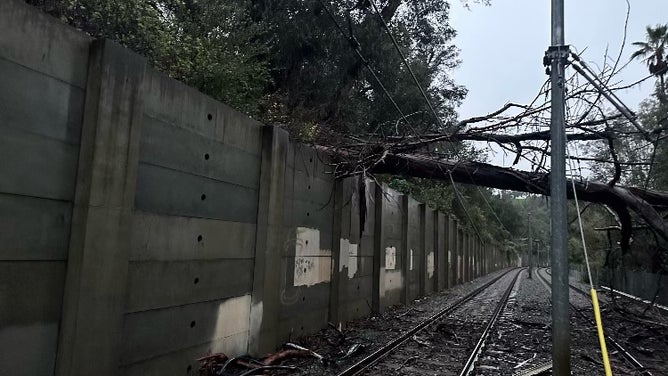 Drone footage from California's Department of Water Resources shows excessive flooding, which is expected to continue as more rain is forecast in the coming days.
As flooding conditions worsen, officials continue to issue evacuation and shelter-in-place orders. 
Swift water rescues were underway in parts of Ventura County. A resident became trapped by the rising Ventura River, according to the fire department.
Atmospheric river brings weather rarities to California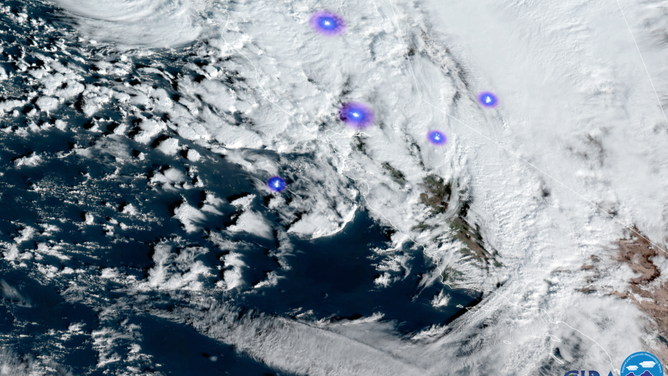 The series of weather systems is also bringing unusual and extreme weather to California. 
California is one of the least lightning-prone states in the county. On Tuesday, lighting could be seen from NOAA's GOES-West satellite in space as rounds of lightning rolled onto the California coastline. 
NOAA's Storm Prediction Center forecast a low chance of a tornado occurring for parts of Central California, another rarity for California. 
Los Angeles Firefighters rescued at least two people after a 15-foot-wide sinkhole opened up in Chatsworth, California, swallowing multiple cars near California State Road 118. 
DRAMATIC TIME-LAPSE VIDEOS SHOW FLOODWATERS TURN ROADS INTO RIVERS FROM ATMOSPHERIC RIVER SLAMMING CALIFORNIA
Two people were hospitalized after being pulled from the sinkhole and two others were able to climb out of the sinkhole unharmed, according to the Los Angeles Fire Department. 
"That's unfortunately what happens when we have a series of atmospheric rivers," FOX Weather Meteorologist Britta Merwin said of the constant rainfall.
Merwin explained the excessive moisture is to blame for sinkholes opening without warning.
"The ground is so saturated and all of that groundwater is going underneath of the road and so what happens is the water underneath the asphalt is literally pulling back on the dirt, and there is nothing to support it, and so it caves in," Merwin said.
Californians will have to still deal with rain and flooding concerns for several more days as more atmospheric rivers are in the forecast over the next seven days.