Dramatic time-lapse videos show floodwaters turn roads into rivers from atmospheric river slamming California
Many residents have been told to evacuate as life-threatening flash flooding develops in parts of Northern and Central California.
SAN LORENZO, Calif. – Another powerful atmospheric river storm is hammering California with life-threatening flash flooding on Monday, and dramatic videos from the Golden State are showing the fury of the rising floodwaters.
Areas, such as San Francisco and Santa Cruz and Santa Barbara Counties, are once again being walloped as more heavy rain falls onto an already-drenched region of Northern and Central California.

San Francisco area
The video below shows the San Lorenzo River, which flows between San Francisco and Santa Cruz, rising as a log jam is blocking the water flow. Officials closed one of the lanes on Monday, so they may try to remove the log jam.
Earlier Monday morning, this time-lapse video captured the waters of the San Lorenzo River rapidly rising before the sun rose.
ATMOSPHERIC RIVER HAMMERS CALIFORNIA WITH LIFE-THREATENING FLASH FLOODING AS RESIDENTS TOLD TO EVACUATE
Santa Cruz County
Roads in the town of Felton – located north of Santa Cruz – turned into rivers and had to be closed due to high water levels.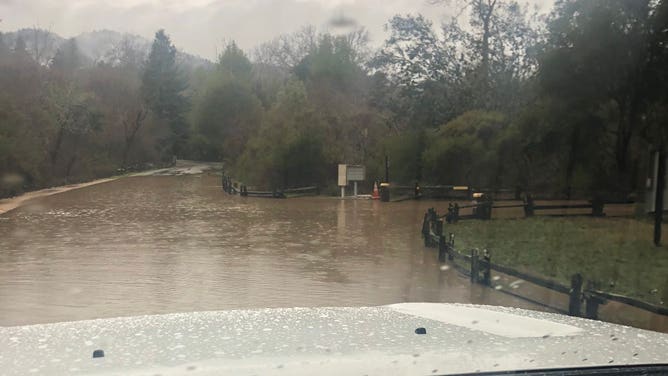 A bridge just east of the city of Santa Cruz fell into the rushing creek below, completely breaking off of the roadway and forcing nearby residents to find an alternate route.
HOW FLOODWATER CAN MAKE YOU VERY SICK
Parts of the city of Santa Cruz were brought to a halt as floodwaters inundated an intersection at Mt. Hermon Road and Graham Road, making the roadway impassable.
The community of Felton Grove in Santa Cruz County saw their streets disappear under feet of floodwater. 
HERE'S WHAT TO DO IF YOUR CAR IS FLOODED
The flash flooding has also led to mudslides pushing dirt, trees and debris onto roads. One mudslide led to an area on state Route 9 and Holiday Lane, located close to the San Lorenzo River, to be shut down.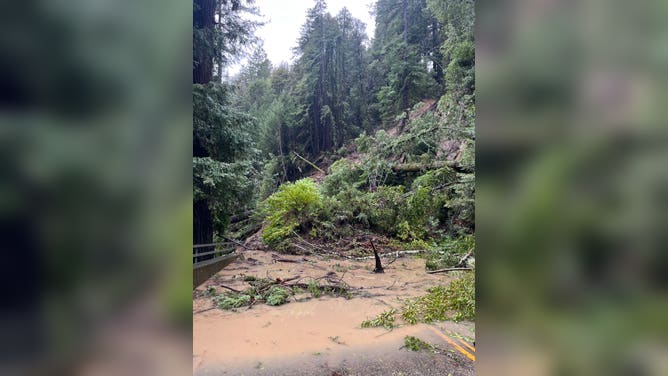 These mudslides are leading to messy commutes, according to CalTrans District 3 public information officers Gilbert Mohtes-Chan. 
Threats of mudslides have also led to officials issuing evacuation orders and evacuation warnings in parts of Santa Cruz. 
Santa Barbara County
Further south, mandatory evacuations were issued in parts of Santa Barbara County as heavy rain doused the area.
CALIFORNIA FLASH FLOODING FORCES MONTECITO, OTHER CELEBRITY COMMUNITIES TO EVACUATE.
A creek in the city of Santa Barbara turned into a rushing river, due to flash flooding on Monday.
Mission Creek at Pueblo St. was rushing, as well.
Floodwater also filled some streets in Santa Barbara, as seen in the video below where a gentleman was rescued from the floodwater.
At the same the intersection of Bath St. and Cota St., a dumper was seen floating on by.