Atmospheric river hammers California with life-threatening flooding, water rescues and evacuations underway
Several more inches of rain are expected to fall as this storm continues to sweep southward and the next one in the parade makes landfall Tuesday. This will likely lead to widespread flooding as rainwater flows into smaller rivers and streams, which will eventually move into larger rivers that could flow out of their banks.
A dire situation unfolded in California Monday as another powerful atmospheric river storm brought torrential rain to the state and led to life-threatening flash flooding, prompting officials to issue evacuation warnings in several communities.
On Monday alone, more than a foot of rain fell in the mountains of San Luis Obispo and Santa Barbara counties.
This storm, forecasters said, was a "direct threat to life and property."
Officials were said to have called off search and rescue operations Monday evening after a 5-year-old was said to be swept away by floodwaters. 
More rescues continued throughout the state due to flash flooding. 
Boulders rained down on State Road 168 in Fresno County. The California Highway Patrol closed the road through the Sierra foothills and advised, "Avoid travel to Shaver Lake and above."
CALIFORNIA ATMOSPHERIC RIVER MAP TRACKER: LATEST DATA ON POWER OUTAGES, FLOOD AND WIND ALERTS, RAIN TOTALS
San Lorenzo River rises rapidly, threatening Santa Cruz
Flash Flood warnings were issued across the state as Monday's storm system made its way ashore.
The National Weather Service said life-threatening flash flooding was occurring in the Dolan Fire burn-scar area in Monterey County, where between 3 and 8 inches of rain had fallen.
"Excessive rainfall over the burn area will result in debris flows moving through the Dolan Fire burn area," the National Weather Service said. "The debris flow can consist of rock, mud, vegetation and other loose materials."
WIDESPREAD WESTERN WILDFIRES PLUS WINTER WEATHER: A DANGEROUS SETUP FOR DEADLY DEBRIS FLOWS
A Flash Flood Warning had also been issued for Santa Cruz County, where heavy rain was producing life-threatening flash flooding, including in the Santa Cruz area.
The National Weather Service said flooding was expected to continue along creeks and streams, in urban areas, on roads and highways and on underpasses.
DRAMATIC TIME-LAPSE VIDEOS SHOW FLOODWATERS TURN ROADS INTO RIVERS FROM ATMOSPHERIC RIVER SLAMMING CALIFORNIA
The latest data on the San Lorenzo River in California.
(FOX Weather)
---
The San Lorenzo River, which is located in Santa Cruz County, had been rapidly rising due to the relentless onslaught of heavy rain across the region. The river passed major flood stage and was threatening the Santa Cruz area with imminent flooding, including the downtown area. 
"This dramatic rise happened within a matter of hours during the overnight hours," FOX Weather meteorologist Britta Merwin said. "That is always the worst-case scenario because, of course, folks are going to be waking up, and they're going to realize, 'Oh my goodness. The river went out of bank while I was sleeping.'"
So much water was moving downstream that the river was actually flowing at a whopping 6.7 million gallons per minute.
WILL CALIFORNIA'S LONG-TERM DROUGHT IMPROVE AFTER ATMOSPHERIC RIVERS HAMMER THE WEST?
San Lorenzo River
(FOX Weather)
---
And according to the California Highway Patrol, several roads had been closed in Santa Cruz because of water covering streets. Mud and rock slides closed other roads as well.
The CHP said it had conducted several water rescues because of the flooding. 
Evacuations ordered for thousands of California residents
Several communities ordered residents to evacuate because of the ongoing life-threatening flood threat.
Sacramento County on Sunday ordered residents living in Wilton to leave the area because of fears that rising rivers could spill out of their banks and onto roads in town, which would cut off evacuation routes for residents.
Santa Barbara officials issued an evacuation order for Montecito and parts of Carpinteria, Summerland and the city of Santa Barbara.
Resident Ellen DeGeneres posted a tweet showing the rushing river next to her Montecito home. She said it normally just trickles, and "Mother Nature is not very happy with us."
CALIFORNIA FLASH FLOODING FORCES MONTECITO, OTHER CELEBRITY COMMUNITIES TO EVACUATE
Santa Barbara County also issued an evacuation warning for areas in the southernmost part of the county associated with the Alisal, Cave and Thomas fires.
That warning came as concerns grew that the heavy rain could lead to mudslides and debris flows in burn-scar areas.
WINE COUNTRY RESIDENTS READY TO EVACUATE AS RIVER RISES
In Monterey County, along the California coastline, evacuations were also ordered in low-lying areas of the Carmel River. Other evacuations were ordered for areas along the Pajaro River as well.
Santa Cruz County also announced the evacuation of residents in the Felton Grove and Paradise Park areas.
Shelters opening for evacuated residents
Emergency shelters have opened for residents that have been evacuated due to the flooding.
Shelters have been opened in several counties for those forced to leave their homes.
Atmospheric river brings double, or even triple the amount of typical moisture in the air
So, why is this storm different than the others?
"Typically, California sees about five to seven good atmospheric rivers each year that contribute to our water supply," said Brooke Bingaman, lead forecaster with the National Weather Service in San Francisco. "What's different with this one that's coming, the amount of moisture in the air that's approaching the West Coast is at least 250-300% of what we normally see in the air as it's approaching the West Coast."
What else is unique with this storm, Bingaman said, is the fact that California has been hit with so many of these storms.
"So, we just keep piling on these waves of rain after rain," she said. "So, that's what's making this storm more unique."
And because of the already saturated soils from the previous storms, streams will likely flood quickly. According to the FOX Forecast Center, all of that water will eventually make its way into the larger rivers, leading to a high chance of widespread flooding across the northern half of the state.
With concerns growing that this storm could have a major impact on the state, California Gov. Gavin Newsom said he has been in close contact with the White House to ensure the state has the aid it needs to help prepare for the atmospheric river storm and to respond to damage during and after the storm. Sunday evening, President Biden approved an emergency declaration for California.
Newsom is also asking Californians to listen to local warnings and be prepared to respond if evacuations are ordered.
WILL CALIFORNIA'S LONG-TERM DROUGHT IMPROVE AFTER ATMOSPHERIC RIVERS HAMMER THE WEST?
Another several inches of rain expected in California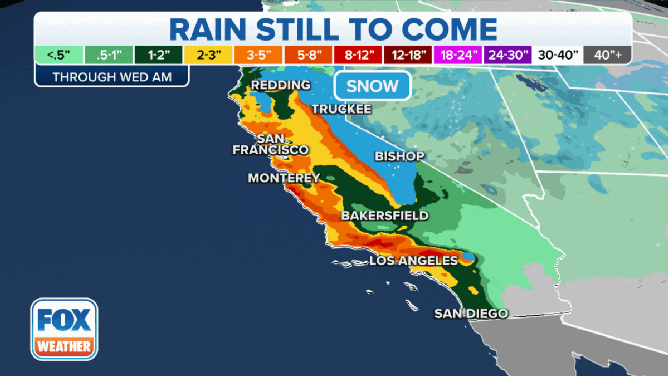 Several more inches of rain are expected to fall as this storm continues to sweep southward and the next one in the parade makes landfall Tuesday. This will likely lead to widespread flooding as rainwater flows into smaller rivers and streams, which will eventually move into larger rivers that could flow out of their banks.
Many areas, including the San Francisco Bay Area and Sacramento, will likely see 3 to 5 inches of rain through at least Wednesday, according to the FOX Forecast Center.
To the north in Redding, about 2 to 3 inches is expected, with some locally higher amounts.
Higher totals are expected farther inland and south, including Fresno, where 5 to 8 inches of rain could fall.
Heavy rain is also expected to move into the Los Angeles area, where 2 to 3 inches of rain could fall over the next few days, with as much as 8 inches in the mountains surrounding the L.A. Basin.
PLAN, PREPARE, PROTECT: HOW TO BEST COVER YOUR PROPERTY AGAINST FLOODS
Severe weather even a threat with latest atmospheric river
Severe weather is possible from Monterey through San Diego, including the Los Angeles metro. Scattered thunderstorms will be capable of producing heavy rain and brief bursts of damaging winds.
HOW RARE ARE TORNADOES IN CALIFORNIA?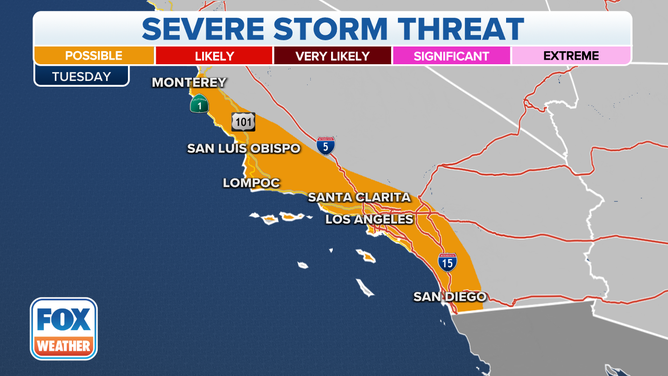 And while the threat is low, there is also the possibility that a tornado could form with any of the stronger storms that develop.
WATCH VS. WARNING: HERE ARE THE DIFFERENCES BETWEEN THESE WEATHER TERMS THAT COULD SAVE YOUR LIFE
Another round of heavy rains is forecast for Northern California on Wednesday.
Then, the region expects a bit of a break with lighter rain showers at the end of the week.
However, another potent storm is looming for the weekend with potential renewed flooding threats.