California crops lost after floods; how much of the US will feel the shortage?
Relentless atmospheric river storms have pounded California for months. The last bout put America's "salad bowl" largely underwater. What can we expect to see in the grocery store while the region that grows almost half of the nation's lettuce, strawberries and broccoli recovers?
Too much thing, rain, is sinking farmers' bottom lines across California's Central Coast. The area some call "America's salad bowl" more resembles a soup bowl as round after round of atmospheric river-fueled storms overwhelmed farmland. We all may start to notice a difference in the grocery store as some staples become harder to find.
FOX Weather brought you to Pajaro, California when the levee failed recently. The farming community in the Pajaro River Valley disappeared under feet of water. Similar scenes played out across the Salinas River Valley, another iconic farm area in Monterey County which is the fourth top agricultural producer in the state, according to the California Department of Food and Agriculture.
"For the farms that were flooded, this catastrophe hit at the worst possible time," said California's Strawberry Commission President Rick Tomlinson in a statement. "Farmers had borrowed money to prepare the fields and were weeks away from beginning to harvest."
Acre after acre of strawberries and lettuces are literally underwater at a time when farmers should be getting ready to harvest. While the state grows about half of all the fruit and vegetables for the country, Monterey County is responsible for over $4 billion in revenue primarily through strawberries, lettuce and broccoli.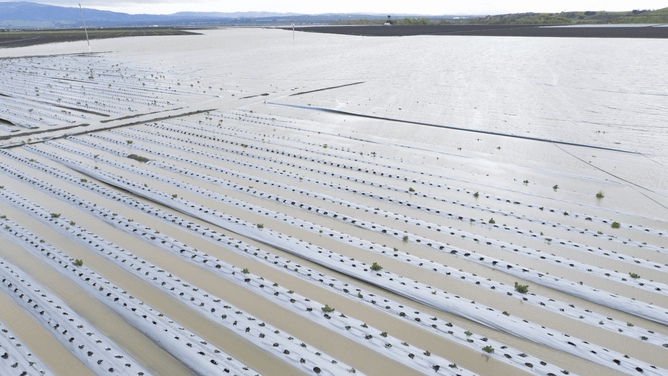 Why is Monterey County the "salad bowl"?
California is the number one producer of the country in strawberries, raspberries, lettuces (including spinach) broccoli and cauliflower. And to put Monterey's importance in perspective here are a few stats:
Strawberries: Monterey County crops brought in $3.02 billion during the 2021-2022 season, which is more than 31% of the crop that the state brings in. California grows 91% of America's strawberries, according to the USDA. The berries are the states 6th most valuable crop.
Lettuce: Lettuce crops bring in $2.03 billion statewide, the 8th biggest money making crop. Monterey brought in 57% of it.
Broccoli: Monterey brought in 62% of the state's $631 million broccoli profit.
Cauliflower: Monterrey brought in 45% of the state's $343 million in cauliflower product.
CALIFORNIA REELING FROM MUDSLIDES, WIND DAMAGE AFTER LATEST ATMOSPHERIC RIVER TO PUMMEL STATE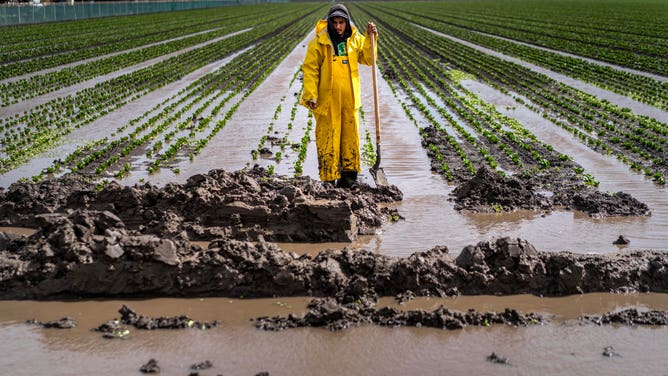 Drought busting rains started over the holidays and never stopped
January rains, sent creeks over their banks, saturated soils and stressed the aging levee system. FOX Weather calculated that the entire state received 32 trillion gallons of rain over 3 weeks. That averages out to every point in the Golden State seeing over 11 inches of rain. All this rain fell on drought parched soil.
Salinas, California in the center of the "salad bowl" only sees 15 inches per year of rain on average. That is almost a year of rain in just weeks. Then came the next rounds of atmospheric river storms. Another round of storms is in the forecast.
CALIFORNIA SCENES SHOWING DEVASTATION FROM FLOODING, SINKHOLES AMID BARRAGE OF ATMOSPHERIC RIVERS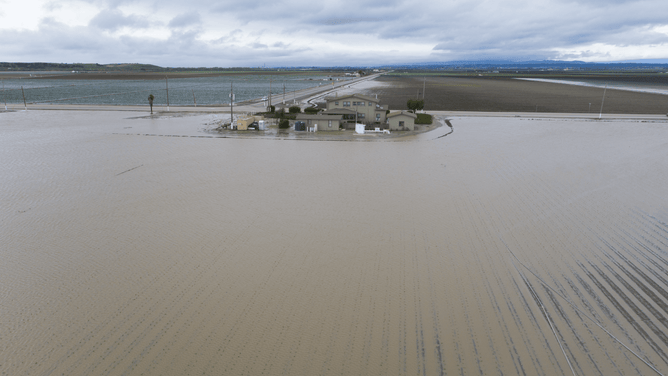 "We had many more fields that were in production this time around than what we had in January, where we had about 15,000 plus acres that were impacted by flooding," Norm Groot, Executive Director of the Monterey County Farm Bureau told FOX Weather. 
"And this time that's going to be more significant than that number. And a lot of those fields were newly planted with vegetable crops, leafy greens and, of course strawberries. So there will be a lot more in crop losses, so to speak, as we move forward," he said.
Groot said the state estimated farm losses after the January storms to be about $330 million. Before estimating this current round of storm damage, waters much recede which hangs in large part on the Pajaro River levee repair with no estimated time of completion.
Why will replanting take so long?
"We have to first assess the fields as the water recedes and determine exactly what was damaged as far as infrastructure, whether wellheads went underwater," said Groot. "And also, there's a significant amount of testing that has to be done to ensure that there are no pathogens remaining in the soils or in the irrigation lines."
Flooded crops are a total loss to farmers as food safety requirements mandate that any edible portion of a plant exposed to floodwaters must be destroyed. Floodwaters carry debris and contaminants. The requirement came to be after a 2006 E. coli outbreak sickened 204 people and killed 3. 
WHAT DOES ALL THIS RAIN IN CALIFORNIA MEAN FOR THE WINE?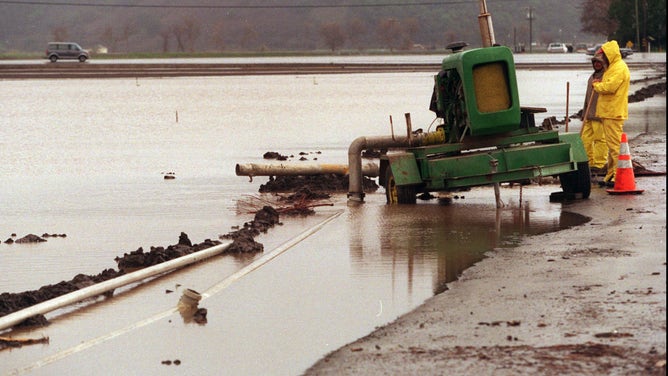 "So it will be a while before we recover, and particularly due to the extensive flooding in the Pajaro Valley, that may be months before they are able to actually get back into production, simply because strawberries are a crop that require a huge investment upfront to get started again," Groot continued.
Not every field was flooded, but Groot said the saturated soil is pushing back planting. Rain also postponed some of the planned planting over the winter. In the immediate future he foresees higher prices in grocery stores while fields recover for both berries and lettuces.
"Yes, I think the consumers can probably expect that there will be a little bit of an impact at the retail markets," Groot said.
"We do have a delay in planting cycles here. So we will be getting a lot of production done this year here in the Salinas Valley and we hope to not have an interruption in the supply," he continued. "But it is entirely possible as we go into another rainy cycle this weekend, that's just going to delay things a little bit more so, to be determined."
HOW TO WATCH FOX WEATHER ON TV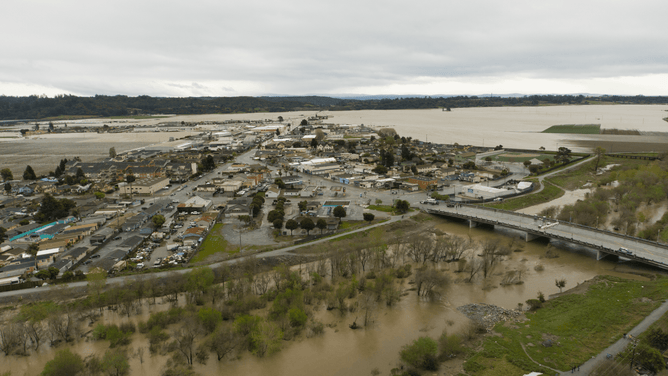 Even fields not underwater are a challenge to get to, Groot said. Floodwater wiped out roads and bridges making acres and acres unreachable by farm machinery. And farmworkers have been dispersed because so many lost their homes to flooding.
Wholesale lettuce prices are relatively stable, the California's Farm Bureau's Dave Kranz told trade publication, Supermarket News. He fears higher prices could hit next month and continue through the summer.