California reeling from mudslides, wind damage after latest atmospheric river to pummel state
In San Francisco, winds clocked as high as 77 mph Tuesday tore through the City by the Bay, toppling trees and power lines and even breaking windows atop a high-rise building, while record rains plagued the Los Angeles area.
SAN FRANCISCO — California is spending yet another day wringing out from a significant atmospheric river that brought record rainfall and powerful wind gusts that knocked out power to hundreds of thousands, along with several inches of rain that left a trail of mudslides and flooded roads.
In San Francisco, winds clocked as high as 77 mph Tuesday tore through the City by the Bay, toppling trees and power lines and even breaking windows atop a high-rise building. 
Two window panes on the 43rd floor of a 52-story building were damaged in the winds, with one glass pane falling to the street below. Shards of glass covered Kearny and California streets, and one man said glass fell onto his car, according to FOX 2 Bay Area.  Luckily no one was injured.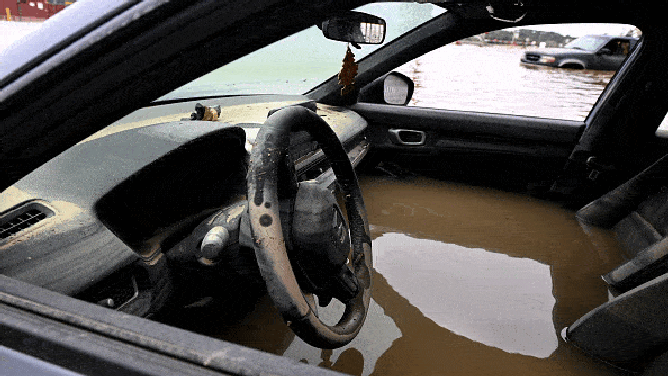 Crosswinds blew over trucks and trailers on Bay Area bridges. Authorities closed the Golden Gate Bridge and the Richmond San Rafael Bridge to high-profile vehicles. San Francisco International Airport issued a ground stop for a time because of the extreme gusts.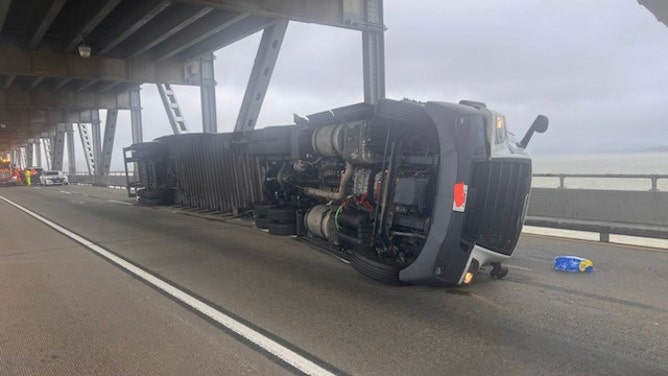 One large tree in Livermore took out a carport and a corner of a home, while the teen laid on the bottom bunk of a bed now exposed to the outdoors. In the Santa Cruz area, two cars were struck by a falling tree as they traveled along busy Highway 1. No one was hurt in either incident.
In Corralitos, a massive tree fell into an assisted living facility, displacing 19 seniors but leaving no injuries.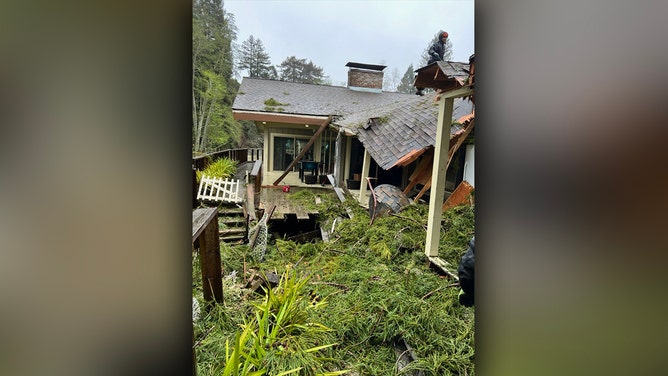 Gusts reached 80-90 mph in some of the Bay Area foothills, with Loma Prieta registering a gust of 97 mph.  Farther inland, Sacramento reported a 60-mph gust.
At the height of the storm, some 373,000 customers were without power in California as trees and power lines succumbed to the high winds while tenuously anchored in the already-saturated grounds. 
Over 110,000 were still in the dark Wednesday evening.
Torrential rains trigger mudslides
In addition to the wind, the state was once again besieged by heavy rainfall that pushed rivers over their banks, covered roads in floodwaters and even triggered mudslides and rockslides.

In Placer County near the Sierra Nevada, a massive landslide crashed into a home in Colfax, leaving significant mud-covered damage but no injuries. Two other nearby homes were also affected.
Orange County emergency crews evacuated an apartment building when the cliff holding up the rear of the building collapsed onto the trail below.
7 FACTS YOU SHOULD KNOW ABOUT FLASH FLOODS
Overall, there were more than 200 reports of storm damage and impacts given to the National Weather Service, ranging from tree and power-line falls to mudslides and floods.
Record rains plague Southern California
As night approached, heavier rains spread south into the Los Angeles area, setting eight daily rainfall records across Southern California.
Los Angeles received nearly 2 inches of rain by Tuesday night, and its downtown weather station at USC broke a daily record that had stood for 97 years.
The heavy rains left some roads closed around Los Angles due to high water. 
WATCH: STRANDED MAN RESCUED FROM ISLAND AFTER RAGING CALIFORNIA RIVER SWEPT HIS CAR AWAY
Flood Advisories lingered into early Wednesday morning as the last showers from the storm move east of the state through the morning, but so far, Southern California appears to have escaped significant impacts from the storm.
Los Angeles has had a wetter fall and winter than Seattle
California's forecast is drier for Thursday, giving residents a breather from the soggy weather pattern after what FOX 11 Los Angeles counted as the 11th atmospheric river storm to strike the state this season. However, the dry forecast won't hold for long, with rain returning to the state this weekend.
RIDICULOUS PHOTOS SHOW AFTERMATH OF 12 FEET OF SNOW IN CALIFORNIA'S SIERRA NEVADA
If this feels like an un-Californian forecast, you would be right. In fact, it would feel more like what rainy stalwart Seattle would see in a typical wet season.
San Francisco has received more than 27 inches of rain since Oct. 1 – just under 11 inches above average through March 15 and more than 4 inches over the current wet season in Seattle. It's only the seventh time San Francisco has had more rain in the period than Seattle since 1946.
That also means San Francisco has had as much rain as a typical Seattle autumn and winter - their rainiest period of the year. 
Even more surprising: Los Angeles has had a wetter "rainy" season than Seattle, too. The Downtown Los Angeles weather station at USC has measured over 24 inches of rain since Oct. 1 – nearly two inches more than Seattle.  That's only the fifth time Los Angeles has out-rained Seattle over that period since 1946.