77-mph gust hits San Francisco as atmospheric river pummels California with flooding rains, wind
Heavy rains and damaging winds are once again spreading across California as another atmospheric river renews the flash flooding threat for much of the state. At one point over 370,000 people are without power as wind gusted past 70 mph.
After weeks of enduring relentless heavy rain and incredible mountain snow, Californians are likely wondering when the parade of storms and atmospheric rivers finally comes to an end.
The answer is: Not this week.
Just as one powerful atmospheric river exits, a second one brought flash flooding back to much of the state. Forecasters issued another rare "high risk" for excessive rainfall for parts of California just days after repeated threat levels, and blistering wind speeds knocked out power to over 373,000 customers at one point.
Once again, authorities evacuated low-lying neighborhoods and those near rivers topping over their banks including areas around Salinas, Grover Beach, and in Santa Barbara County.  Over two dozen storm reports have come into the region's National Weather Service offices for scattered reports of roadway flooding, mudslides and wind damage. 
The Sacramento Fire Department's swift water rescue team took boats to a makeshift shelter that at one point was on the side of a road before the Steelhead Creek swallowed terra firma. Crews report that they were able to pull out the 2 adults and a dog trapped int the dwelling.
Wind gusts 77 mph in San Francisco while Los Gatos at 1,800 feet elevation clocked a gust of 85 mph. The San Francisco International Airport issued a ground stop for a time because of the extreme gusts.
Cross winds blew over trucks and trailers on Bay Area bridges. Authorities closed the Golden Gate Bridge and the Richmond San Rafael Bridge to high profile vehicles. 
Trees were even reported down in San Francisco. One large tree in Livermore took out a carport and a corner of a home. Thankfully no one was hurt.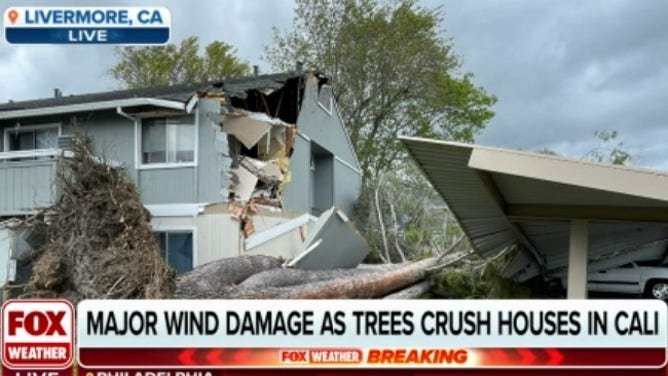 About 373,000 people were without power in California as of midday, according to PowerOutage.US. 
Additional scattered power outages are likely as trees and power lines succumb to the high winds while tenuously anchored in the already-saturated grounds.
Up in the Sierra, wind gusts will top 100 mph along its ridge tops as has been surprisingly common with these storms. Palisades Tahoe ski resort clocked a gust of 139 mph with last week's storm. Those hurricane-force wind gusts will combine with heavy snow to create whiteout conditions along the mountain peaks.
More snow in the high Sierra Nevada
The tropically-infused system is creating dangerous conditions in mountain communities where heavy rain is once again set to fall on feet of snow left over from a historic winter storm late last month, triggering worries of "roofalanches."
Meanwhile, warmer temperatures will keep melting snow, adding flooding pressure to the region's creeks and streams.
At higher elevations in the Sierra, it's another forecast calling for multiple feet of snow where some places still have as much as 18 feet on the ground.
SEE SOME OF THE MOST CATASTROPHIC ATMOSPHERIC RIVERS AND FLOODING IN CALIFORNIA HISTORY
Heavier rain triggers flooding worries 
Heavy rain moved into the state Tuesday morning, with snow again set to pile up in the high Sierra. Those drenching rains will eventually spread south into the Los Angeles and San Diego areas late Tuesday and last into Wednesday.
7 FACTS YOU SHOULD KNOW ABOUT FLASH FLOODS
Another 1 to 3 inches of rain is expected in the Bay Area and Los Angeles metro areas, while 3 to 6 inches is likely along much of the central and south coast, and isolated rainfall totals reaching 7 inches or more are possible in the Sierra foothills below the snow level and in the Southern California mountains.
Rainfall and snow forecast amounts
 
---
Flood Watches cover much of the same swath of the state that was under a similar watch for Friday's atmospheric river.
NOAA's rare "high" or "extreme" risk of flash flooding outlook covers much of the Central and Southern California coast and parts of the Sierra foothills. This highest risk level is only issued for about 4% of storms overall, yet Tuesday's storm is the second time in a week such a dire outlook has been issued. 
Flood Outlook
 
---
Despite the rare issuance, about 60% of the nation's annual flash flooding deaths come during such alerts, with an average of four deaths during the alert period, NOAA says. 
WHY RARE 'HIGH RISK' FLOOD DAYS NEED TO BE TAKEN SERIOUSLY
'Roofalanches' possible where heavy rain meets piles of snow
Mountain communities that received historic amounts of heavy snow last month and have dealt with challenges of buried roads and buildings are now facing the daunting forecast of additional heavy rain, adding overwhelming weight to roofs already struggling to hold too much snow.
RIDICULOUS PHOTOS SHOW AFTERMATH OF 12 FEET OF SNOW IN CALIFORNIA'S SIERRA NEVADA
The National Weather Service office in Reno, Nevada, is warning mountain residents of "roofalanches" when mounds of heavy, wet snow slide off a roof.
"Snow loading concerns on structures will likely increase with the added heavy rain and snow, especially on Tuesday," NWS forecasters in Reno wrote in their Monday morning forecast discussion. "There will also be a higher risk of 'roofalanches' in these areas."
WHY HEAVY RAINS ON TOP OF LARGE SNOWFALLS  TRIGGER 'ROOFALANCHE' DANGERS IN CALIFORNIA'S MOUNTAINS
Already with the previous storms earlier this month, an 80-year-old woman was killed on March 1 when a "roofalanche" crashed into her porch and crushed her while she was clearing it.

Other slides have triggered fires in the snow after severing natural gas and propane lines leading into homes, while some buildings are in danger of roofs simply collapsing.
Rain lingers into Wednesday
The heaviest rain will begin to taper off Tuesday night, except in Southern California, where steady, heavy rain will continue to fall through the night.
Wednesday will still feature lingering showers with lower snow levels, leading to additional snow showers in the Sierra.
Southern California will remain rather wet until Wednesday evening as the last tail of the atmospheric river drags through.
By then, San Francisco will have cemented finishing the Oct. 1-March 15 period with more rain than typically soggy Seattle for just the seventh time since 1946. And depending on how much rain falls over the next two days, downtown Los Angeles – just 1.35 inches behind Seattle through Sunday – could pass the Emerald City too. 
What's this three-letter word?
A brief break in the weather pattern will allow California to wring out later in the week.
In fact, the National Weather Service in Sacramento went through extra measures to highlight this unusual forecast for Thursday and Friday:
"DRY."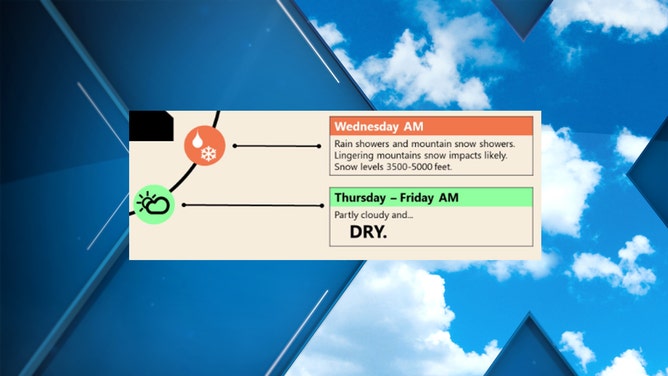 However, don't get too used to the break as long-range forecasts again have rain in the offing for the weekend, though early projections do not suggest as much precipitation as the current storm.