Why heavy rains on top of large snowfalls trigger 'roofalanche' dangers in California's mountains
Heavy rains could add tens of thousands of pounds to already snow-strained roofs in the foothills of the Sierra Nevada, leading to roof collapses or dangerous events where mounds of heavy snow slide off, burying anything - or anyone - below.
MAMMOTH LAKES, Calif. – Just a few weeks after the foothills of the Sierra Nevada and southern California mountains were slammed with several feet of snow, the added woes of inches of rainfall from multiple atmospheric rivers are increasing concerns for roof collapses and another dangerous event some call a "roofalanche" – large amounts of heavy, wet snow sliding off roofs.
As much as 5-10 feet of snow fell across the mountains as winter storms pummeled California at the start of March, even bringing snowfall to the foothills of Los Angeles. Towns all across the Sierra struggled to dig out after homes, businesses and roads became buried under enormous amounts of snow.
CALIFORNIA AGAIN BESIEGED BY ATMOSPHERIC RIVER'S FLOODING RAINS, TRIGGERING 'ROOFALANCHE' CONCERNS
"We have (extreme snow load impacts) spread all across the Sierras from Truckee to South Lake Tahoe, Mammoth Lakes and Lone Pine," said FOX Weather Meteorologist Marissa Torres.
However, more recent tropically-infused storms are pushing snow levels considerably higher, meaning it's several inches of rain instead of snow falling in those affected communities.
"We're going to be seeing rain falling at 5,000, 6,000, even 7,000 feet (elevation); areas that (previously) had snow," Torres said.
It's bringing new dangers to snow-weary communities. On a typical 2,000-square-foot roof, a foot of fluffy snow would weigh about 4.1 pounds per square foot. That weight increases to 6.2 pounds per square foot for average snow.
But a heavy, wet snow that is near freezing or melting as temperatures warm, and that average roof is now carrying snow at 12.5 pounds per square foot per 12 inches of snow depth. That's about 25,000 pounds of snow in this 12-inches-of-snow scenario or 50,000 pounds with 24 inches of snow.
CAN YOUR ROOF HANDLE RECORD-SETTING SNOW?
If you add in an inch of rain on top of all that snow, that adds another 20,000 pounds, and some areas are facing the prospect of several inches of rain on top of feet of leftover snow as a new atmospheric river arrives Monday and Tuesday.
"Snow loading concerns on structures will likely increase with the added heavy rain and snow, especially on Tuesday," NWS forecasters in Reno wrote in their Monday morning forecast discussion. "There will also be a higher risk of 'roofalanches' in these areas."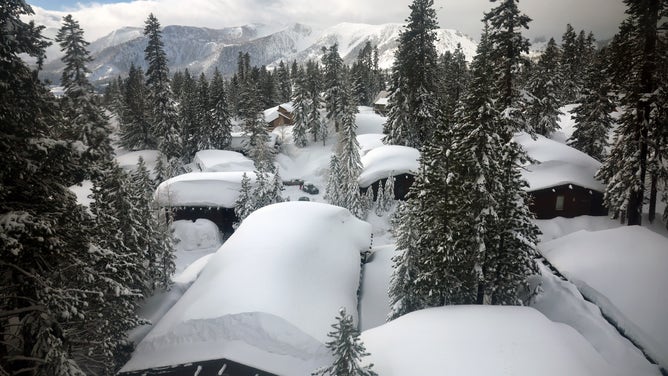 "Roofalanches" refer to when mounds of melting, wet snow slide off roofs and come crashing to the ground below, damaging anything below and presenting a grave danger to anyone caught underneath the onslaught.
WHAT YOU SHOULD KNOW ABOUT BLOWING, DRIFTING SNOW
Already with the previous storms earlier this month, an 80-year-old woman was killed on March 1 when a "roofalanche" crashed into her porch and crushed her while she was clearing it. Other slides have triggered fires in the snow after severing natural gas and propane lines leading into homes.

"This is why it's important to take those necessary precautions as we go ahead and navigate the next couple of days because that added weight is just going to put so much pressure on people's roofs," Torres said.
Tips to stay safe while clearing snow from a roof
FEMA and other emergency officials have important tips for those who need to clear snow from their roofs:
Look for signs of roof collapse before climbing atop. Look for sagging trusses or sounds of popping or creaking.
Always have someone below to act as a spotter and to keep people away from walking underneath where you're clearing snow.
Use a snow rake or broom to remove snow. Avoid using metal that could conduct electricity from nearby power lines.
Be careful of removing icicles, and always wear headgear or goggles when removing snow.
Watch for skylights.
Keep storm drains and gutters clear to allow drainage of melting snow.