Ridiculous photos show aftermath of 12 feet of snow in California's Sierra Nevada
Some parts of the Sierra Nevada reported 114 to 144 inches of new snow over the past several days, leading to jaw-dropping photos of piles of snow burying towns along the spine of the mountains. And more snow is in the forecast.
TRUCKEE, Calif. – Have you ever imagined what your neighborhood would look like if a series of storms dumped 12 feet of snow over a week?
For swaths of California's Sierra Nevada mountain range, the image is as simple as looking out a window.
Or, maybe not…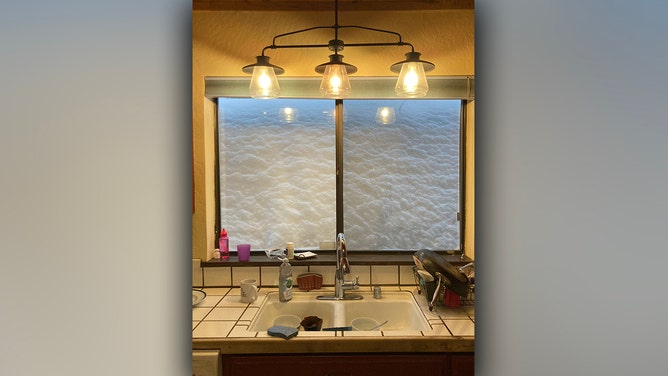 Surreal scenes of cars and buildings buried in up to 12 feet of recent snowfall, leaving snow as deep as 15 feet or more, are emerging from the Sierra Nevada in the wake of the latest winter storm to pummel the region.  
Already, the mountains had received copious amounts of snow from a caravan of storms and atmospheric rivers that slammed the state from the end of December well into the start of the new year.
RELENTLESS CALIFORNIA ATMOSPHERIC RIVERS DROP 32 TRILLION GALLONS OF WATER OVER 3 WEEKS
After a few weeks' lull, the storms are back, and with a vengeance yet again.
China Peak near Huntington Lake received an unfathomable 10 to 12 feet of snow – 144 inches – over a six-day period through Tuesday night, according to a brave Fresno County Emergency Manager assigned to the area.
Over in Soda Springs, a trained spotter reported a whopping 114 inches of snow from Saturday morning through Wednesday morning, according to the National Weather Service.
The University of California Snow Laboratory in the Sierra reported 35 inches of snow in just one day Tuesday, over 7 feet in three days and 141.9 inches in the past week.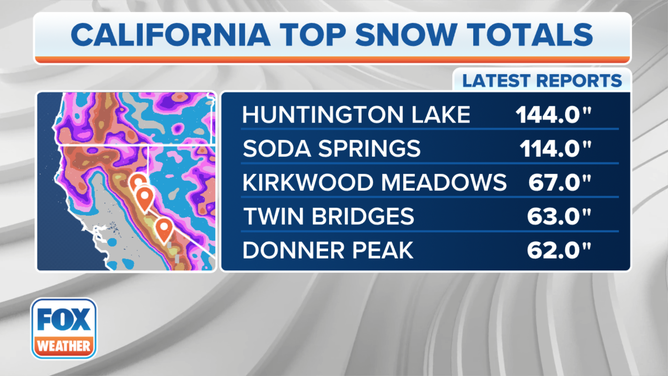 Donner Peak, atop Interstate 80 on the way to Lake Tahoe, reported over 5 feet of new snow in the most recent storms, adding to its jaw-dropping pile.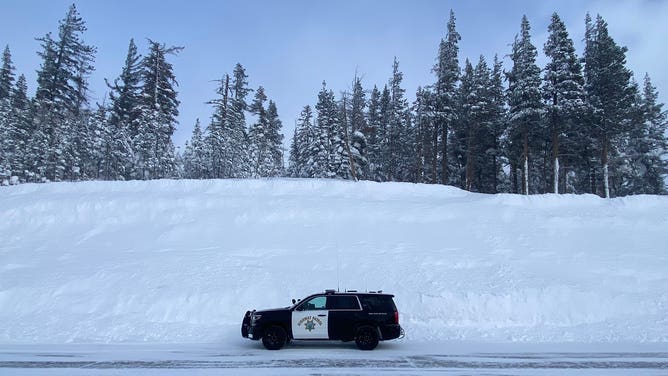 The storms have buried homes and buildings well above the first floor: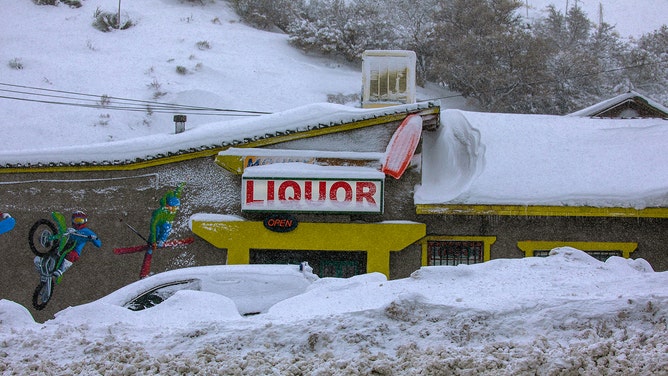 Or even reach the roof in some cases: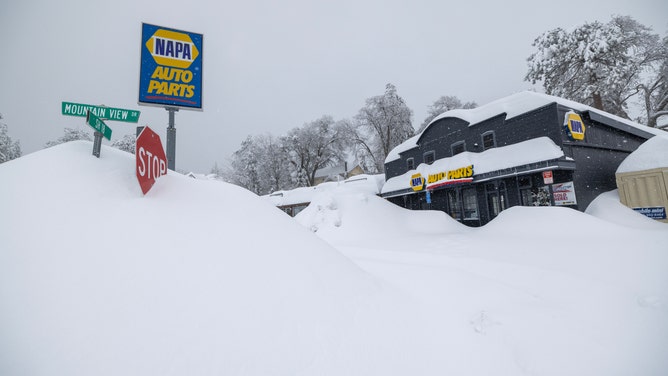 It's leaving surreal scenes of snow piled up nearly above doors. 
"In case you are wondering why we are so slow to get info out this morning," California's Sugar Bowl Ski Resort tweeted Wednesday. "Here is the entrance to the marketing office:"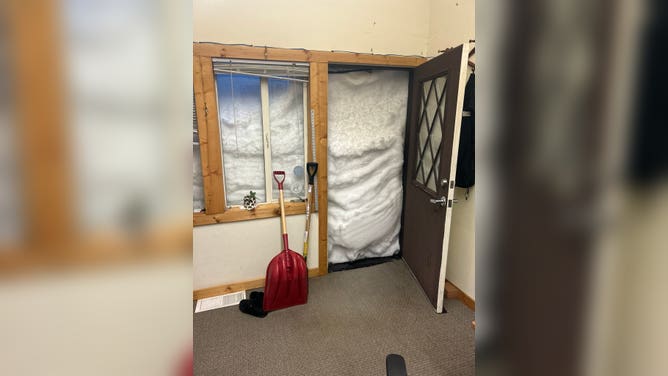 Or making that run to the bathroom a bit more adventurous…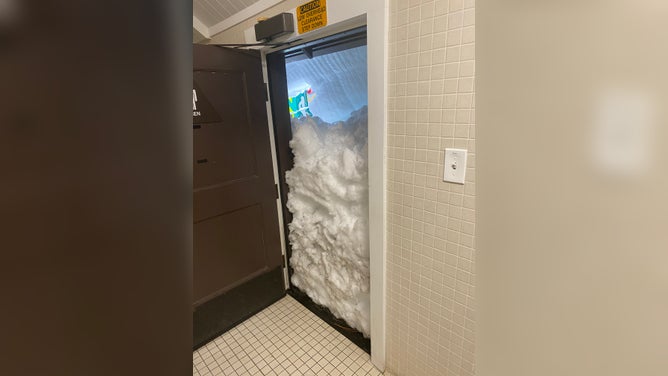 In Placer County, an avalanche left this three-story apartment building buried up two floors under 25 feet of snow. But everyone was able to evacuate safely, according to the Placer County Sheriff.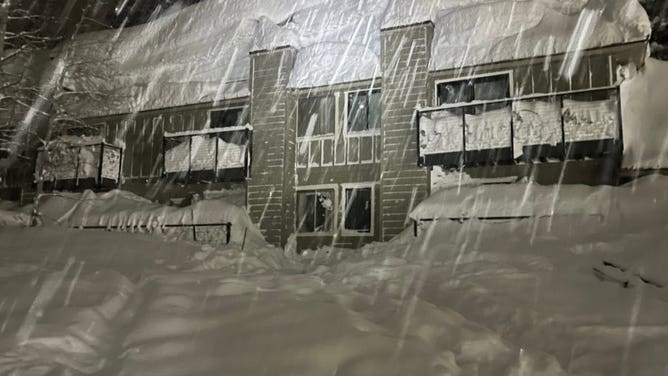 Yosemite Park has 15 feet of snow on the ground and has closed the park through at least Wednesday.
YOSEMITE NATIONAL PARK CLOSED AFTER WINTER STORMS DUMP 15 FEET OF SNOW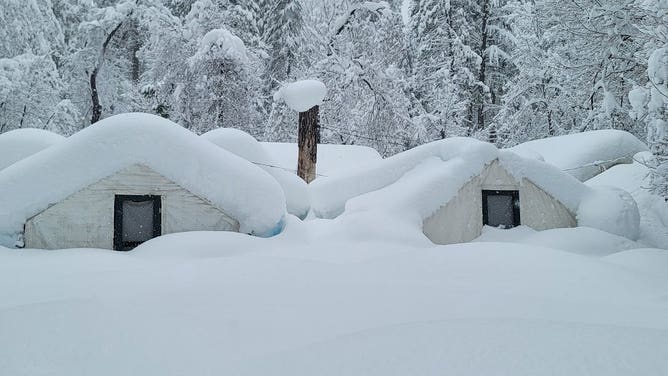 Here are several more scenes from the region showing the snow piled high from the most recent storms and the January storms:

Snow is no stranger to California mountains, but this year has been among the snowiest on record. The UC Berkeley Snow Lab reports a season snowfall total of 531 inches – over 44 feet – and had just under 15 feet of snow on the ground Wednesday, though it will eventually settle. 
The tally leaves them at just over double their annual snowfall average to date and just 42 inches short of their all-time record from the winter snowfall of 2016-17.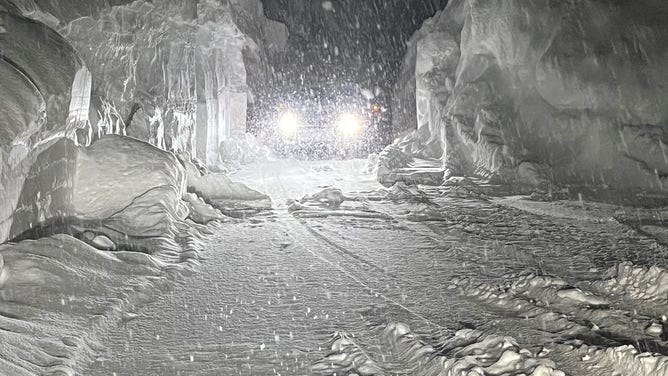 More heavy snow on the way to Sierra Nevada this weekend
That record could fall next week. After a break in the snow the rest of this week, more storms are on the way. 
Winter Storm Watches are posted for the Sierra Nevada once again for up to 1 to 5 feet of new snowfall between Saturday and Monday, with the heaviest totals in the higher elevations.
Winter weather alerts have been posted.
(FOX Weather)
---
In addition, wind gusts could reach 45 to 75 mph in the passes, with gusts to 100 mph possible along the Sierra ridgetops.