California's Sierra Nevada sees Blizzard Warnings as up to 7 feet of snow expected by Wednesday
The Blizzard Warnings for the first storm remain in effect until Wednesday, surrounded by Winter Storm Warnings throughout the higher elevations of California.
A pair of storms are pummeling the West Coast this week, bringing a little rain and snow to places like Portland and Seattle and feet of snow to California's Sierra Nevada, leading to travel headaches.
Heavy snows from the first storm plastered the Sierra Nevada on Tuesday amid Blizzard Warnings, leading to major highway closures in the mountains, including Interstate 80. 
"Some of the road closures that have been popping up, getting up and down from the Sierra have been as low as 3,000 feet," FOX Weather meteorologist Britta Merwin said. "So we're talking about closures happening in the foothills, not even up in the high terrain because of the amount of snow."

Expect Interstate 80 to remain closed into Wednesday, California Transportation officials said.
The Blizzard Warnings for the first storm ended Wednesday morning for much of the Sierra except the Yosemite Park areas, where they linger into Wednesday afternoon.  Snow totals along the higher peaks measured over 3-4 feet by late Tuesday morning with snow continuing to fall. 
WHAT MAKES A BLIZZARD DIFFERENT FROM AN ORDINARY SNOWSTORM?
Winter weather alerts have been issued across the West.
(FOX Weather)
---
Up to 5 feet of new snow was expected above 3,000 feet by Wednesday with isolated totals reaching 7 feet. Wind gusts of 55-75 mph blasted the higher elevations into Wednesday, creating whiteout conditions. 
Even another 1 to 5 inches of snow could fall in lower elevations.
WHEN IS THE COLDEST TIME OF YEAR?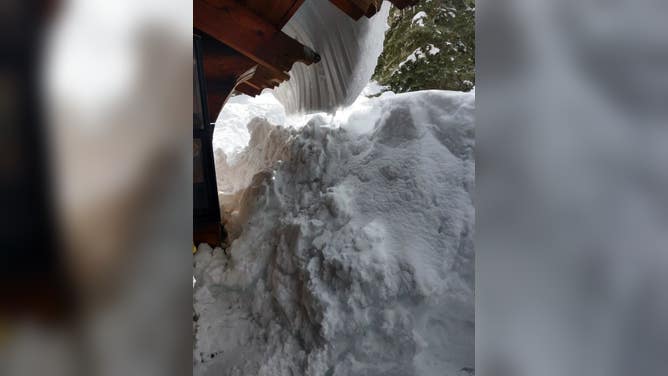 This is the second time in less than a week that those in the mountains of Southern California have had snow dropping to about 1,000 feet.
"We've had two events in the last week (when) we have seen feet of snow above 2,000 to 3,000 feet outside of Los Angeles," Merwin said. "That's remarkable. It usually doesn't happen that often, and now we've had two significant events back-to-back."
THESE ARE THE 7 SNOWIEST CITIES IN THE US
Snow is still to come in the West.
(FOX Weather)
---
While heavy snow falls in the California mountains, it'll be a rainy day in Southern California Wednesday. 
"When you take a look at how much rain we're going to end up getting for those of you across Southern California, it's not going to be much," FOX Weather meteorologist Jason Frazer said. "It's going to mainly be inconvenient rain. We're talking about anywhere from a half of inch to possibly seeing some isolated spots east of San Diego with one inch of rain."  
As much as 1 to 2 inches of rain can be expected across most of the West Coast through Thursday.
(FOX Weather)
---
It's just the first of two storms to slam the region this week. Another round of rain and mountain snows are expected in the West this weekend.
Meanwhile, frigid air has moved into California in the wake of the storm. 
Freeze Warnings are in effect for Wednesday and Thursday mornings in the Sacramento and San Joaquin Valleys for temperatures to drop into he upper 20s ad low 30s, endangering sensitive crops.
Frost Advisories in effect for much of San Francisco Bay Area with low temperatures expected near freezing.