When is the coldest time of year?
It depends on where you live, but much of the U.S. doesn't reach its coldest time of the year until after the winter solstice.
The coldest time of the year varies across the U.S., and for much of the nation, it's not until after the winter solstice.
The map below shows when the coldest day occurs in an average year based on the 30-year period from 1991 to 2020.
Most areas from the Mississippi Valley to the East Coast, as well as the highest elevations of the Rockies and Intermountain West, typically see temperatures bottom out in mid- to late January.
THESE ARE THE ALL-TIME COLDEST TEMPERATURES EVER RECORDED IN EACH STATE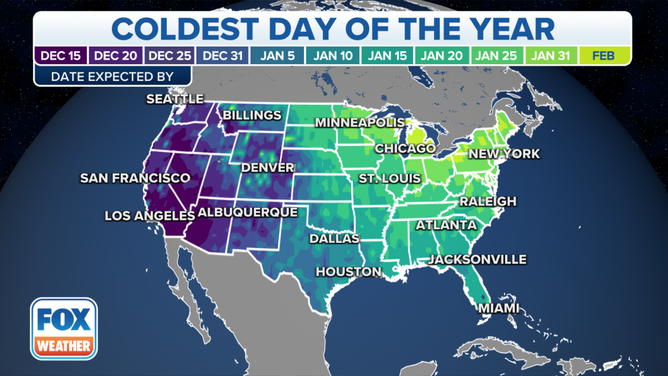 However, the coldest day usually occurs about a month earlier, in the middle of December, in portions of the Pacific Northwest, Southern California and southwestern Arizona.
NOAA's National Centers for Environmental Information said these regional differences are caused by higher snowfall averages in the eastern U.S. and the highest elevations of the Rockies and Intermountain West. When snow cover is present, there's an increased reflection of solar radiation at the Earth's surface, which keeps temperatures colder.
HOW COLD CAN TEMPERATURES GET DURING THE COLDEST TIME OF YEAR?
Mid- to late January is the coldest time of the year for most of Alaska. One exception is for areas north of the Arctic Circle, where average temperatures don't dip to their lowest until February or the first half of March.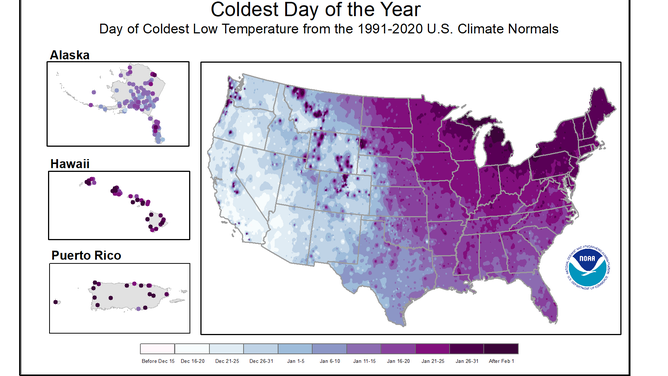 While you might not think of Hawaii as having much of a winter, the state tends to have its "coolest" day of the year in early February. However, on the island of Lanai, west of Maui, the coolest day is usually in early or mid-January.
It's important to keep in mind that these dates are strictly based on temperatures averaged over the 30 years between 1991 and 2020 using more than 7,000 weather observing stations in the U.S. The actual coldest day of the year can happen earlier or later than the average date shown on the maps above.
NOAA FINDS 'SMALL BUT NOTICEABLE SHIFT' IN COLDEST TIME OF YEAR FOR EASTERN U.S.
As Alaska-based climatologist Dr. Brian Brettschneider noted on Twitter, the actual coldest temperature at most locations usually occurs a week or more later than the date of the coldest average-low temperature.