NOAA finds 'small but noticeable shift' in coldest time of year for eastern US
The coldest day has shifted 3 to 6 days later or more for many places in the Midwest and Northeast
We've reached the coldest time of the year for most areas in the Midwest and Northeast, but a recent analysis from the National Oceanic and Atmospheric Administration found this is now occurring later than in past decades.
The map below shows when the coldest day of the year occurs in an average year based on the 30-year period from 1991 to 2020.
Most areas from the Mississippi Valley to the East Coast, as well as the highest elevations of the Rockies and Intermountain West, typically see temperatures bottom out in mid- to late January.
It's important to keep in mind that these dates are strictly based on temperatures averaged over the 30 years between 1991 and 2020 using 7,005 weather observing stations in the Lower 48. The actual coldest day of the year can happen earlier or later than the average date shown on the map.
WHEN IS THE COLDEST TIME OF YEAR?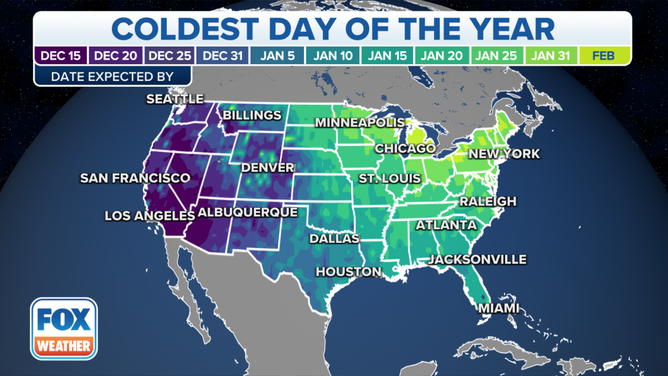 But NOAA noted in its analysis that, compared to the 1981-to-2010 climatological averages, "there has been a small but noticeable shift of the coldest day to dates 3 to 6 days later or more at many stations in the U.S. east of the Rocky Mountains."
The new 30-year averages ending in 2020 showed more warming early in the winter compared to later in the season in the eastern U.S., according to NOAA.
This complements a pair of recent studies by Climate Central, which found that winters in the United States are warming faster than any other season east of the Rockies and in Alaska.
STUDIES FIND WINTER IS FASTEST-WARMING SEASON IN U.S.; HERE'S WHY THAT'S BAD NEWS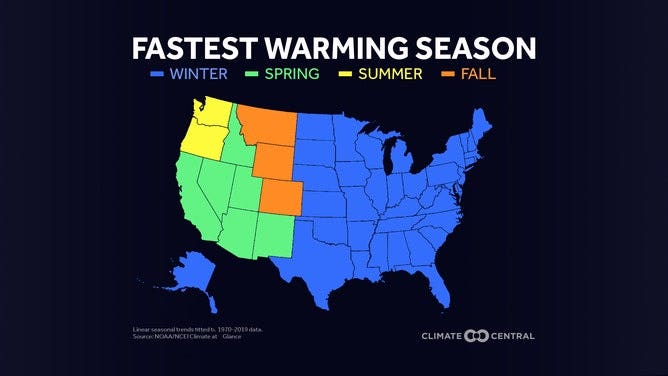 NOAA said the northwestern U.S. has also experienced a shift of the coldest day to a later time, but this pattern is not consistent with the rest of the western U.S.
In fact, the coldest day has actually shifted earlier in some parts of the West.
Click here to find out how cold temperatures can get when they dip to their annual minimums in December, January and February.