Millions in California under Freeze Warnings as cleanup begins after deadly winter storm
Rescue crews are looking forward to dry weather so they can dig out communities cut off by the deep snow. An 80-year-old woman was reported killed when a porch collapsed due to heavy snow.
After Blizzard Warnings and heavy snow kept most of California's mountain residents snowbound for the first part of the week, frigid weather has complicated the cleanup.
Even typically-mild San Francisco tied a record low Wednesday morning. The last time the city hit 39 on this day was in 1891.
WHAT MAKES A BLIZZARD DIFFERENT FROM AN ORDINARY SNOWSTORM?
Frost and freeze alerts.
(FOX Weather)
---
Snow is sticking around instead of melting in areas used to getting flurries, not inches, during the winter. The California Department of Transportation closed down Interstate 5 through the Grapevine with no estimated time of opening. Plow drivers are stretched thin across the icy roadways. The Grapevine is a major connector from northern California to Los Angeles.
CALIFORNIA'S SIERRA NEVADA SEES BLIZZARD WARNINGS AS UP TO 7 FEET OF SNOW EXPECTED
Crews in Los Angeles County barely made a dent in the snow blocking Angeles Crest Highway. Caltrans was only able to clear one lane for emergency personnel and equipment. The NWS still has Winter Storm Warnings in effect for the area, as another foot of snow is forecast to fall before Thursday.
Authorities are just getting to San Bernardino Mountain residents who were still snowed in after weekend storms. Officials declared a State of Emergency on Monday after heavy snows trapped homeowners and visitors. The second round of snow Tuesday continues through Wednesday.
"We are experiencing a crazy blizzard right now," a Big Bear, California resident told FOX 11 on Tuesday. "Something like this only comes around every 50 years or so."
He and his son had just walked more than a mile on the empty highway to the only convenience store still open but running out of staples. They grabbed Dr. Pepper and Mexican food instead of long-gone milk.
WHY DO PEOPLE BUY ALL THE MILK AND BREAD BEFORE SNOWSTORMS?
Other residents who just left the mountain to head for work Monday are desperate to get home to loved ones and pets.
Lake Arrowhead authorities set up an escort, to bring in those separated from home along with much-needed fuel, groceries and medicine. The escort then turned around and rescued those who no longer wanted to be stranded in the mountains.
DON'T LEAVE ANY OF THESE ITEMS IN YOUR CAR THIS WINTER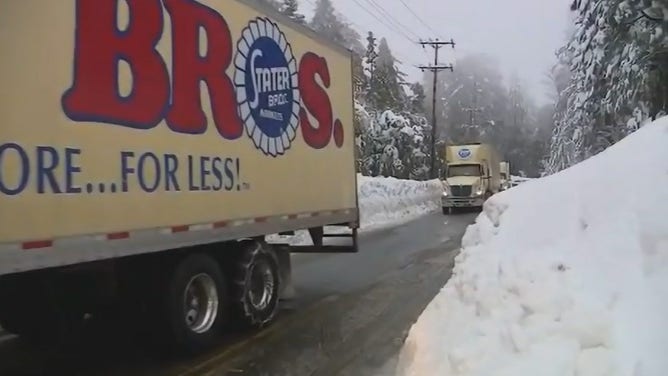 "It has just been a whole lot of waiting, sitting here, waiting for them to open the gates," said resident Brian Cannon who couldn't get home. "The maintenance crew was about 30 to 40 minutes late getting to us, and they've only been able to take about two rounds so far, so about 40 cars have gone up, and obviously, there's a lot more."
The California Highway Patrol, along with Caltrans, ran rescue missions in the central Sierra Nevada mountain range, too. A major transportation connector, Interstate 80, was closed through the Lake Tahoe region.
"We are following a grater up here because we've got a bunch of Caltrans trucks, one of our units, and a bunch of people stuck up on the summit that were local trying to get out of here," CHP Sergeant Eric Strecker posted on Twitter Tuesday.
"We definitely got some snow falling basically, avalanches coming down. And this is the only way to get up, and over Donner Summit right now," he continued. "So pretty soon, we're going to be bringing all these people back the wrong way."
An avalanche Tuesday evening trapped even more people in a three-story apartment building in nearby Placer County. Deputies could only see the top story peeking out of the snow when they arrived.
WATCH: COLORADO SKI PATROL BLOWS UP THE SIDE OF A MOUNTAIN TO PREVENT AVALANCHES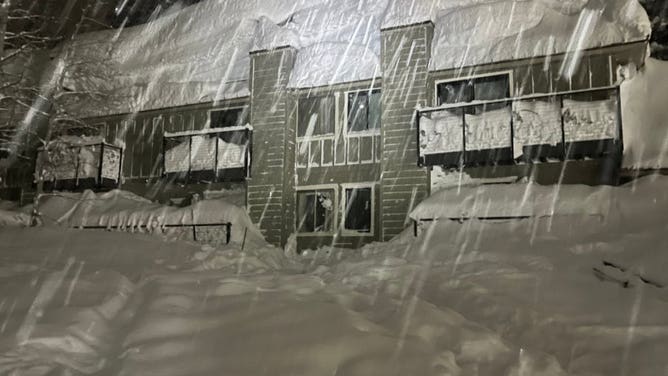 Crews had to dig and plow through 7 feet of newly fallen snow to get into the building. The other side was buried under snow. The Sheriff reported that all occupants escaped without injury.

Nearby an 80-year-old woman was reported killed when a porch collapsed due to heavy snow. A weather spotter relayed a report of 4 feet of snow in the area to the local National Weather Service.
Sugar Bowl Ski Resort in Norden, California was slow to open on Thursday. A staff member found out why no one was in the marketing department. Feet of snow covered the door on Wednesday.
Even Yosemite National Park was overwhelmed by snowfall, and the area sees quite a bit every winter. The entire park has been closed as rangers try to clear 15 feet of snow off the roads.
YOSEMITE NATIONAL PARK CLOSED AFTER WINTER STORM DUMPS 15 FEET OF SNOW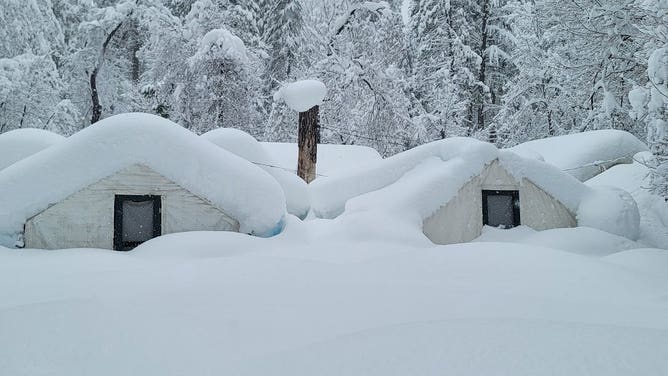 This is the sight that welcomed one member of the park staff upon opening a restroom door.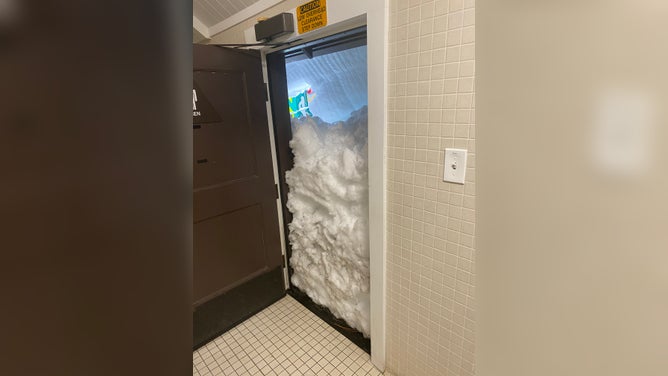 While Southern California still has another foot of mountain snow to deal with, Northern California gets a break. The next storm moves in over the weekend.