See some of the most catastrophic atmospheric rivers and flooding in California history
Some of the worst flooding and landslide in California's history occur with storms charged by atmospehric rivers over the winter. Take a look at photos of some of the most devastating.
Atmospheric river-fueled storms make regular appearances on the West Coast and have resulted in some of the worst flooding and landslides in California's history.
These narrow rivers of moisture-laden air flow from Hawaii to the western U.S. and make landfall five to six times a year in California alone. This particular atmospheric river is called the Pineapple Express.
The California Department of Water Resources (DWR) reminds us of the power of each event, though. A single average Pineapple Express can carry the same amount of water as 20 Mississippi Rivers.
WHAT IS AN ATMOSPHERIC RIVER? EARTH'S LARGEST FRESHWATER RIVERS ARE IN THE SKY
"Half of California's water supply comes from ARs (atmospheric rivers), often in powerful downpours that can hit in rapid succession," wrote Elissa Lynn, a meteorologist with the DWR. "On the flip side, we can gradually progress into droughts when we get fewer and fewer ARs and we don't often get out of a drought until we get an AR. Seven of the last 12 droughts ended with ARs."
The concern comes when those downpours come in rapid succession, occur over a prolonged period of time or are very intense. 
ATMOSPHERIC RIVER TURNS DEADLY AS IT SLAMS CALIFORNIA WITH FLOODING, MUDSLIDES
After one of the driest years on record, the parade of storms with a tropical connection hit hard, starting Dec. 22. Atmospheric river storms have claimed several lives so far this winter and have triggered evacuations and water rescues up and down the Golden State.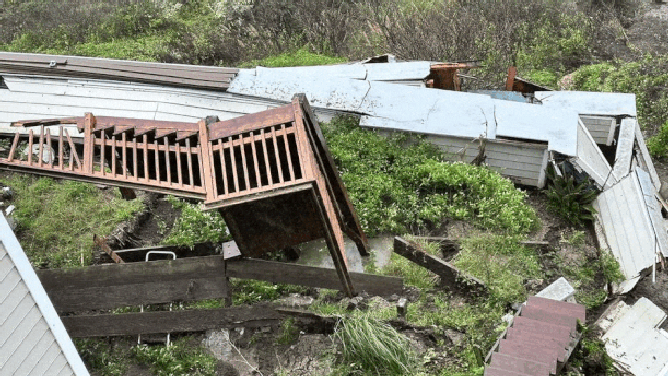 This type of storm has a history that repeats itself, and you don't have to look too far back to find the evidence.
2021
In October, a storm embedded in an atmospheric river bombed out, rapidly intensified, just like the storm moving through California now. Just like the current system, it came behind two prior AR storms.
WHEN STORMS 'BOMB OUT': EXPLAINING HOW A BOMB CYCLONE FORMS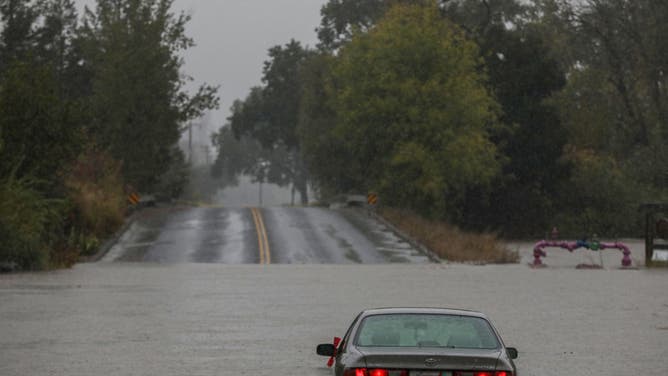 "October 24th, 2021 will go down as the wettest day for many cities around the Bay Area, setting records along the way," wrote the Center for Western Weather and Water Extremes in their review of the event. "Portions of Northern California received more than 15 inches of total precipitation from the three storms. Intense rainfall caused flooding in the Bay Area and triggered multiple slides in Northern California."
Mount Tamalpais in Marin County logged 16.55 inches of rain. Mount Saint Helena in Napa County saw 10.92 inches of rain. Wave heights at Point Reyes peaked at 50 to 60 feet, the second highest recorded in the station's 23-year history.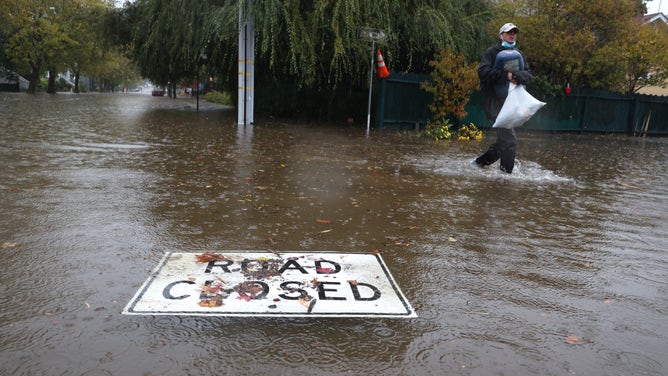 Saturated soil no longer held the roots of trees, allowing them to fall on homes and power lines. Loosened earth gave way and slid into roads and backyards.
The atmospheric river shifted north in November. After a foot of rain fell upstream from Sumas, Washington, near the Canadian border, floodwater rushed in. The town's mayor told FOX Weather that 75% of the city had water damage. In what seemed like just minutes, homeowners said, the water in their homes was 5 feet deep.
Another resident told FOX Weather, "The flood damage was crazy. Clean up will take months."
"IT'S SO HEARTBREAKING": 75% OF TOWN DAMAGED BY WASHINGTON FLOOD
The FOX Forecast center found that Hope, British Columbia received 10.93 inches of rain from a Pineapple Express storm in November.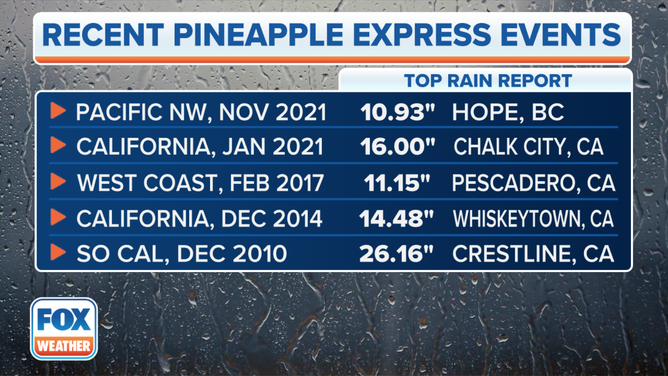 Come December, the rain targeted Los Angeles. The NWS measured 8.61 inches of rain for the month. That was the wettest December in 11 years and the third-wettest on record.
Successive storms washed away a man's yard and filled his hot tub with mud. He readied his home with sandbags in an Orange County burn scar before he, his pregnant wife and 4 kids evacuated. He said the homes on either side of him were destroyed.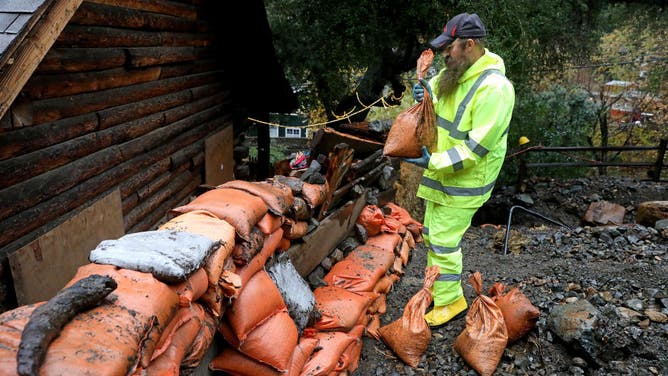 2019
A total of 19 atmospheric river storms battered California during the winter of 2018-2019. Only one of those storms was rated as strong, according to the DWR. 
Two homes slid off a hillside in Sausalito, California, in February during an atmospheric river event. One home was not occupied, but a woman was trapped inside the other home when it fell. She survived, according to Advancing Earth and Space Science.
Authorities evacuated 50 homes.
2018
In 2018, atmospheric river-spiked storms hit more burn scars in California. 
In January, over half an inch of rain fell on land recently burned by the Thomas fire in just 15 minutes in Montecito near Santa Barbara, according to the U.S. Geological Survey. 
"In places where the wildfire was burning for a while, the soil afterward almost repels the water. Rainfall that would normally be absorbed, especially in dense forests, will very quickly run off and pose a threat for extreme flash flooding for whoever or whatever is down the mountain," FOX Weather meteorologist Heather Brinkmann said. 
WIDESPREAD WESTERN WILDFIRES PLUS WINTER WEATHER: A DANGEROUS SETUP FOR DEADLY DEBRIS FLOWS

The rain touched off one of the most tragic debris flows in state history. The flow killed 23 people, injured 167 more and damaged over 400 homes.
1995
A parade of storms made landfall in Southern California from Jan. 3-11, 1995. Eleven Californians died in that time, and 42 California counties were declared disaster areas, according to the NWS.
"One specific site in Santa Barbara County was declared to have been a 500-year event," a NOAA report stated. 
Santa Barbara saw 16.96 inches of rain. Malibu in Los Angeles County reported 12.59 inches of rain.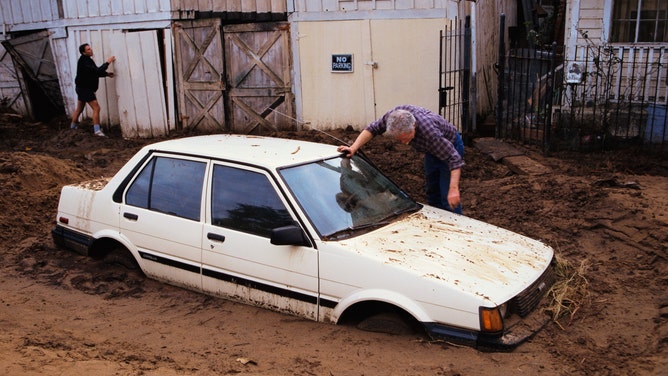 From January to March, 5 to 10 inches of rain per month hit the central and northern California Coast. Damages were estimated to be $2 billion, according to the Sanctuary Integrated Monitoring Network. The Salinas river discharged 3 million tons of sediment into the Pacific per day.
Napa Valley, after 27 major floods between the Great Flood of 1862 and 1997, saw 27 major floods. They had the third-highest amount of flood damage claims in the state, according to FEMA. In 1997 the county decided to revamp its flood control plans.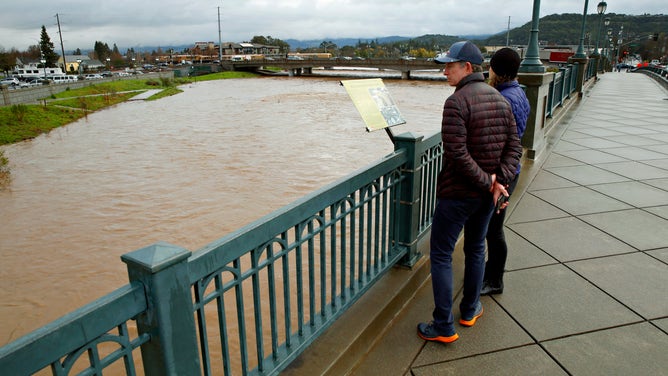 1986
Over 20 inches of rain fell in 48 hours in Napa in February 1986. Floods caused 3 deaths. Over 7,000 people were evacuated. 
Calistoga, in Napa County, saw 29.61 inches of rain in just 10 days, which blew away the record of 20 inches set in 1906. The NWS rain gauge on Atlas Peak, in eastern Napa, recorded 41.08 inches of rain in those 10 days.
Across the state, 13 people died, and authorities evacuated 50,000. The NWS considers this storm the fourth-worst storm in the state's history. 
1861 and 1862
California's worst flood was the compilation of a series of storms over the winter of 1861 and 1862, according to the NWS. No formal weather service existed at the time, but the NWS found reports that San Francisco received more than 41 inches of rain between November and February. The city's annual average rainfall is 22.28 inches.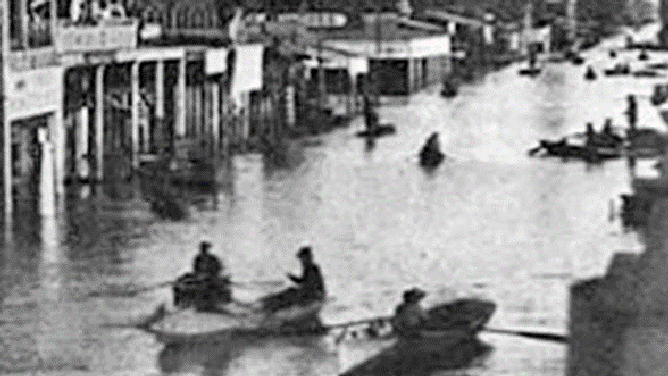 Some of the storms were warm and forced snow levels to 8,000 feet in the Sierra Nevada mountain range. Between pooling rain and runoff, a huge lake, 250 to 300 miles long and 20 miles wide, formed in the Sacramento and San Joaquin Valleys, according to the NWS.