Deadly ice storm cripples Texas with worst yet to come for South
Driving proved nearly impossible for millions of commuters on Monday and Tuesday -- and the worst is yet to come. "Bridges and overpasses are considered treacherous," one official in Texas said.
DALLAS – At least two people have been killed in car crashes in Texas as a long-duration, crippling ice storm continues to slide across the region leading to treacherous driving conditions and mounting power outages.
The storm is the result of a bitter blast of arctic air that is in place across the central U.S. and is expected to have a significant impact on the region over the next few days.
40 MILLION AT RISK OF WIDESPREAD POWER OUTAGES, DANGEROUS DRIVING AS DEADLY ICE STORM STRIKES THE SOUTH
"The best piece of advice is the wait this storm out," said FOX Weather meteorologist Stephen Morgan on Tuesday night.
A dangerous commute for Texans, others throughout South
Driving proved nearly impossible for morning and evening commutes for millions on Monday and Tuesday. Rain or slushy snow fell through warm air to the freezing surface below. That water then created a sheet of ice along the Interstate 35 corridor from Oklahoma City to Dallas.
"Bridges and overpasses are considered treacherous," White Settlement, Texas, police Chief Christopher Cook said in a tweet Monday. "People must slow down when approaching elevated surfaces."
WHY DO BRIDGES AND OVERPASSES FREEZE BEFORE ROADS?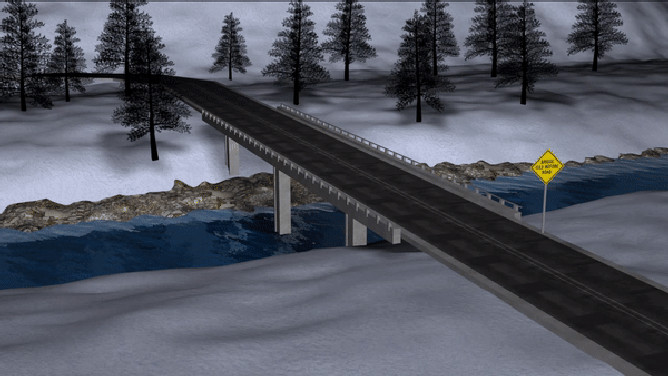 Austin-Travis County EMS said in several tweets that they were responding to crashes all over the region, including one in which two people either jumped or were hit and thrown from a bridge during a multi-vehicle crash in icy conditions. 
Several ambulances also responded to reports of a multi-vehicle crash that involved an auto-pedestrian collision. EMS officials said at least one person was killed.
The Arlington, Texas, Police Department said a 45-year-old man was killed after he was thrown from his vehicle when he lost control while driving over the Green Oaks Boulevard overpass at unsafe speeds. 
Police said he crashed into a guardrail, the vehicle went airborne and then rolled down an embankment. Police said they don't believe he was wearing a seatbelt at the time of the crash.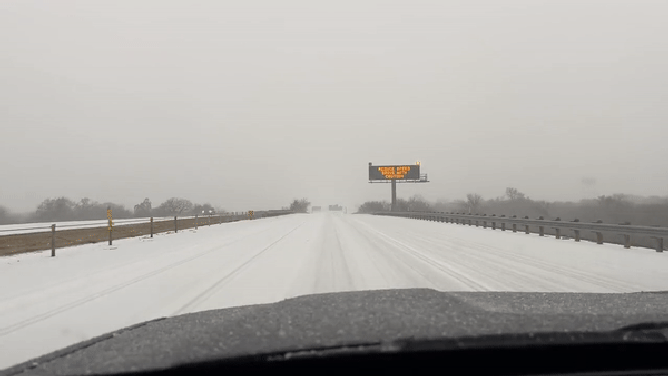 Crashes have been reported elsewhere across the region and fire officials in Austin said they have responded to more than 90 crashes, including three with their own vehicles. Two fires have also been reported, and officials believe they were caused by space heaters.
There was also a report of a fire truck that had been hit by another vehicle while it was responding to reports of a different crash on Highway 290, according to Austin fire officials. No injuries were reported in that crash.
On Tuesday morning, FOX 4 Dallas reported hundreds of drivers were stuck in a 20-mile traffic backup on Interstate 20 in Palo Pinto and Parker counties because of icy road conditions.
Treacherous driving conditions were also reported along Interstate 40 in Forrest City, Arkansas. 
The Forrest City Fire Department posted photos to Facebook showing a mangled mess of tractor-trailers involved in a crash because of the icy road conditions. Images from cameras along I-40 in Arkansas show traffic at a standstill.

I-40 was also closed west of Memphis, Tennessee, due to a major crash caused by icy road conditions.
Flight and school cancelations 
Flights into and out of the region were also impacted, with Dallas/Fort Worth International Airport (DFW) leading the pack with the most flight cancelations and delays.
The Federal Aviation Administration said there was a ground stop in effect at DWF on Tuesday until at least 3:30 p.m. EST, but that could be extended because of the ice storm.
Major delays were also expected at airports from Dallas to Little Rock.
More than 4,200 flights have been canceled or delayed nationwide because of the storm, with the biggest trouble spots located at DFW, Dallas Love Field Airport (DAL) and LaGuardia International Airport (LGA) in New York City.
In the Mid-South, Memphis International Airport saw 57 cancelations on Tuesday, largely due to the winter storm. 
Several schools in Texas decided to close early and cancel after-school activities because of the inclement weather, including the Fort Worth Independent School District. Oklahoma State University in Oklahoma City also decided to close campus at noon Monday.
School districts have also made the decision to close on Wednesday, including the Austin Independent School District.
Power outages on the rise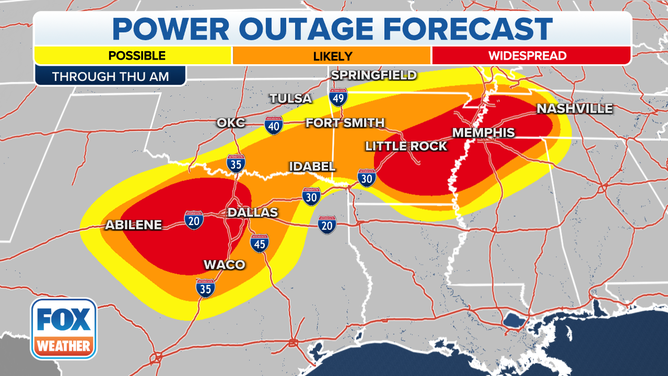 As ice continues to build, or accrete, this can spell trouble for power lines as they become coated in increasingly thicker layers of ice. 
Ice accretions of less than a quarter-inch are generally considered to be a nuisance, but impacts start to become disruptive once amounts close in on a half-inch or more. At around a half-inch, power outages can become numerous.
By Tuesday night, power outages in Texas were estimated to be about 30,000.  
THE HIDDEN DANGERS OF ICE STORMS. HERE'S WHAT YOU NEED TO KNOW
As the storm continues over the next couple days, however, power outages are expected to climb.
"It's going to be rubbing salt in the wound because temperatures are going to stay below freezing and those power lines are picking up more and more of an accretion of ice," said Tom Niziol, winter storm specialist at FOX Weather. 
"When the next area comes through tomorrow, that will only add to that and that's what raises the potential for power outages," he added. 
Power outages may lead some to resort to non-electric methods for staying warm. However, the Austin-Travis County Emergency Medical Services urges caution. 
ATCEMS is warning people to not use stoves, ovens or grills to try and heat homes when the power goes out. Emergency officials said they have received a call for carbon monoxide exposure, which can be deadly.
Anyone using a generator for electricity to heat their homes should also follow proper safety precautions.
Ice storm to continue across the South
As challenging as today's ice storms have been, the worst is yet to come for some areas in Texas and other parts of the South. 
The National Weather Service has issued Winter Storm and Ice Storm warnings for millions of people living in Texas from the Dallas-Fort Worth Metroplex southward through Waco and Austin, as well as to the west into Abilene, San Angelo and Junction.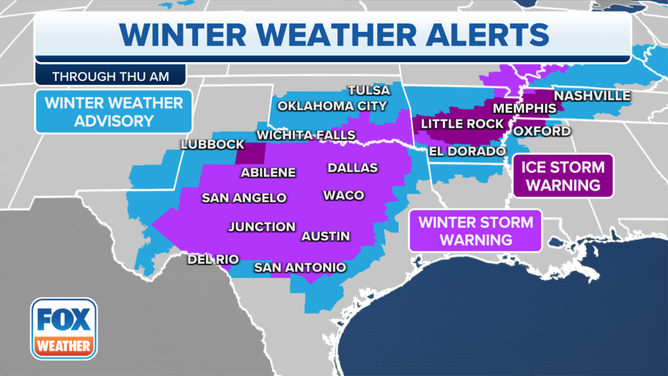 Going into Wednesday, the FOX Forecast center expects continued precipitation to fall across most of Texas. While precipitation will begin to taper off in intensity, the freezing rain will continue to complicate the forecast, as multiple hours of it from Tuesday night into Wednesday could lead to another slippery commute Wednesday morning.
"I'm really concerned about the Dallas-Fort Worth area tomorrow morning," Niziol said Tuesday night about the dangerous, icy conditions in Wednesday's forecast.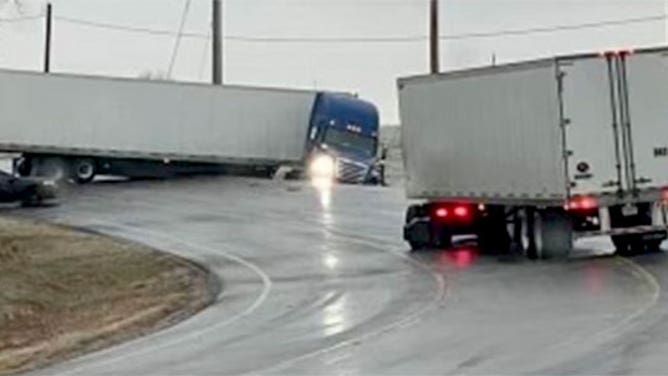 According to Niziol, the new storm system will then make its way north to Oklahoma and then east to Arkansas and Tennessee by Wednesday afternoon and evening. 
HERE'S WHAT TO HAVE ON HAND IF THE POWER GOES OUT DURING A WINTER STORM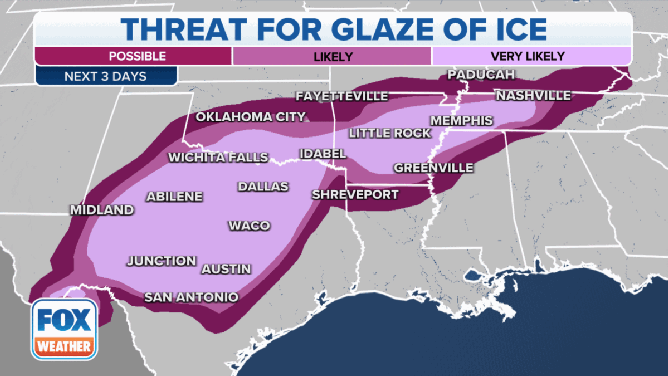 Freezing rain has already been reported in Little Rock, Memphis and other parts of the Mid-South, leading to Ice Storm Warnings there, too. Ice accretions could reach upward of a quarter-inch in this region, likely leading to power outages and dangerous travel conditions.
Overall, the forecast calls for upward of a quarter- to half-inch of ice to accrete starting along the I-20 corridor in West Texas, stretching eastward toward I-35, and eventually into parts of southeastern Oklahoma and southern Arkansas. 
A second area of ice upward of a quarter-inch is also increasingly likely across other parts of Arkansas and into West Tennessee.