Threat of rain, thunderstorms lingers in the Northeast on Tuesday
Some parts of the parched Northeast received between 3 and 5 inches of rain on Monday.
It was a rainy and stormy day across the Northeast on Monday, and the threat of more showers and thunderstorms will continue into Tuesday.
An upper-level disturbance spawned several rounds of heavy rain and thunderstorms, which was welcome in the region as many areas are experiencing extreme drought.
HOW TO WATCH FOX WEATHER ON TV
The FOX Weather Futuretrack of conditions that are possible on Tuesday afternoon.
(FOX Weather)
---
"Today, it's really going to be those pop-up thunderstorms," FOX Weather meteorologist Britta Merwin said. "Part of your day is going to be dry. That is always nice to see, but keep in mind we have drought conditions. So, the rain is actually what we do need across the Northeast."
According to the FOX Forecast Center, there is the potential for showers and thunderstorms again on Tuesday, especially in the afternoon.
"If we get a break of sun through the cloud deck, that's going to be enough to really ignite some instability," Merwin said. "So, look out for those rumbles of thunder later in the day.
The heaviest activity is expected to remain across interior New York state and the Hudson Valley through portions of New England, including Vermont, Massachusetts, Connecticut and Rhode Island.
HOW HEAVY IS IT REALLY GOING TO RAIN?
Rainfall forecast for the Northeast.
(FOX Weather)
---
Rain totals aren't expected to be as high as the region experienced on Monday.
According to the FOX Forecast Center, heavy rain led to flooding in Surf City, New Jersey, when 5.77 inches of rain fell on Monday.
In addition, 3 to 5 inches of rain led to road closures in Union County, New Jersey, and Harford County, Maryland.
A majority of locations will see rain totals well below what was seen on Monday, but some areas could see an additional inch of rain.
However, parts of northern Maine could see 1 to 2 inches of rain through Wednesday morning.
"On Wednesday, it really is New England that has the best chance at seeing rain," Merwin said. "If you live from New York, down into Pennsylvania, stretching into Washington, D.C., you're going to have a nice dry day as we work our way through the middle part of the workweek."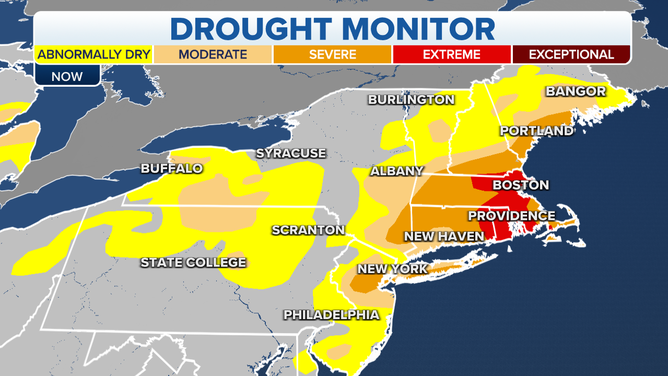 The Northeast has seen drought conditions worsen over the last several weeks, so the rain has been welcome news for the parched region.
Eastern Connecticut, the entire state of Rhode Island and eastern Massachusetts, including the Boston area, are now experiencing extreme drought conditions.
Unfortunately, those areas saw some of the lowest rainfall totals on Monday, but some parts of the region did receive an inch of rain.
The U.S. Drought Monitor is updated on Thursdays, so at that time, it will be known if the precipitation on Monday had an impact on drought conditions.
Any rain that falls on Tuesday and Wednesday, though, will be added to the updates that will be released next week.
7 WAYS TO CONSERVE WATER AT HOME DURING A DROUGHT
Several inches of rain are needed to ease drought conditions in the Northeast.
(FOX Weather)
---
It likely won't be enough to help much, though.
Boston, for example, is nearly 6 inches below average, having only picked up just over 3 inches of rain since June 1.
And Newark, New Jersey, is nearly 8 inches below average in terms of rainfall.