Evacuations announced for thousands in Florida ahead of Hurricane Nicole
Hurricane Nicole is expected to make landfall early Thursday morning. Evacuations are in place for residents in several east coast counties who live on barrier islands or in flood-prone areas.
WEST PALM BEACH, Fla. – Residents in parts of coastal Florida have been asked to evacuate as Hurricane Nicole spins closer to the east coast of Florida.
Most evacuations were voluntary. However, officials are encouraging residents who live on Florida barrier islands and flood-prone areas to consider moving inland, even if it's just a few miles away from home.
Mandatory evacuations
In Flagler County, for residents in Evacuation Zone A, which includes the entire barrier island, mandatory evacuations went into effect at 3:30 p.m. Wednesday. The evacuation order includes residents living in mobile homes and RVs countywide and in low-lying areas prone to flooding. 
KNOW YOUR ZONE: FLORIDA EVACUATION MAP SHOWS WHO WILL HAVE TO LEAVE BEFORE A HURRICANE STRIKES
Rymfire Elementary School is open as a shelter in Flagler County. 
Mandatory evacuations have also been issued for Nassau County for zones A and D. According to Nassau County Emergency Management, a shelter has been opened at the Callahan Multi-Purpose Facility located at 543350 US Highway 1, Callahan, FL 32011. More information can be found here. 
Officials in Palm Beach County also issued mandatory evacuations for people in two zones. Residents can find information about emergency shelters on the Palm Beach County Emergency Management website.
"Palm Beach County is announcing evacuations for Zone A and B," Palm Beach County Mayor Robert Weinroth said at a news conference on Tuesday afternoon. "This includes mobile homes, barrier islands and low-lying areas."
Emergency shelters opened Wednesday morning in Palm Beach County. In total, nine shelters will be available for residents to use across the county. Find a full list of shelters here.
Officials in Volusia County issued mandatory evacuations for people east of the Intracoastal Waterway. People who live in manufactured or mobile homes east of Interstate 95 and people who live in low-lying or flood-prone areas have also been ordered to evacuate. All campsites and RV parks were included in the order.
"Tropical Storm Nicole poses a direct threat to property and life," said Volusia County Manager George Recktenwald on Tuesday, one day before Nicole became a hurricane. "Our infrastructure, especially along the coastline, is extremely vulnerable because of Hurricane Ian's impacts. We expect further erosion along the beach, along with flooding in areas that were previously flooded by Ian. Residents need to take this storm seriously."
Four shelters that are pet-friendly opened Wednesday in Volusia County, officials said. More information about Volusia County shelters can be found here.
Voluntary evacuations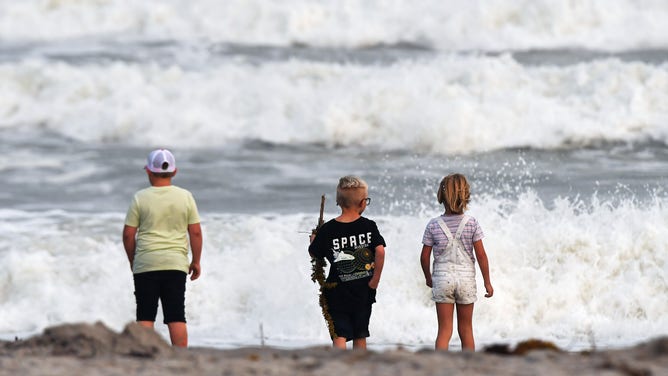 In Brevard County, voluntary evacuations began on Wednesday at 7 a.m. for residents who live on the barrier islands, including Merritt Island, Kennedy Space Center and south beaches. The recommendation also includes people who live in mobile or manufactured homes, or low-lying and flood-prone areas.
Brevard County shelters opened on Wednesday at 9 a.m. Four shelters will be available for residents in the county. For a list of shelter locations, click here.
In Clay County, evacuation orders were issued on Wednesday for zone A. A full list of shelters can be found on the Clay County Division of Emergency Management page.
Officials in Highlands County have put into place voluntary evacuations. 
Voluntary evacuations were also put in place in Indian River County. Evacuations were recommended for residents living in areas east of U.S. 1 (including the Barrier Islands) and low-lying, flood prone areas. Residents with mobile homes or vulnerable housing and persons with special medical needs have also been asked to evacuate.
As of Wednesday night, however, some residents have chosen not to evacuate. FOX Weather multimedia journalist Brandy Campbell spoke to a few residents on Vero Beach in Indian River County, who have decided to stay and who do not know anyone who has evacuated thus far. 
Voluntary evacuations are in place for Martin County beginning on Wednesday for zones A, B and low-lying areas. These areas include residents on the barrier islands and Sewall's Point. Five shelters opened at 8 a.m. Wednesday.
Officials recommended that residents in zone F in Putnam County evacuate. This area includes Sportsmans Harbor, Dunns Creek, Federal Point and other areas that experienced storm surge flooding during Hurricane Ian. Residents can go to emergency shelters as listed by the Emergency Services of Putnam County.
In Riviera Beach, mandatory evacuations began Wednesday for all of Singer Island and all mobile homes. 
Seminole County officials requested the immediate evacuation of mobile, modular and manufactured homes and homes in designated flood zones; homes in low-lying areas; and for individuals with special needs. 
Voluntary evacuations also began on Wednesday morning in coastal St. Johns County, including St. Augustine, St. Augustine Beach and those in flood-prone or waterfront areas. Two shelters are currently open in St. Johns County.
Also on Wednesday, voluntary evacuations began in St. Lucie County. Officials are strongly encouraging residents in zones A and B to evacuate. 
The latest tropical storm and hurricane alerts associated with Tropical Storm Nicole.
(FOX Weather)
---
Finishing preparations
Officials along Florida's east coast have been urging residents to complete preparations ahead of Hurricane Nicole's arrival this week.
Nicole transitioned to a tropical storm in the southwestern Atlantic Ocean on Tuesday. It then became a hurricane on Wednesday night. 
Florida Gov. Ron DeSantis declared a state of emergency for 34 counties in advance of Nicole's landfall.
HURRICANE NICOLE TRACKER: PROJECTED PATH, WATCHES AND WARNINGS, STORM SURGE, WINDS AND RAINFALL
The latest forecast track for Tropical Storm Nicole.
(FOX Weather)
---
"Not only are we talking about a storm later in the (hurricane) season than most Floridians are used to, but we're also still really coming off the sheer devastation that hit Southwestern Florida less than two months ago," FOX Weather correspondent Nicole Valdes said as she reported from Florida on Tuesday.
Hurricane Nicole is the 14th named storm of the 2022 Atlantic hurricane season, which runs from June 1 through Nov. 30, and the system is threatening Florida more than a month after Hurricane Ian made landfall as a powerful Category 4 hurricane with winds of 150 mph.
"People really still remember, and those images of the destruction from Hurricane Ian hitting Florida are still so fresh," Valdes said. "It's adding another level of concern for those who live, really, across the state of Florida, but particularly across the eastern coasts."
NEW TO FLORIDA? HERE'S A GUIDE TO HELP PREPARE FOR YOUR FIRST HURRICANE SEASON
Palm Beach County officials believe they're ready for Hurricane Nicole
"By now, you should have your general needs and supplies on hand," Weinroth said during a news conference on Monday. "Look out for your neighbor, the elderly and those living alone."
Weinroth on Monday said Palm Beach County had executed a local state of emergency in advance of Nicole.
"The Palm Beach County Emergency Operations Center is currently at Level 2. Yesterday was a Level 3. We're now at a partial activation," Weinroth said. "Tomorrow, the EOC will be in full activation starting at 7 a.m. Wednesday."
HOW TO WATCH FOX WEATHER ON TV
Proactive measures have also been taking place across the county.
Valdes said crews have been busy removing signs from street lights across the county, and lifeguard posts are being removed from beaches.
In addition, schools and universities have announced they will close as Hurricane Nicole nears.
Palm Beach Atlantic University announced no in-person classes on the West Palm Beach campus from Tuesday to Friday, and resident halls would close at 5 p.m. Tuesday.
The School District of Palm Beach County was closed on Tuesday because of Election Day, but officials announced they would remain closed through at least Thursday because of Hurricane Nicole.