Heavy rain, flash flood threats continue from southeastern Texas to lower Mississippi Valley on Wednesday
Additional rounds of heavy rain are expected Wednesday before the showers and storms turn more scattered from Thursday into the weekend.
Heavy rain will continue to pose the risk of flash flooding from southeastern Texas to the lower Mississippi Valley on Wednesday following Monday's major flash flooding in the Dallas-Fort Worth Metroplex that left at least one person dead.
A dip in the jet stream will interact with a front dropped across the region to spawn additional rounds of heavy rain on Wednesday before the showers and storms turn more scattered from Thursday into the weekend.
However, the good news is that the highest threat of heavy rain has now shifted eastward away from the areas that were hit with significant flash flooding earlier this week.
The National Weather Service has issued Flood Watches from the upper Texas coast into Louisiana, Mississippi, far southeastern Arkansas and extreme west-central Alabama.
EXPLAINING FLOOD ALERTS ISSUED BY NATIONAL WEATHER SERVICE
Flood Watches are in effect across the lower Mississippi Valley.
(FOX Weather)
---
Wednesday's forecast: Heavy rain eyes lower Mississippi Valley, central Gulf Coast
Showers and thunderstorms with locally heavy rain will continue from southeastern Texas into much of Louisiana, Mississippi, southwestern Alabama and the western Florida Panhandle. This includes cities such as Houston in Texas, Alexandria, Baton Rouge and New Orleans in Louisiana, Jackson in Mississippi and Mobile in Alabama.
"(There's) lots of moisture in the atmosphere," FOX Weather meteorologist Michael Estime said. "It's like a wet sponge that we're squeezing out and we'll ring out through the day."
The flash flood threat on Wednesday, Aug. 24, 2022.
(FOX Weather)
---
While showers and storms will stick around at times from Thursday into the weekend, they should turn much more scattered in coverage, resulting in a lower threat of flash flooding compared to earlier in the week.
However, parts of the Southeast will have a heightened flood threat through the end of the workweek.
INCREASINGLY WET, STORMY FEW DAYS EXPECTED IN SOUTHEAST
How much rain?
An additional 2 to 5 inches of rainfall is possible through midweek from the upper Texas coast eastward to central and southern Mississippi and southwestern Alabama, with isolated amounts up to 6 inches possible in localized areas.
While much of this rainfall will be beneficial and welcome due to the effects of an ongoing drought, the potential still exists for flash flooding, especially in urban areas and places with poor drainage.
HOW TO WATCH FOX WEATHER ON TV
The rain forecast over the next three days.
(FOX Weather)
---
Major flash flooding inundated Dallas-Fort Worth Metroplex on Monday
Dallas received 9.19 inches of rain from Sunday through Monday, equal to all the rain that had fallen in the city between March 29 and Aug. 20. That amount also equals 41% of Dallas' total of 22.49 inches of rain since the beginning of the year.
AT LEAST 1 DEAD AFTER STORMS DUMP OVER 15 INCHES OF RAIN ON DALLAS-FORT WORTH METROPLEX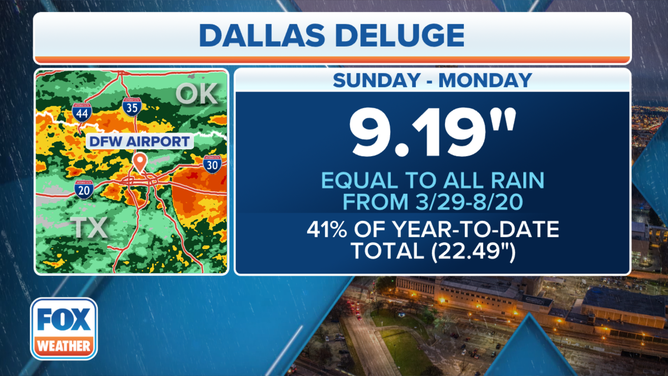 In addition, 3.01 inches of rain fell in just one hour early Monday morning, which was the highest one-hour precipitation report on record at Dallas-Fort Worth Airport.
FROM DROUGHT TO DELUGE: WHY THE DALLAS FLOOD HAPPENED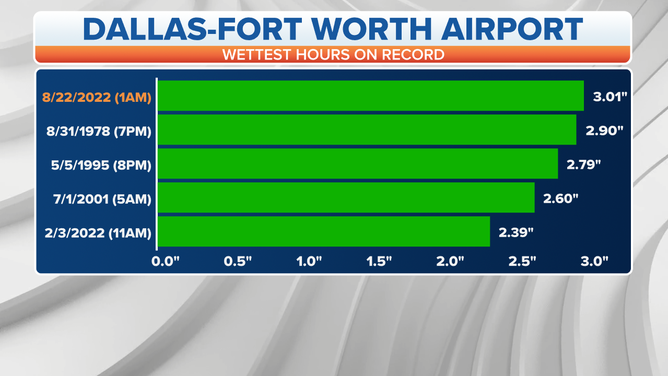 The 9.19 inches of rain in Dallas from Sunday through Monday fell in less than 24 hours, making this deluge the second-wettest 24-hour period on record at Dallas-Fort Worth Airport.
The all-time record was set between Sept. 4 and 5, 1932, when 9.57 inches of rain fell in 24 hours.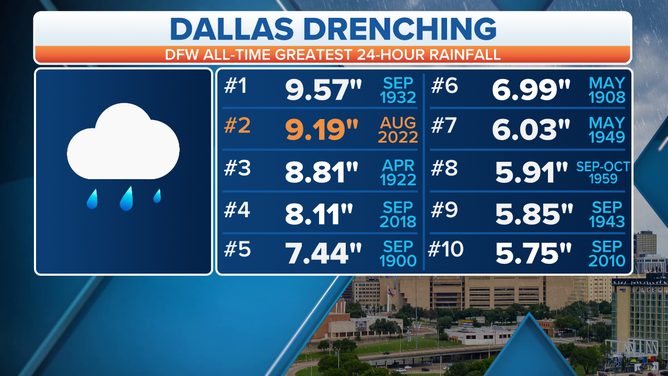 But other parts of the Dallas-Fort Worth Metroplex received several inches more rain than the official measurement at the airport.
The highest rainfall totals were on the eastern side of Dallas, where 15.31 inches was recorded in East Dallas.
7 FACTS YOU SHOULD KNOW ABOUT FLASH FLOODS
Mesquite, Texas, which is also to the east of Dallas, picked up 13.30 inches of rain.
Garland, Texas, saw 11.25 inches of rain, while Fort Worth received 9.55 inches.
With such heavy rain on top of extremely parched soils in the midst of extreme to exceptional drought conditions, the ground was so dry that all surfaces essentially behaved as concrete and were unable to absorb the excessive rainfall, resulting in major flash flooding across the Metroplex.
'I THOUGHT I WAS GOING TO DIE': FOX WEATHER'S ROBERT RAY HELPS RESCUE WOMAN FROM SUBMERGED CAR IN DALLAS