From drought to deluge: Why the Dallas flood happened
The 9.19 inches of rain that fell from Sunday into Monday nearly erased a 10-plus-inch rainfall deficit in Dallas.
A major flash flood that inundated the Dallas-Fort Worth Metroplex on Monday was fueled by a combination of factors that nearly wiped out the city's rainfall deficit in a single day.
The weather setup featured a stalled front draped from west to east across North Texas. Southerly winds at the surface pulled tropical moisture from the Gulf of Mexico northward into the region, and that moisture continued to build up along the front.
This surge of tropical moisture fueled multiple rounds of heavy rain, with rainfall rates reaching as high as 3 inches per hour, that repeatedly tracked over the Metroplex from Sunday evening through early Monday afternoon.
In fact, Dallas-Fort Worth Airport had its wettest hour on record early Monday morning when 3.01 inches fell between 1 and 2 a.m. Central time. The previous record was 2.90 inches in one hour.
'I THOUGHT I WAS GOING TO DIE': FOX WEATHER'S ROBERT RAY HELPS RESCUE WOMAN FROM SUBMERGED CAR IN DALLAS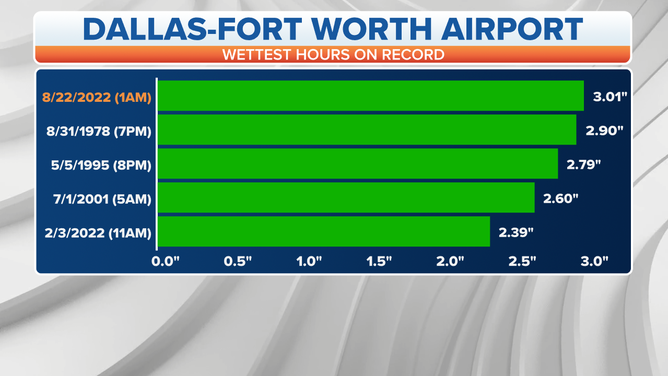 East Dallas recorded a total of 15.31 inches of rain from this deluge, with other spots on the eastern side of Dallas also reporting double-digit rainfall totals in less than 24 hours.
With such heavy rain on top of extremely parched soils in the midst of extreme to exceptional drought conditions, the ground was so dry that all surfaces essentially behaved as concrete and were unable to absorb the excessive rainfall, resulting in major flash flooding across the Metroplex.
5 RARE '1,000-YEAR' RAIN EVENTS WITHIN A MONTH? CLIMATE CHANGE MAY FORCE NOAA TO UPDATE CRITERIA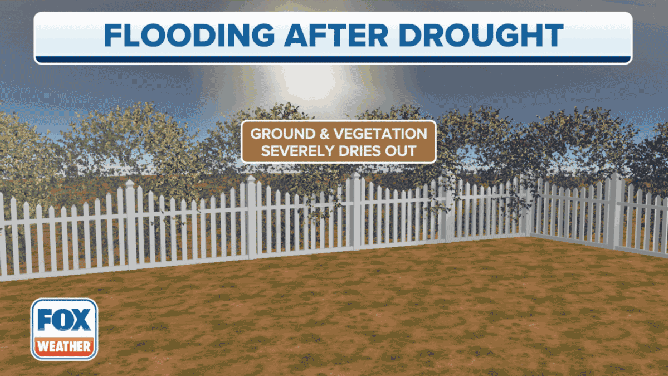 "It almost turns into asphalt," FOX Weather meteorologist Steve Bender explained. "So when all that rain does come down, it won't percolate into the ground. It won't be absorbed. It just runs off, and it leads to those visuals that we have shown widespread in the Dallas-Fort Worth area."
HOW TO WATCH FOX WEATHER ON TV
In an average calendar year, Dallas-Fort Worth receives 23.77 inches of rain by Aug. 22. But prior to the torrential rainfall from Sunday into Monday, the city had only picked up 13.30 inches since Jan. 1, so it's no wonder soils were so parched.
The 9.19 inches that fell during this heavy rain event nearly erased that large deficit, with the city's year-to-date rainfall now standing at 22.49 inches through Monday – just over an inch below average rather than more than 10 inches below average.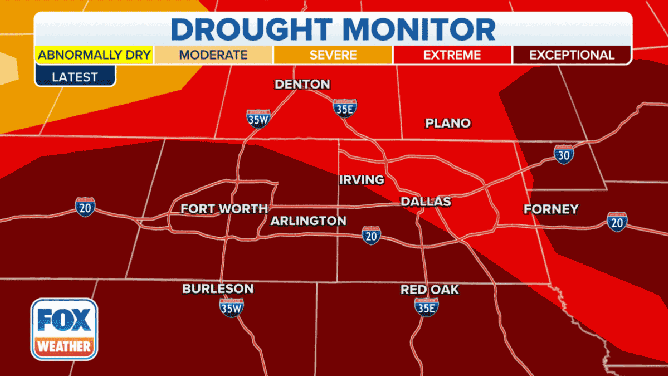 This week's deluge ranked as the second-wettest 24-hour period on record at Dallas-Fort Worth Airport. The all-time record was set between Sept. 4 and 5, 1932, when 9.57 inches of rain fell in 24 hours.
AT LEAST 1 DEAD AFTER STORMS DUMP OVER 15 INCHES OF RAIN ON DALLAS-FORT WORTH METROPLEX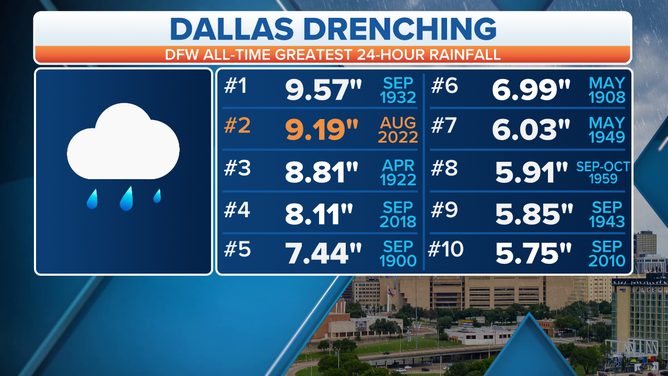 But other parts of the Dallas-Fort Worth Metroplex received several inches more rain than the official measurement at the airport.
That includes the previously mentioned 15.31-inch total in East Dallas, as well as the 13.30 inches that fell in Mesquite and the 11.25 inches that drenched Garland.
7 FACTS YOU SHOULD KNOW ABOUT FLASH FLOODS