At least 1 dead after storms dump over 15 inches of rain on Dallas-Fort Worth Metroplex
Dallas County officials said a 60-year-old woman was killed when her car was swept away by floodwaters.
DALLAS – At least one person died on Monday after areas of North Texas received well over a foot of rain that led to significant flash flooding and dozens of water rescues.
Dallas County officials said a 60-year-old woman was killed when her car was swept away by floodwaters.
Numerous Flash Flood Warnings had been issued for the Dallas-Fort Worth Metroplex Sunday night and Monday, putting millions of people at risk as torrential downpours produced impressive rain totals.
'I THOUGHT I WAS GOING TO DIE': FOX WEATHER'S ROBERT RAY HELPS RESCUE WOMAN FROM SUBMERGED CAR IN DALLAS
Many people were unaware of how dangerous the flooding situation was at the time, but the National Weather Service's Weather Prediction Center had strong wording for people that were included in the Flash Flood Warnings.
"Life-threatening flash flooding across the greater Dallas-Fort Worth metro area will continue," the WPC said in its discussion on Monday.
Several people needed to be rescued from the floodwaters on Monday, and the Fort Worth Fire Department said it responded to more than 170 high-water calls as of Monday night.
FOX Weather multimedia journalist Robert Ray was able to rescue one woman from her vehicle when it was submerged in the floodwaters.
Ray was setting up for a live shot on FOX Weather when Stephanie Carroll's vehicle drove onto a water-covered roadway and became submerged.
"She literally, as I was standing here setting up for the shot, guys, pulled in and didn't realize it," Ray said on Monday. "The next thing you know, her car was floating. So, I went out there and tried to push her vehicle as best I could."
Ray said he was trying to push the car closer to higher ground but quickly realized that wasn't going to happen, so Ray pulled the woman from the window of her car.
According to FOX 4 Dallas, flooding brought traffic to a standstill on Malcolm X Boulevard near Interstate 30, east of downtown Dallas. Several vehicles were stuck in the water.
Jared Williford told FOX 4 that his car was submerged in high water.
"I kinda felt something was off when all the water was rushing to the side. When I saw the traffic was stopped up here, I ended up in the far-left lane at the front, and that's when I got kinda swept away by the water," he told FOX 4.
He said he was driving to work at Dallas-Fort Worth Airport around 2 a.m. but ended up swimming out of his car. He said he's thankful to be alive but not looking forward to calling his insurance company.
HERE'S WHAT TO DO AFTER YOUR CAR IS FLOODED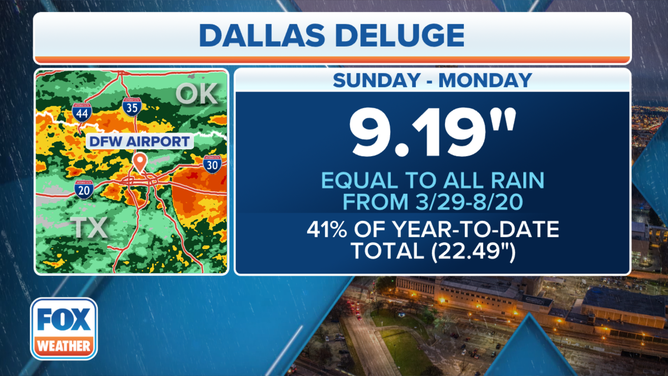 Dallas received 9.19 inches of rain from Sunday through Monday, equal to all the rain that had fallen in the city between March 29 and Aug. 20.
That amount also equals 41% of Dallas' total of 22.49 inches of rain since the beginning of the year.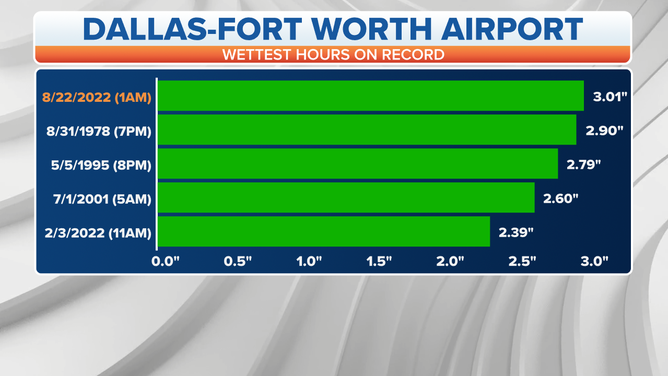 In addition, 3.01 inches of rain fell in just one hour early Monday morning, which was the highest one-hour precipitation report on record at Dallas-Fort Worth Airport.
INCREDIBLE SCENES OF SURVIVAL: WATCH AS 15 INCHES OF RAIN LEAVES DALLAS-FORT WORTH UNDERWATER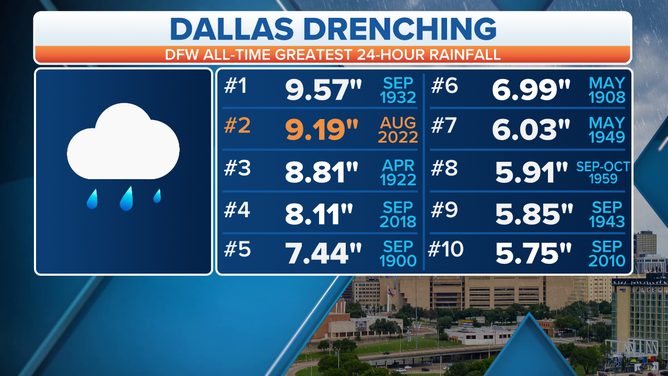 By late morning, Dallas had received 9.19 inches of rainfall for the storm, ranking second all-time for its wettest 24-hour period.
The all-time record was set between Sept. 4 and 5, 1932, when 9.57 inches of rain fell in 24 hours.
But other parts of the Dallas-Fort Worth Metroplex received several inches more rain than the official measurement at the airport.
The highest rainfall totals were on the eastern side of Dallas, where 15.31 inches was recorded in East Dallas.
7 FACTS YOU SHOULD KNOW ABOUT FLASH FLOODS
Video and photos posted to social media showed vehicles becoming stranded all over the city and people needing to swim through high water to escape their vehicles and get to high ground.
Unfortunately, they also show several vehicles attempting to drive over water-covered roadways, which is extremely dangerous and can put lives in jeopardy.
Officials in Dallas and Fort Worth had advised people to stay off the roadways if possible and to avoid roads that had water covering them if travel is needed.
"If we get 7 or 8 inches of rain in 24 hours, there will be water that collects on the roadways," Tony Hartzel with the Texas Department of Transportation said. "So, we will do our best to pump that if necessary. Generally, what we are looking for is to close those lanes that are affected, and give people a safe and alternate detour. And we always remind people if you see water on the roadway, turn around and don't drown."