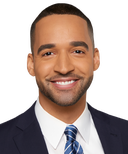 Michael Estime
FOX Weather Meteorologist
Michael Estime joined FOX Weather in June 2022 where he currently serves as an on-air host for the "FAST" weather service.
Prior to FOX Weather, Estime was stationed at FOX owned & operated station WJBK-TV in Detroit, Michigan, where he spent two years as the weekend meteorologist covering flooding, snowstorms, and various weather patterns. From 2016 to 2020, he served as the weekend meteorologist and weekday co-host of "Live on the Lakeside" at NBC affiliate WKYC-TV in Cleveland, Ohio, where he covered several lake-effect snowstorms. Prior to that, he was a meteorologist at ABC affiliate WTVQ-TV in Lexington, Kentucky. During his time there, his coverage of snowstorms, flooding and violent tornados helped the station earn the title of "Most Accurate Forecast in Central Kentucky" by WeatheRate. Estime started his career in broadcasting as a meteorologist at NBC affiliate WGMT-TV in Macon, Georgia where he helped viewers stay safe during a historic tornado outbreak in April 2011.
A native of Detroit, Estime earned a degree in meteorology from Central Michigan University with a minor in mathematics. Estime is an AMS Certified Broadcast Meteorologist and holds a membership with the National Weather Association.