Deadly tornadoes rumble through Missouri, Kentucky leaving swaths of damage
At least 5 are dead after Glenallen, Missouri, took a direct hit from what Doppler radar indicated was likely a tornado of EF-2 or EF-3 strength at about 3:45 a.m. CDT, according to NOAA's Storm Prediction Center. Officials in Louisville, Kentucky confirmed at least one death that was likely storm-related.
GLENALLEN, Mo. – At least six people have died, and several others were injured as a severe weather outbreak that produced tornadoes and large hail across the Midwest on Tuesday turned fatal as it continued its trek eastward Wednesday.
The National Weather Service had reports of 14 tornadoes touching down by Wednesday night, with damage reported across three states during the severe weather outbreak, with dozens of reports of large hail of at least 2 inches in diameter, and more than 50 damaging wind reports. 
Supercell thunderstorms tore across parts of north-central and northeastern Arkansas early Wednesday morning, then crossed into southeastern Missouri. According to NWS officials, a tornado with at least 130 mph winds hit Glenallen area of Bollinger County. The twister has received a preliminary rating of EF-2 on the Enhanced Fujita Scale.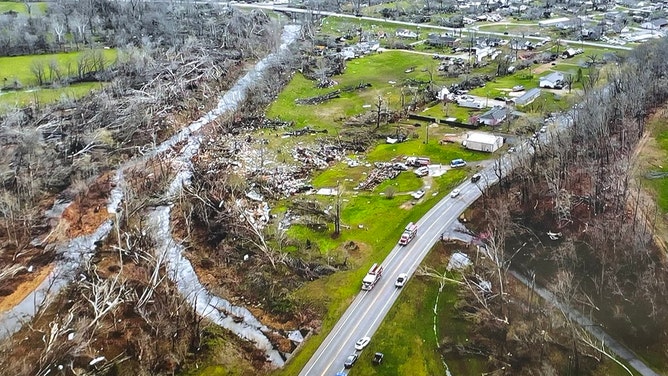 The tornado killed at least five people were killed and injured several others, according to a Facebook post from Bollinger County Sheriff Casey Graham.
4 KILLED, MULTIPLE INJURED AFTER NOCTURNAL TORNADO SLICES THROUGH SOUTHEASTERN MISSOURI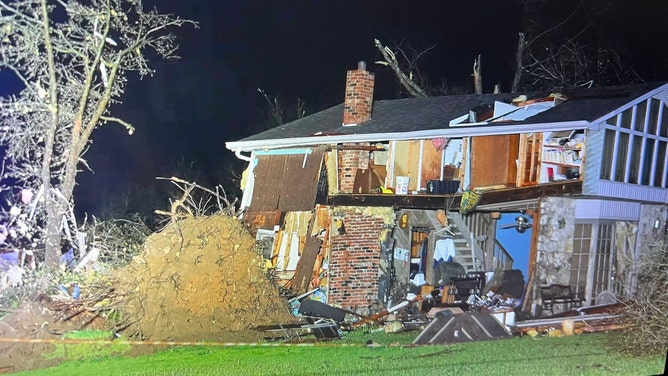 Storm chaser Brandon Clement with Live Storms Media told FOX Weather he witnessed several homes destroyed and some people being treated for injuries by first responders.
"The whole area has a lot of trees down, power lines down, a lot of roofs off, a lot of trailers destroyed, so it's a pretty rough area," Clement said.
Missouri Gov. Mike Parson said he would be touring the destruction after the deadly tornado ripped through parts of the state, including Glenallen. He added that his previous executive order, which was issued on March 31 activating the Missouri State Emergency Plan and the Missouri National Guard, would remain in effect.
Deadly tornado strikes Louisville 
Later in the day, a plethora of Severe Thunderstorm Warnings and Tornado Warnings were issued around Louisville, Kentucky as a line of storms rolled through the metro and communities to the north and south.
Kentucky Gov. Andy Beshear confirmed late Wednesday night that one person from Louisville was killed in the storms.
Video taken in Shepherdville, Kentucky, showed strong winds ahead of advancing thunderstorms.
Louisville Metro Emergency Services reported a tornado was to blame for displacing at least 50 people at an apartment complex. The American Red Cross had set up a nearby shelter for storm victims. 
Louisville Mayor Craig Greenberg said much of the damage reports were in the south and southwestern parts of the city. 
"There are a lot of trees down," Greenberg said. "There are power lines down, and also buildings have sustained damage."
Damaging wind gusts are believed to have topped 70 mph, which knocked out power to tens of thousands of customers.
The NWS confirmed a tornado with winds of at least 110 mph hit the Pleasure Ridge Park neighborhood. It has received a preliminary rating of EF-1.
WHERE ARE TORNADOES MOST COMMON?
A three-hour radar loop showing where showers and thunderstorms are ongoing. Tornado Warnings are indicated in red, while Tornado Warnings with a confirmed tornado are indicated in purple. Severe Thunderstorm Warnings are indicated in yellow. Flood Warnings are indicated in green.
(FOX Weather)
---
Strong to severe storms possible in mid-Atlantic on Thursday
As the cold front moves through the Eastern Seaboard, the chance for strong to severe storms will linger on Thursday from around Philadelphia southward to North Carolina, including interstates 95 and 81.
The FOX Forecast Center said if enough deep moisture is in place, some areas that experienced severe weather last weekend could be at risk again for hail, damaging winds and even an isolated tornado.
The severe storm threat on Thursday, April 6, 2023.
(FOX Weather)
---
Cities in Thursday's likely storm zone include Philadelphia, Baltimore, Washington and Richmond in Virginia.
Strong to severe storms will also be possible over Deep South Texas, but the primary threat is expected to be large hail.