5 killed, multiple injured after nocturnal tornado slices through southeastern Missouri
According to data from NOAA's National Centers for Environmental Information, Wednesday morning's tornado was the state's deadliest twister since 2011, when an EF-5 tornado devastated Joplin and killed 158 people.
GLENALLEN, Mo. – At least five people have died, and multiple others have been injured in rural Missouri after an apparent strong tornado caused significant damage early Wednesday morning, troopers said.
According to data from NOAA's National Centers for Environmental Information, it was the state's deadliest tornado since 2011, when an EF-5 tornado devastated Joplin and killed 158 people.
The recent five deaths came from Glenallen in Bollinger County, according to Sgt. Clark Parrott of the Missouri State Highway Patrol Troop E. 
Glenallen was one of the hardest-hit areas during the storm. The National Weather Service found what appears to be high-end EF-2 tornado damage around Glenallen, with estimated peak winds at 130 mph. 
"It was nothing short of a war zone," said Kirk Barlow II, who lives near the damaged area. "I am just speechless. I pray for everyone that lost their homes & the lives that was lost."

NOAA's Storm Prediction Center said Doppler radar indicated an EF-2 to EF-3 tornado was likely in progress along the border between southeastern Missouri and far southern Illinois, near the communities of Glenallen and Marble Hill in Missouri, at about 3:45 a.m. CDT.
MO BAPTIST DISASTER RELIEF SAYS TORNADOES CAUSED TERRIBLE DAMAGE, DESTROYED HOMES
"Where I was at, even though I was just a half-mile from where the damage was, there was stone-cold silence," Glenallen resident Lorrie Yount told FOX Weather. "It was very eerie. There was a lot of rumbling in the distance. There was a lot of lightning, but it was just unreal. It was a scary, spooky silence."
Live Storms Media storm tracker Brandon Clement provided a first look at damage from Glenallen after the apparent tornado destroyed homes and businesses.
"The whole area has a lot of trees down, power lines down, a lot roofs off, a lot of trailers destroyed," Clement said. "It's a pretty rough area."
Multiple roads are closed in the Marble Hill and Glenallen area due to storm debris and downed trees.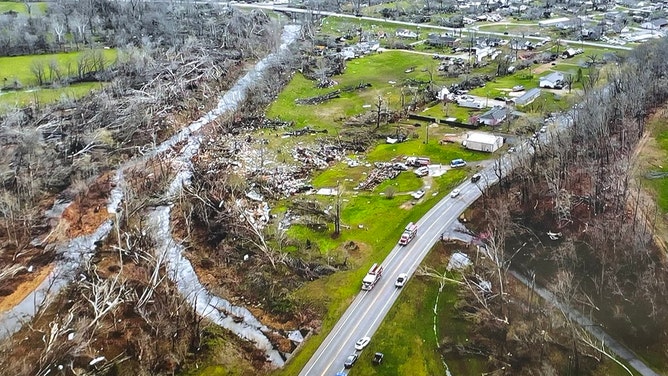 Fire responders are currently going house to house, helping residents who might be trapped.
"There are multiple people that have been displaced from their homes at this time," Parrott said. "Just because of the debris field, trying to get around the county is proving to be a little bit difficult, and the fact that it's still nighttime."
Supercell thunderstorms were tracked from parts of north-central and northeastern Arkansas into southeastern Missouri early Wednesday morning, prompting Particularly Dangerous Situation (PDS) Tornado Warnings for several towns along their paths, including Marble Hill and Glenallen in Missouri.
Missouri governor to tour tornado damage
Missouri Gov. Mike Parson said he would be touring the destruction after the violent and deadly tornado ripped through parts of the state, including Glenallen, on Wednesday. 
"Overnight, parts of Missouri experienced damaging severe storms, and we've received reports of a tornado in Bollinger County," he said in a tweet. "At this time, fatalities have been confirmed and others have been injured."
Parson added that his previous executive order, which was issued on March 31, activating the Missouri State Emergency Plan and the Missouri National Guard, would remain in effect.
"I will join emergency personnel on the ground to further assess damage and learn what resources will be needed during recovery," Parson added.