Climate change impacts costing US $150 billion a year, government report says
From more heat waves to more extreme flooding, the NCA5 lays out a future of major changes as Earth warms. It does offer some hope, though.
WASHINGTON – The U.S. government released the Fifth National Climate Assessment (NCA5) on Tuesday, which found that the impacts of extreme climate events are costing America $150 billion every year.
"With every increment of global warming, costly damages are expected to accelerate," NOAA officials said in a statement about the report. "For example, 2 degrees Fahrenheit of warming is projected to cause more than twice the economic harm induced by 1 degree F of warming. High annual temperatures and tropical cyclones are associated with lower growth in GDP."
There is also a human toll.
EARTH'S HOTTEST 12-MONTH PERIOD IN RECORDED HISTORY EXPOSED 99% OF HUMANITY OT EXTREME HEAT, STUDY SAYS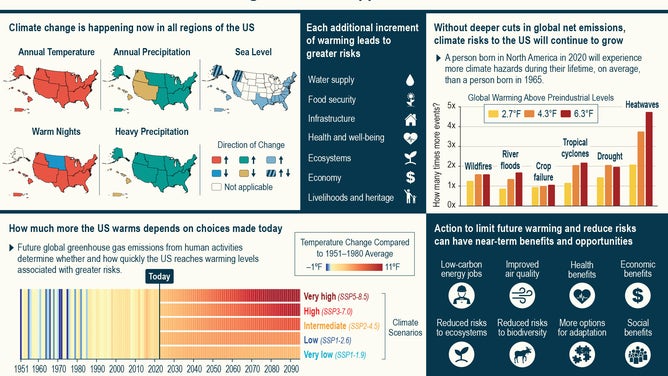 The report, mandated by Congress, represents five years of science-based, inter-agency research on climate change impacts, risks and responses. Authors found that humans have already made great strides, but Americans can't stop taking action now.
"Across the country, efforts to adapt to climate change and reduce emissions have expanded since 2018, and US emissions have fallen since peaking in 2007," said the report. "However, without deeper cuts in global net greenhouse gas emissions and accelerated adaptation efforts, severe climate risks to the United States will continue to grow." 
Here are some of the key takeaways from the report.
2023 CLAIMS ALL-TIME HIGHEST NUMBER OF BILLION-DOLLAR DISASTERS, NOAA SAYS
Life-threatening heat waves increase with warming
Not many across the southern two-thirds of the country will forget the deadly heat dome over the summer that seemed to never end. The NWS put hundreds of millions of people under heat alerts for days on end. Heat illnesses caused a record 569 deaths in Phoenix. San Angelo, Texas, hit 114 degrees, the highest temperature ever recorded in the city. Heat buckled the pavement in Minnesota.
PHOENIX SETS ALL-TIME RECORD AGAIN FOR HEAT ASSOCIATED DEATHS AFTER SCORCHING SUMMER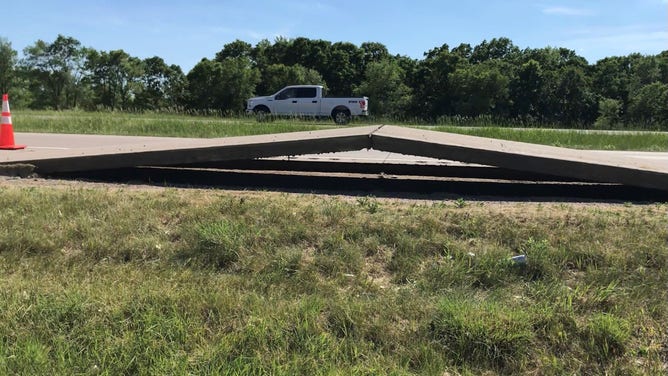 Those types of heat waves will increase with an increase in the global average temperature, according to the report. NOAA found that the number of heat waves across the U.S.'s 50 largest cities has doubled since 1980. The length of heat wave season has increased from 40 days in the 1980s to 70 days. Much of the South would have 35 days or more of 95-degree heat with just a 3.6-degree rise in global temperature.
"Higher temperatures are associated with adverse pregnancy and birth outcomes, mental health impacts, and increased emergency room visits and hospitalizations related to cardiovascular disease, diabetes, electrolyte imbalance, renal failure, and respiratory outcomes," authors of the NCA5 wrote. "Heat-related health impacts are greatest among children, adults over age 65, those with disabilities, people with mental health or substance-use disorders; and those who are pregnant, lack access to cooling, or engage in outdoor labor and activities."
Take a look at the graphics below showing the increased number of hot days the U.S. could expect with global warming.
EXTREME WEATHER BECOMING A FACTOR IN WHERE AMERICANS CHOOSE TO LIVE

Rainfall, flooding and hurricanes becoming more extreme
Since the 1950s, the Northeast has already seen a 60% increase in the number of days of extreme precipitation, while the Midwest saw a 45% uptick. According to the report, increased warming could make events like the devastating summer floods in Vermont more likely.
DRONE VIDEO SHOWS DISASTROUS FLOODING IN LUDLOW AFTER TORRENTIAL RAIN HITS VERMONT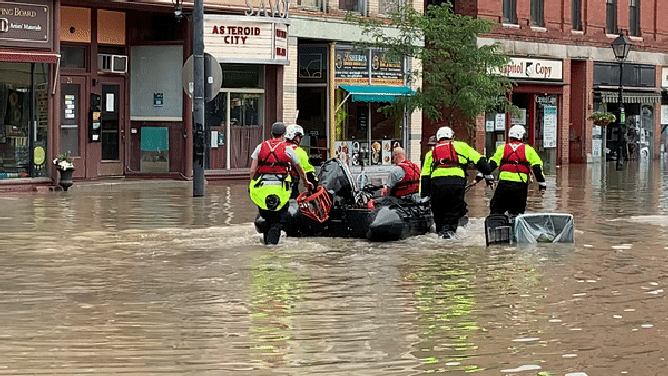 According to the report, a 3.6-degree global rise means more rain on days with extreme precipitation and an increase in the number of days with precipitation. Conway, New Hampshire, could see 30% more rain on excessive rain days. Birmingham, Alabama, could see 18% more rain on its wettest day (of a 5-year average).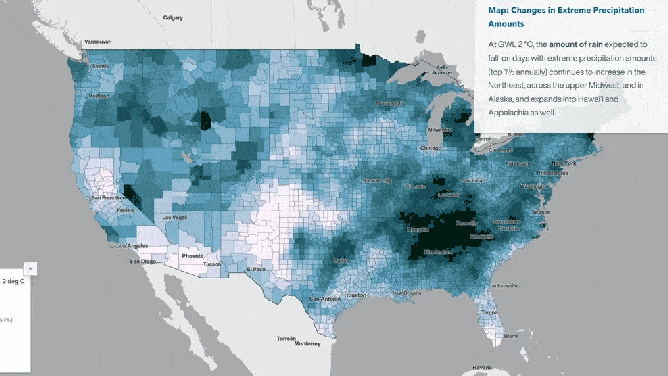 "Extreme precipitation–producing weather systems ranging from tropical cyclones to atmospheric rivers are very likely to produce heavier precipitation at higher global warming levels," authors of the NCA5 wrote.
The intense winter storms that plagued California could also become more likely, as well as the devastating losses due to hurricanes.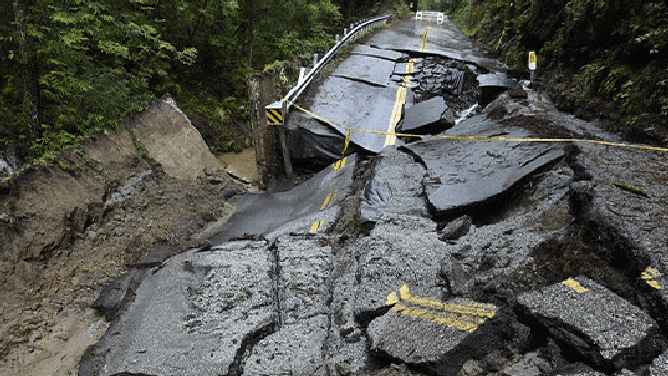 "Hurricanes have been intensifying more rapidly since the 1980s and causing heavier rainfall and higher storm surges due to climate change," NOAA officials said in a statement about the report's findings. "There is no long-term trend in the frequency of landfalling hurricanes in the U.S. since the late 19th century, but there has been an increase in hurricane activity in the North Atlantic since the early 1970s."
Warming will mean more precipitation, but not for everyone
As global temperatures rise, the report said, precipitation type and intensity will vary. Drought-stricken areas of the Southwest, southern and central Great Plains and South Florida could see up to a 10% drop in precipitation.
"For example, in the Northwest, precipitation is expected to increase during winter and decrease in the summer," authors of the NCA5 wrote. "In a warmer world, less precipitation will fall as snow. This change will lead to large reductions in mountain snowpack and decreases in spring runoff in the mountain West."
SNOW CONSIDERED CRUCIAL TO LONG-TERM DROUGHT MITIGATION

HIGH GROCERY BILL? BLAME THE WEATHER
Less snowpack means less water recharging wells and reservoirs in the West. Farmers already plowed under orchards in California during the 2021 drought. Just last month, a drought-triggered marsh fire near New Orleans created super fog that led to a 168-vehicle pileup that killed seven people. 
Doctors warn that respiratory issues could also be on the rise due to an increase in wildfires. Many in New York City remember days when the sky was orange and the air quality unhealthy due to smoke from Canadian wildfires this year.
Fighting back
The NCA5 laid out steps to mitigate, adapt and become more resilient to climate change.
"The good news is that actions taken now to accelerate emissions reductions and adapt to ongoing changes not only reduce risks to current and future generations, but can also result in a range of near-term benefits that outweigh the costs," authors of the NCA5 wrote. "Climate action has the potential to improve well-being, strengthen resilience, benefit the economy, and, in part, redress legacies of racism and injustice."
NOAA pointed to conserving and restoring sea grasses and mangroves as a way to combat climate change, saying the plants lock in twice as much carbon as trees on land and could offset about 3% of global emissions.