2023 claims all-time highest number of billion-dollar disasters, NOAA says
With a little more than three months to go, 2023 has already hit the record books as having the most number of natural and climate disasters in a year.
The year is not even over yet, but it has already won a horrifying distinction: The all-time record holder for the highest number of weather and climate disaster events with losses over $1 billion. Across the country, 24 disasters struck, and we are still counting.
"These events included 1 drought event, 2 flooding events, 18 severe storm events, 1 tropical cyclone event, 1 wildfire event, and 1 winter storm event," stated NOAA in the announcement. "Overall, these events resulted in the deaths of 373 people and had significant economic effects on the areas impacted."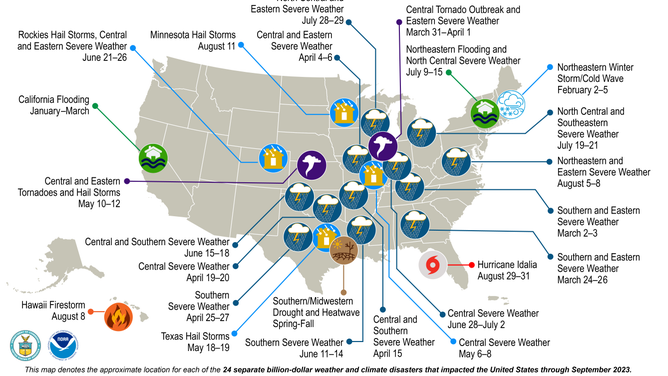 The number of costly disasters is increasing per year
The number is almost three times higher than the yearly average. NOAA calculated that the U.S. suffers an average of 8.5 billion dollar disasters annually going back to 1980. On average, weather and climate losses total $59.9 billion and cost 369 people their lives each year.
Numbers have been steadily increasing, though. In the past five years, there have been an average of 18.0 disasters per year. The cost totaled an average of $124.6 billion and 350 lives each year. The past three years saw an average of 20 disasters a year.
Since 1980, the U.S. suffered 372 billion dollar events costing $2,635.1 billion and taking a total of 16,231 lives.
Potential billion-dollar disasters
Analysts are still looking into damages from Tropical Storm Hilary in August. The storm brought the first-ever Tropical Storm Watch to Southern California. Much of the Southwest saw record-breaking rainfall and flooding.
"The agriculture sector has been impacted across the affected states, including damage to field crops from lack of rainfall," stated NOAA. "Ranchers have also been forced to sell off livestock early in some regions due to high feeding costs."
Disaster total on the list is $52.9 billion to date without Idalia.
THESE 3 HURRICANES WERE AMONG LAST YEARS 18 BILLION-DOLLAR WEATHER DISASTERS

How does 2023 rank in terms of deadliest and costliest disasters?
Last year ranked 5th highest in disasters with 18. It was the third costliest, with $177.6 billion. The 474 deaths put 2022 in 8th place for deadliest year.
Looking back, the top 8 costliest disasters were hurricanes. The drought and heatwave from the summer of 1988 was the ninth most costly, followed by Midwest flooding from the summer of 1993. We must look down to 71st place (out of 371 events) to find a 2023 event in the costliest category – March severe weather events. This could potentially change as Hurricane Idalia's totals are still being calculated.
Hurricane Maria from 2017 topped the death toll from disasters since 1980, with 2,981, followed by Katrina with 1,833 deaths. The third deadliest on the list is the Central and Eastern drought and heat wave stretching from the summer to the fall of 1980. NOAA attributes 1,260 deaths to the event.