'Climate time bomb is ticking': UN report warns world running out of time to reverse effects of climate change
The rate of temperature rises in the last 50 years is the highest in 2,000 years, and concentrations of carbon dioxide are the highest in at least 2 million years.
INTERLAKEN, Switzerland – Action to prevent and reverse the deadly and devastating effects of climate change around the world must be taken immediately before it's too late, warned a new United Nations climate change report released Monday.
"Humanity is on thin ice, and that ice is melting fast," U.N. Secretary-General Antonio Guterres said in a video message. "The climate time bomb is ticking, but today's IPCC (Intergovernmental Panel on Climate Change) report is a how-to guide to defuse the climate time bomb," he added. "It's a survival guide for humanity."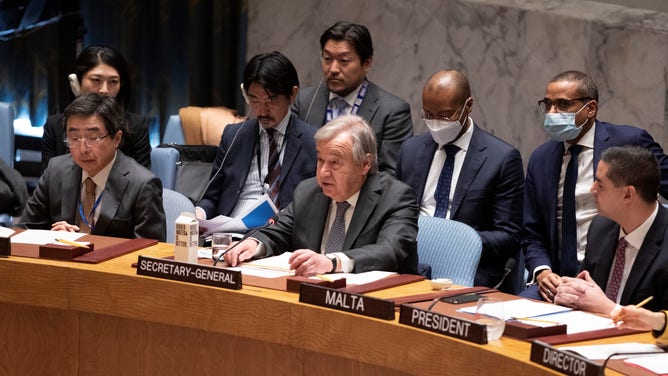 According to a press release, the IPCC said several effective and feasible options to reduce greenhouse gas emissions and adapt to human-caused climate change are available now, but time is running out.
"In 2018, IPCC highlighted the unprecedented scale of the challenge required to keep warming to 1.5 degrees Celsius (2.7 degrees Fahrenheit)," the release said. "Five years later, that challenge has become even greater due to a continued increase in greenhouse gas emissions. The pace and scale of what has been done so far, and current plans, are insufficient to tackle climate change."
In his video message, Guterres said the 1.5-degree Celsius limit is still achievable, "but it will take a quantum leap in climate action."
UN SECURITY COUNCIL HOLDS FIRST-EVER DEBATE ON SEA LEVEL RISE FROM CLIMATE CHANGE
The IPCC report said that more than 100 years of burning fossil fuels and unequal and unsustainable energy and land use have led to global warming of 1.1 degrees Celsius (2 degrees Fahrenheit) above pre-industrial levels.
"This has resulted in more frequent and more intense extreme weather events that have caused increasingly dangerous impacts on nature and people in every region of the world," the press release noted.
Guterres said he had proposed a plan to the G20 countries, a Climate Solidarity Pact, in which all big greenhouse gas emitters make additional efforts to cut emissions, as well as calling on wealthy countries to mobilize financial and technical resources to support emerging economies in a joint effort to keep the 1.5-degree Celsius goal alive.
"It starts with parties immediately hitting the fast-forward button on their net-zero deadlines to get to global net zero by 2050 – in line with the principle of common but differentiated responsibilities and respective capabilities, in light of different national circumstances," Guterres said.
MECHANICAL 'TREE' AT ARIZONA STATE UNIVERSITY BUILT TO HELP FIGHT CLIMATE CHANGE
He also noted that the rate of temperature rises in the last 50 years is the highest in 2,000 years, and concentrations of carbon dioxide are the highest in at least 2 million years.
Guterres said leaders of developed countries must commit to reaching net zero as close as possible to 2040.
"This can be done," he said. "Some have already set targets as early as 2035."
Guterres stressed that now is the time for G20 members to come together to pool resources, scientific capabilities and technology to make carbon neutrality a reality by 2050.
"Every country must be part of the solution," he said. "Demanding others move first only ensures humanity comes last."
EXTREME WEATHER BECOMING A FACTOR IN WHERE AMERICANS CHOOSE TO LIVE
Here are additional ways Guterres says the world can achieve the 2050 goal:
No new coal, and begin phasing out of coal by 2030 in OECD (Organization for Economic Cooperation and Development) countries and by 2040 in other countries.
Ending all international public and private funding of coal.
Ensuring net-zero electricity generation by 2035 for all developed countries and by 2040 for the rest of the world.
Ceasing all licensing or funding of new oil and gas – consistent with the findings of the International Energy Agency.
Stopping any expansion of existing oil and gas reserves.
Shifting subsidies from fossil fuels to a just energy transition.
Establishing a global phase-down of existing oil and gas production compatible with the 2050 global net-zero target.
Guterres said he is also urging all governments to prepare energy transition plans consistent with those actions, and he's calling on all CEOs of oil and gas companies to be part of the solution.
"We have never been better equipped to solve the climate challenge – but we must move into warp speed climate action now," he urged. "We don't have a moment to lose."