Mechanical 'tree' at Arizona State University built to help fight climate change
The tree doesn't have any leaves or bark, but researchers say it can be a powerful fighter against climate change
TEMPE, Ariz. – A tree unlike any other has been planted in the ground at Arizona State University.
It's called the 'MechanicalTree.' It doesn't have any leaves or bark, but researchers say it can be a powerful fighter against climate change.
The tree was created based on the research of Klaus Lackner, an engineering professor at Arizona State University and director of the school's Center for Negative Carbon Emissions. Commercialized by Carbon Collect Inc., it was among a handful of projects funded by the Department of Energy targeting carbon-capture and sequestration technologies.
According to Lackner and his team, it's 1,000 times more efficient than a regular tree at removing carbon dioxide out of the atmosphere.
Sorbent tiles inside the mechanical tree soak up CO2 carried into the machine on the wind, removing the CO2 from the atmosphere.
"We need solutions to real problems for real people, and we need to fix this, and we don't have all that much time," Lackner said.
MAGIC MUSHROOMS: SCIENTIST SAYS FUNGI COULD REVOLUTIONIZE CLIMATE CHANGE FIGHT
According to ASU, the "mechanical trees" allow the captured gas to be sequestered or sold for reuse in a variety of applications, such as synthetic fuels, enhanced oil recovery or in food, beverage and agriculture industries.
These trees are essential because CO2 is a primary driver of climate change. CO2 is a greenhouse gas and traps heat around the Earth. 
With the dramatic increase in the burning of fossil fuels and increased CO2 in the atmosphere, large-scale "forests" plan to be built in the next few years.
FARMERS FACE CLIMATE CHANGE BY RETHINKING THE AGE-OLD PROFESSION
"We expect this project to be an important step for the commercialization of a technology that can be scaled to help balance the world's carbon budget," said Carbon Collect CEO Pól Ó Móráin. "This technology can contribute to the CO2 drawdown that will be needed to keep global warming in check."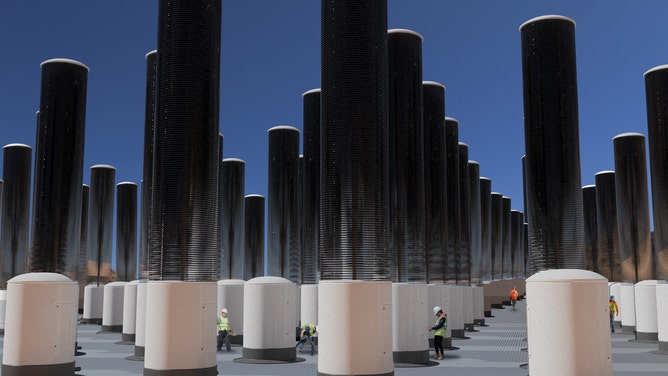 The thousands of trees grouped could soak up to 4 million tons of CO2 each year.