Record-cold start to week in Northeast as temperatures plunge 15 to 30 degrees below average
The coldest high temperatures ever documented on March 28 could be tied or broken in more than three-dozen cities across the Northeast
Weather folklore describes March as "in like a lion, out like a lamb," but the latter won't hold true this year in the Northeast as a blast of arctic air engulfs much of the region to begin the workweek.
A sharp southward dip in the jet stream has set up over the East to kick off March's final week and is sending temperatures crashing to levels more typical of the heart of winter. 
High temperatures will range from 15 to 30 degrees colder than average in the Northeast on Monday, resulting in record-cold highs for March 28 in many cities. The arctic air will also aid in producing lake-effect snow downwind of the Great Lakes and upslope snow in northern New England through late Monday night.
HOW TO WATCH FOX WEATHER ON TV
Forecast highs on Monday, March 28, 2022.
(FOX Weather)
---
Buffalo, New York, will struggle to even reach the mid-20s Monday afternoon. That's significantly colder than its lowest average-high temperature of 31 degrees during the coldest part of winter in late January.
It won't be much "warmer" in New York City, where Monday's projected high of 33 degrees also won't even achieve the city's coldest average-high temperature of 39 degrees during the second half of January.
NEW YORK CITY ARGUABLY HAS THE MOST UNIQUE WEATHER OBSERVATIONS IN AMERICA
The coldest high temperatures ever documented on March 28 could be tied or broken in more than three-dozen cities across the Northeast.
This includes Boston, where the record-cold high of 33 degrees set in 1893 could be broken. In New York City, the date's record-cold high of 34 degrees, also set in 1893, is also in jeopardy.
Potential record-cold highs on Monday, March 28, 2022.
(FOX Weather)
---
The bitterly cold afternoon will give way to an even colder night. Low temperatures by Tuesday morning are expected to fall into the teens across the interior Northeast, with lows in the 20s possible as far south as North Carolina.
A few cities could come close to setting record lows, including Richmond, Virginia, where the lowest temperature ever recorded on March 29 was 22 degrees in 1923. Record lows could also be within reach at Atlantic City and Newark, New Jersey, Washington's Dulles Airport and New York's JFK and LaGuardia airports.
Forecast morning lows on Tuesday, March 29, 2022.
(FOX Weather)
---
Milder air will begin to approach the region Tuesday afternoon, but most places in the Northeast will remain chilly for this time of year.
New York City will get to a high of about 42 degrees, but it will remain mostly in the 30s farther north across the interior Northeast and New England.
Forecast highs on Tuesday, March 29, 2022.
(FOX Weather)
---
Most of these areas are forecast to warm up to more typical values for late March by Wednesday, with even warmer air surging into the region on Thursday. However, rain showers will likely accompany the mild temperatures as an area of low pressure sweeps across the eastern half of the nation.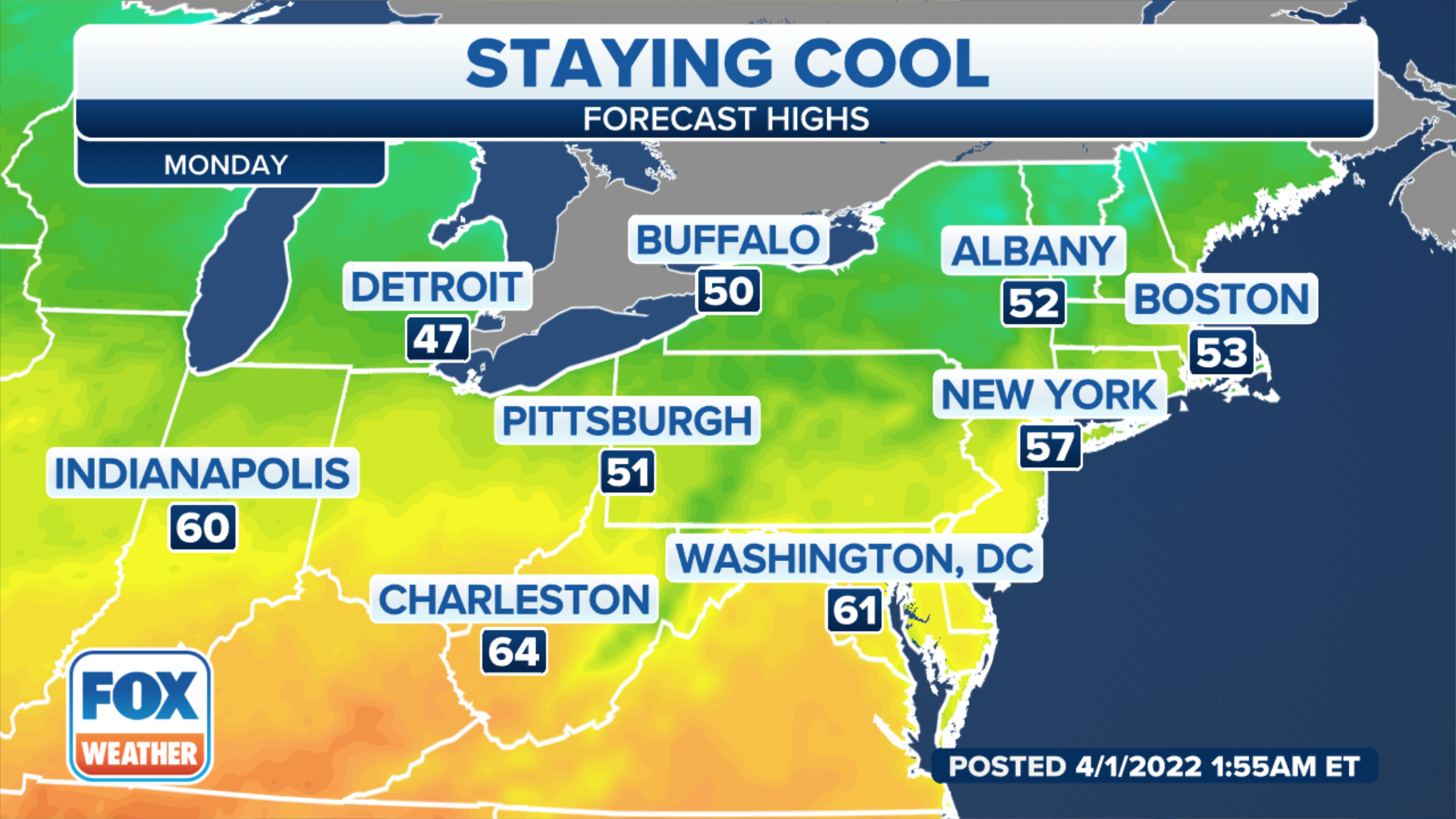 Forecast highs on Wednesday, March 30, 2022.
(FOX Weather)
---