Bomb cyclone slams Pacific Northwest with heavy rain, raising threat of debris flows
Most of the rain will be beneficial as the Pacific Northwest begins to recover from severe to extreme drought conditions. However, heavy rain could lead to flash flooding and debris flows in the burn scars across northwestern California and southwestern Oregon.
PORTLAND, Ore. – The West Coast is seeing the season's first atmospheric river. The river of moisture in the sky is slamming Oregon, Washington and Northern California with rain and strong wind.
This latest storm system has met the criteria for a "bomb cyclone." That means the area of low pressure underwent "bombogenesis," which occurs when a storm system's central pressure drops at least 24 millibars within 24 hours. In this case, the pressure fell from 996 millibars Saturday evening to 960 millibars Sunday evening – a drop of 36 millibars.
WHEN STORMS 'BOMB OUT': EXPLAINING HOW A BOMB CYCLONE FORMS
The FOX Forecast Center is watching carefully to see if this storm will be the first of many, similar to the battening the West took last winter from the parade of atmospheric river-fueled storms. Researchers caution that the devastating 2022-23 winter was during La Niña. This 2023-24 winter is in El Niño, making the atmospheric river connection more likely.
"During El Niño, when the eastern Pacific Ocean is warmer than normal, atmospheric rivers are more likely to impact the western U.S.," wrote NOAA's Climate Prediction Office in a study. "Conversely, during La Niña, when the eastern Pacific is cooler than normal, atmospheric rivers are less likely to impact the western U.S."
RIDICULOUS PHOTOS SHOW AFTERMATH OF 12 FEET OF SNOW IN CALIFORNIA'S SIERRA NEVADA

First atmospheric river in an El Nino year
An atmospheric river can carry up to 27 Mississippi Rivers' worth of water. A warm front sweeping over the Pacific Northwest Sunday directed the AR hose to the Washington and Oregon coasts Monday. The areas can expect a strong atmospheric river event, Category 4, according to the Center for Western Weather and Water Extremes (CW3E). Northern California is forecast to see a moderate event.
"The first and strongest is the moderate to low-end strong atmospheric river that is still slated to impact the (Pacific Northwest) Sunday night through Monday," stated the NWS Portland Office in a discussion. "Models show the jet streak peaking around 30-50 knots (35-58 mph) pushing through the region during this time period along with a significant amount of upper-level moisture."
This translates to a rainmaker, especially in higher elevations. Commuting on Monday will be tough.
Rain forecast.
(FOX Weather)
---
"And we've got significant rain to come, I mean, easily 3 to 5 inches, up to 8 inches in higher elevations," FOX Weather meteorologist Jane Minar said. "And you might be thinking, okay, well, this last system that we saw that moved out of the Rockies brought in a little bit of snow up through the Tetons."
"Well, not this one, unfortunately. We're not going to say the S-word this go around. It's really just a bit too warm," Minar continued. "We do expect that it's going to be all rain even up into the higher elevations of the Cascades. It is more of a rain event that it is a snow event."
Moderate to heavy rain beneficial to some, feared by others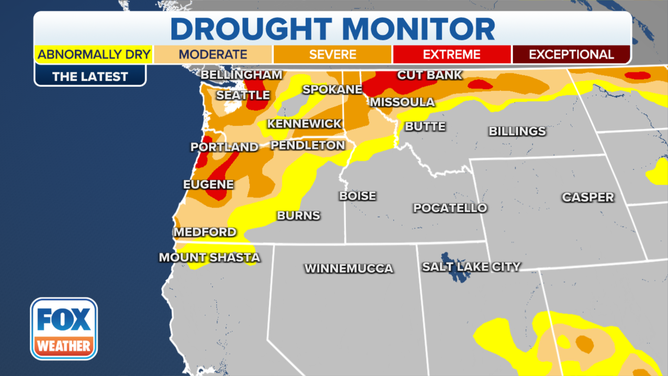 "Most of this rain will be beneficial as areas begin to recover from severe to extreme drought conditions," stated NOAA's Weather Prediction Center. "Heavy rain could lead to impacts associated with debris flows from this season's burn scars across northwest California and southwest Oregon, where Flood Watches have been issued." 
WHAT EXCESS RAIN MEANS FOR BURN SCARS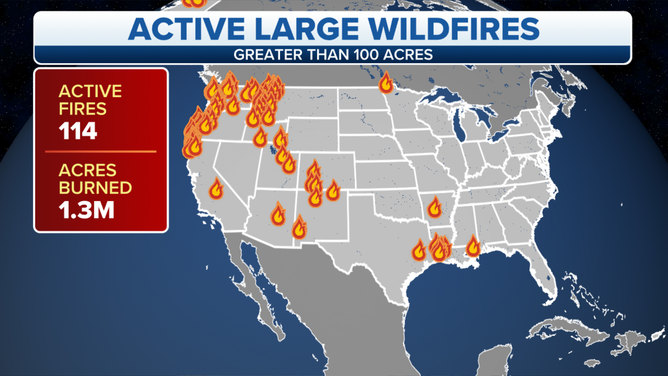 STRONG EL NINO WINTER: WHAT KIND OF WEATHER CAN YOU EXPECT?
The AR connection will be in place through the early part of the week. The strongest storm will dump the heaviest rain on Monday. The next in a series of storms comes through Tuesday and Wednesday. The forecast stays showery through the workweek.
The NWS forecasts a strong El Nino to last through the winter.